To make Pit Boss meatloaf, preheat your Pit Boss to 250°F and add Hickory wood pellets. Smoke your meatloaf using indirect heat until it reaches an internal temperature of 160°F. Remove and let it rest, wrapped in foil, for 20 minutes before serving.
How to Make Meatloaf on a Pit Boss
Here are the basic steps for making meatloaf on a Pit Boss:
Preheat your Pit Boss pellet grill to 250°F.
In a large bowl, mix ground meat (traditionally pork and beef) with your choice of seasonings and binders.
Shape the meat mixture into a loaf shape and place it inside a deep pan.
Smoke the meatloaf until the internal temperature reaches 160°F.
Remove the meatloaf from the Pit Boss and wrap the meatloaf tightly in aluminum foil.
Let the meatloaf rest for 15 to 20 minutes before slicing and serving!
Tools Needed to Make Meatloaf on a Pit Boss
A loaf pan or disposable aluminum foil pan
A meat thermometer
A Pit Boss grill with a grilling rack or tray
BBQ tongs or spatula
BBQ gloves
How to Prepare Meatloaf for Smoking on a Pit Boss
Follow these simple steps for making your meatloaf and getting it ready to smoke!
Gather the ingredients and equipment you'll need to make the meatloaf including the herbs, spices, and binders.
In a large mixing bowl, combine the ground beef and ground pork, breadcrumbs, eggs, diced onion, garlic, salt, pepper, and any additional herbs or spices you desire. Mix well until all ingredients are thoroughly combined.
Shape the meat mixture into a loaf shape and place it on a baking sheet or in a loaf pan. Cover with plastic wrap and refrigerate for at least 30 minutes or overnight.
Remove the meatloaf from the refrigerator and unwrap it.
Preheating the Pit Boss to Make Meatloaf
Preheat the smoker to 225°F or 250°F. This is the best temperature range for smoking meatloaf because it will allow enough smoke penetration while cooking it to perfection.
While the Pit Boss is preheating, you'll want to add wood chips. Pick wood chips according to your desired flavor profile. One excellent option is hickory because it will give your meatloaf an intense smoky flavor.
Smoking Meatloaf on a Pit Boss
225°F to 250°F is the best temperature range for smoking meatloaf. If you choose to smoke in this range, it will take approximately 2 to 3 hours for your meatloaf to smoke. Be sure to measure the internal temperature and remove the meatloaf once it reaches 160°F.
Saucing or spritzing the meatloaf with a mixture of your choice (such as BBQ sauce or apple cider vinegar) can add flavor and moisture. Basting the meatloaf with its own juices or a marinade can enhance the flavor as it smokes.
To monitor the temperature of the meatloaf, it is vital to use a meat thermometer to ensure that it has reached the desired internal temperature; this will ensure that your smoked BBQ meatloaf is cooked to perfection and safe to eat.
Resting Pit Boss Meatloaf
The meatloaf should rest for at least 10 minutes before serving.
It should be placed on a cutting board or plate and wrapped with aluminum foil during this time, so the juices redistribute throughout the meatloaf, making it more tender and flavorful.
Print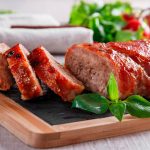 Bacon Wrapped Smoked Pit Boss Meatloaf Recipe
---
Author:

Total Time:

3 hours, 30 minutes
Description
Bacon and meatloaf are together at last in this smoked meatloaf recipe! This bacon-wrapped meatloaf will be a game-changer at your dinner table. The umami flavors of the meatloaf get an extra kick from a dash of hot sauce!
---
2

lbs

ground beef 80/20 (avoid lean ground beef)

1

lb

bacon strips

1/2

pint

heavy cream

1 1/2

cups

diced bread, white sandwich style

2

large eggs

1/2

medium diced onion

1 tbsp

diced garlic (or garlic powder)

1/2 tsp

salt

1/4 tsp

black pepper

1/2

cup

ketchup

1 tbsp

Worcestershire sauce

1/4

cup

bbq sauce

2 tsp

hot sauce
---
Instructions
Preheat the Pit Boss (or Traeger) pellet grill to 250°F. Add hickory wood chips.
Prep the filling: combine eggs, ketchup, diced bread, heavy cream, garlic, onion, Worchestershire sauce, hot sauce, and salt & pepper in a large bowl. Add ground beef to this mix and use your hands to combine everything gently.
Form a loaf shape and place your meatloaf inside a deep-rimmed pan. It should look like a loaf of bread, and a slice of bacon should be able to wrap around it completely.
Cover the meatloaf with bacon slices, ensuring all sides are covered. You can let the pieces of bacon overlap.
Place your bacon-wrapped meatloaf, including the pan, inside the smoker and close the lid. Place a meat thermometer in the center of the meatloaf to check for internal temperature as it smokes. Once it reaches 145°F, you can take it off the smoker.
After reaching the desired internal temperature, brush your meatloaf with BBQ sauce.
Place your meatloaf back inside the smoker and smoke until it reaches an internal temperature of 160°F.
Take the meatloaf off the smoker and place it on a wire rack.
Wrap your meatloaf in aluminum foil and let it rest for 20 minutes before serving it with your favorite sides!
Notes
Serve your smoked meatloaf with your favorite side dishes, grilled onions, mashed potatoes, and smoked vegetables for a complete BBQ dinner!
If you have leftover meatloaf, you can make phenomenal smoked meatloaf sandwiches the next day. Simply refrigerate leftovers in an airtight container.
Prep Time:

10 minutes

Rest Time:

20 minutes

Cook Time:

3 hours
Nutrition
Serving Size:

6 ounces

Calories:

801

Sugar:

10g

Sodium:

1088mg

Fat:

59g

Saturated Fat:

24g

Carbohydrates:

32g

Fiber:

2g

Protein:

34g

Cholesterol:

198mg
Best Temperature for Pit Boss Smoker Meatloaf
The best temperature for smoking meatloaf in a Pit Boss smoker is 225°F – 250°F. This temperature range allows the meatloaf to cook evenly and slowly, allowing the flavors to develop and the meat to become tender and juicy. It also provides for the formation of a nice smoky bark.
How Long Does It Take to Smoke Meatloaf?
The time it takes to smoke a meatloaf will vary based on its size and the desired level of doneness. As a general guideline, it typically takes 35 to 45 minutes per pound to smoke a meatloaf made from beef and pork. For example, a 2-pound meatloaf would take about 1 and a half hours to smoke.
Target Internal Temperature for Pit Boss Meatloaf
The preferred meat combination for meatloaf is typically a pork and beef mix, so the same rules that apply to pork apply to the entire meatloaf. The USDA recommends cooking ground meat to an internal temperature of at least 160°F to ensure it is safe to eat. You can go above that if you want to form a crust!
If the meatloaf is made only from beef, the temperature depends on your desired doneness level.
Smoking Tips for Tender Meatloaf
To ensure a tender meatloaf while smoking, you can follow the following tips:
Use a mix of ground beef and ground pork for the meatloaf. The pork adds moisture and tenderness to the meatloaf.
Add diced onion and garlic to the meat mix. These vegetables add flavor and moisture to the meatloaf.
Soak breadcrumbs in milk before adding them to the meat mix. The milk helps to bind the meatloaf and adds moisture. To lighten up a meatloaf mixture, instead of regular breadcrumbs, you can use panko breadcrumbs.
Use an egg as a binder. The egg helps to hold the meatloaf together. Do not over-mix meatloaf filling because this can cause a tough texture.
Baste the meatloaf with a mixture of barbecue sauce and apple juice while smoking – this helps to keep the meatloaf moist and adds flavor.
Smoke the meatloaf at a low temperature (225°F-250°F) allowing it to cook slowly and retain moisture.
Let the meatloaf rest for at least 10 minutes before slicing to help the juices to redistribute and keep the meatloaf tender.
Best Wood Pellets for Smoking Meatloaf
The best wood pellets for smoking meatloaf are:
Hickory
Hickory has a robust and smoky flavor that pairs well with the savory flavors of meatloaf. It burns at a consistent temperature, providing smoke flavor throughout the cooking process.
Cherry
Fruitwood pellets provide a fruity, rich, and slightly sweet flavor that pairs well with the savory flavors of meatloaf.
Pecan
This is the perfect wood pellet if you want the meatloaf to be the star of the show. It has a nutty flavor profile.
Best Sauces and Rubs for Pit Boss Meatloaf
A versatile sweet rub that is right for meatloaf and other pork and beef dishes. It includes ground coffee and garlic!
As the name says, Angus and oink is the perfect sauce for beef and pork meatloaf!
This works wonderfully on meatloaf – and anything with beef.
Best Way to Store and Reheat Smoked Meatloaf
Smoked meatloaf should be stored in the refrigerator, and wrapped in foil or plastic to prevent drying out.
When ready to reheat, place the meatloaf on a baking sheet and cover it with foil. Bake in a preheated oven at 350°F for about 15 – 20 minutes or until heated through. It should reach an internal temperature of 160°F before eating.