BBQ pork steak should be liberally seasoned with a dry rub before being grilled at 350°F for 10-15 minutes per side until they reach an internal temperature of 145°F. Allow the steaks to rest for 5 to 10 minutes before serving.
Also known as Boston butt, pork butt, or pork blade steak, pork steak is one of the most versatile cuts of pork. Pork steak comes in two categories: bone-in pork steak and boneless pork steak, and both are easy to grill.
What is the Best Way to Cook Pork Steak?
The best way to cook pork steaks is by grilling pork steaks on the BBQ.
Start by seasoning the pork steaks with your favorite blend of spices.
Heat your grill to moderately high heat (between 350°F and 400°F) and grill the pork steaks for 8 to 10 minutes per side until they reach 145°F.
Remove the steaks from the grill and allow them to rest for 5 to 10 minutes before serving with your favorite sides!
How to Get the Best BBQ Pork Steak
When grilled properly, your pork steak should have a tender center and flavorful, crispy crust.
To get the best BBQ pork steak, ensure your pork is thick enough. Pork steak should be 3/4 inch to 1 inch thick since high heat is designed to cook the meat fast. If you're using thin pork steaks, you should lower the grill temperature, so they don't overcook.
Ideal BBQ Grill Type for Pork Steak
The type of BBQ grill you choose can make a massive difference in the taste and flavor of the meat you cook. You can get excellent pork steak from any type of grill, but a pellet grill is the ideal grill type for pork steak because it doesn't require setting up 2 grilling zones, and you can add smoke flavor while the steaks grill.
Pork steaks are best with a delicious sear on the outer surface, and moist meat in the center. Getting the desired sear will require high heat — which gas, pellet, and charcoal grills deliver on.
When using a pellet grill, it's easy to adjust the heat to achieve the desired sear. On a gas or charcoal grill, however, you need to set up two-fire zones. That means you will have significantly less space to place all the pork steaks you need to cook.
With pellet grills, you can monitor the grill temperature as well as the temperature of the meat. If you need to raise the temperature, you can easily adjust the dial. It is also easy to add wood pellets to a pellet grill to infuse the meat with smoke while it grills.
Best Temperature to BBQ Pork Steak
The best temperature for BBQ pork steak is 350°F – 400°F (medium-high heat). If you increase the heat and cook over high heat, you will dry the meat out.
Best Thickness to Choose for Pork Steak
The optimal thickness for pork steak is between 3/4 inch to 1 inch, which will strike the right balance between a juicy, tender center and a browned outer surface.
Print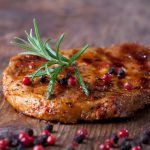 Tasty Grilled BBQ Pork Steak Recipe
---
Description
This simple recipe for BBQ pork steaks is the perfect dish for both seasoned pros and beginner cooks. You don't need special kitchen equipment or sophisticated ingredients to make the best pork steak. All you need is a grill and simple seasonings!
---
2

lbs

pork steaks

1/2 tablespoon

kosher salt

1/2 tablespoon

smoked paprika

1 teaspoon

black pepper

1 teaspoon

garlic powder

1 teaspoon

onion powder

2 tablespoon

apple cider vinegar

2 tablespoons

fresh water
---
Instructions
Preheat your grill to moderately high heat (350°F to 400°F).
Mix the kosher salt, smoked paprika, black pepper, onion powder, and garlic powder in a bowl and put aside.
Mix the apple cider vinegar with water and brush the mixture over the front, back, and sides of the steaks. Next, season the steaks liberally with the seasoning blend. Ensure an even coating on all sides.
Put the pork steaks on the BBQ grill and grill for 8 to 10 mins. Flip the steaks and continue to cook for 8 to 10 mins on the other side.
Flip frequently until you reach your desired doneness. Check the internal temperature at the thickest part of the pork steaks to ensure it reads at least 145°F.
Move the pork steaks to a cutting board and wrap them with aluminum foil.
Allow the steaks to rest for 5 minutes before serving.
Notes
According to the USDA, pork is safe for consumption when its internal temperature reaches 145°F. At this point, your pork will be succulent, but slightly pink in the center. You can continue to cook the pork steaks over direct heat until the internal temp reaches 160°F if you prefer well-done pork steak.
After removing the pork steaks from the heat, carryover cooking will increase the temperature by an additional 5°F.
Resting allows your pork steaks to reabsorb juices, which makes the meat juicy and tender.
Serve with twice-baked potatoes or roasted potatoes for a hearty meal or sauteed asparagus or a crisp, green salad for something a little lighter.
Nutrition
Serving Size:

6 ounces

Calories:

438

Sugar:

0g

Sodium:

117mg

Fat:

28g

Saturated Fat:

10g

Carbohydrates:

0g

Protein:

43g

Cholesterol:

161mg
How Long Do Pork Steaks Take to Grill on the BBQ?
It takes approximately 20 to 30 minutes to grill pork steaks on the BBQ depending on their thickness, and the grill's temperature.
What are Good BBQ Sauces to Use on Pork Steaks?
Try any of these BBQ sauces to accompany your delicious grilled pork steaks.
All the ingredients you need to make this simple BBQ sauce are easy to find in grocery stores near you. For a light sauce, mix white vinegar with ground black pepper, red pepper, and kosher salt. Try this homemade sauce on your pork steaks for a delicious meal.
This straightforward sauce for pork steaks uses drippings to make a delicious gravy that will take your BBQ pork steaks a notch higher.
Mustard BBQ sauce is the perfect blend of sweet and tangy. This simple sauce uses nine readily available ingredients. It's sweet due to the honey and brown sugar and derives its spiciness from the black pepper and cayenne pepper.
This BBQ sauce is super easy to make and uses readily available ingredients. Combine Worcestershire sauce, honey, ketchup, apple cider vinegar, and spices to make a lovely sauce for your pork steak.
If you're tired of basic BBQ sauce, give this one a try. This is the BBQ king. It is super delicious, smoky, slightly sweet, and simple to make.
How Do You Know When Pork Steaks are Done?
No one enjoys tough and dry pork steaks. Pork steaks taste the best when they are tender and full of flavor.
A meat thermometer is the most accurate way to check the internal temperature of your pork steaks. Insert the meat thermometer into the thickest portion of the steak, without striking the bones. They must reach 145°F to be safe to eat according to the USDA.
What Are the Best Side Dishes for Pork Steak?
Looking for inspiration to add to your main course? Serve up these tasty sides.
Pair your pork steak with bacon curry coleslaw for a simple yet satisfying dinner.
Coleslaw is a natural accompaniment to BBQ pork steak. This combination of cabbage, bacon crumbles, and curry powder is a low-carb, gluten-free side dish for anyone who wants a healthy alternative that tastes great.
Who doesn't love beans and pork? This yummy side dish includes bacon, navy beans, molasses, ketchup, brown sugar, onion, and Worcestershire sauce. Made in just a few minutes, these homemade baked beans are perfect for any pork steak dinner or BBQ!
These homemade potato fries are seasoned with smoked paprika, kosher salt, cumin, and black pepper and then cooked until crunchy.
You can serve spaghetti squash with either an Alfredo sauce or a garlic Parmesan sauce. Pair with your BBQ pork steak for a tasty dinner.
Instead of Mac and Cheese, give this macaroni salad a try. You can make this recipe with a creamy, Mayonnaise dressing, fresh or pickled veggies, and of course, macaroni noodles. You can make this recipe beforehand and serve it chilled or at room temperature.