This easy beer can chicken smoker recipe uses readily available ingredients, making it a great solution for a family weekday dinner or a weekend barbecue prepared on your favorite grill or smoker. The steam from the beer transforms the chicken into a moist and tender delicacy. Soft drinks and non-alcoholic beers work well with this easy recipe too.
How to Make Beer Can Chicken on a Smoker
Here's a simple step-by-step guide on how to make beer can chicken on the smoker:
Preheat the smoker to 250º F.
Prep your chicken by removing the giblets, liver, and neck. 
Mix a bit of brown sugar with a few teaspons of each of the following to make a dry rub: black pepper, chili powder, garlic powder, smoked paprika, and kosher salt. Combine in a mixing bowl.
Use your spice mixture to rub your chicken, ensuring you cover the whole chicken. Add chicken rub beneath the skin too for the best flavor.
Open your beer and either drink half or pour half of it out as you will need room in the can for steam to build.
Place the half-empty beer can into your chicken holder, directly on the grill grates.
Hold the chicken upright above the beer can and place the can and holder into the cavity of the chicken to keep it upright and secure.
Smoke for about two hours until the internal temperature reaches 165ºF. Be sure to use an instant-read thermometer to check the temperature.
Remove your chicken and let it rest for 10-15 minutes before removing the can of beer. This will allow the chicken to rest properly before serving. Resting your chicken will allow the juices to reabsorb and redistribute rather than losing them when slicing into the meat.
Tips for the Best Beer Can Chicken
Use a digital meat thermometer to check the meat temperature without opening the lid frequently. This will help reduce the overall cooking time. 
Pat your chicken dry using a paper towel prior to seasoning. This will help the dry rub easily stick to the meat. 
You can also use a grill instead of a smoker when making this recipe. Cook at 350ºF – 400ºF for one hour until the internal temperature hits 165ºF. 
Be sure to drink (or empty) half of the beer. You'll need some space in the can to generate steam for proper cooking in the cavity of the chicken. 
Select the right wood. You can add fruit like apricot, apple, cherry, hickory, or other mild-flavored fruit wood chips for an even better smoky flavor. 
Don't cook based on time. Cook based on the internal temperature. 
Making beer can chicken is so easy. All you need to do is to follow our simple beer can chicken smoker recipe and it will turn out great every time.
Print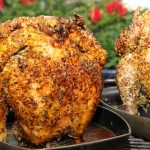 Beer Can Chicken Smoker Recipe
---
Total Time:

3 hours 15 minutes

Yield:

6

1

x
Description
This recipe starts with low heat to allow smoke to penetrate the meat and ends with high heat to sear the delicious crispy skin. This easy recipe is fun to make for your family. It is super easy and turns out chicken that is juicy, tender, and full of smoke flavor every time.
---
4

lb

whole chicken

1

can beer (or other soft drink)
Dry Ingredients
1 tsp

black pepper

1/4

cup

brown sugar

1 tsp

chili powder

1 tbsp

Kosher salt

2 tbsp

smoked paprika

2 tbsp

garlic powder

2 tsp

onion powder
Wet Ingredients
2 tbsp

chopped onions

2 tbsp

chopped garlic cloves
---
Instructions
Pat your chicken dry with a paper towel and shave off any excess fat near the openings.
Preheat your smoker to 250 degrees F.
Mix the dry ingredients to make chicken rub and gently apply it over the whole chicken, including the cavity of the chicken.
Cut the top of the beer can and empty half of the liquid before adding chopped garlic and onion to the beer can.
Carefully put the cavity of the chicken over the can of beer, making sure it fully covers it. Place on the smoker, holding the chicken upright.
Smoke for 2 to 3 hours until the internal temperature in the thickest part registers 165 degrees F. Use an instant-read thermometer to confirm this.
Remove from the heat and tent with aluminum foil. Let the bird rest for 10 to 15 minutes while resting on top of the beer can for the juices to reabsorb and redistribute before carving. This will lead to the most tender and moist smoked beer can chicken you've ever had!
Prep Time:

15 minutes

Cook Time:

3 hours

Cuisine:

American
Best Side Dishes for Beer Can Chicken
Be sure to serve your tender and delicious beer can chicken with some great side dishes.
The best side dishes to accompany those delectable chicken dinners include:
For any leftover chicken, be sure to properly store the meat in air-tight containers, and keep the meat refrigerated.
How Long Does it Take to Smoke Beer Can Chicken?
You can smoke a whole chicken at 250 degrees F for 2 to 3 hours. Smoking a whole chicken takes longer than grilling the same bird because a pellet smoker uses indirect heat.
The best internal temperature for smoked chicken is 165 degrees F before taking it off the smoker.
To monitor the internal temperature of the meat, make sure to insert an instant-read thermometer or meat probe into the thickest portion of the bird, being careful to not touch the bone.
The total cooking time will vary depending on several factors including the size of the chicken, the external temperature, humidity, and wind. So you need to be a bit flexible as far as the total time goes. The best way to tell when your smoked meat is done is to check the internal temperature.
What is the Best Temperature to Smoke Beer Can Chicken?
Preheat your smoker to 250 degrees F and smoke your chicken using indirect heat.
Your chicken will be done once the meat thermometer hits 165°F when it is stuck in the thickest portion of the breast. For chicken thighs, continue to smoke until an internal temperature of about 170-175 degrees F is reached.
What is the Best Liquid to Use for Beer Can Chicken?
When making this beer can chicken smoker recipe in a smoker, it's advisable to use lager beer. The type of beer will determine the overall flavor.
Lager beers have a subtle beer flavor that is perfect for smoking chicken. Bocks, Coors, Michelob, Mille, Budweiser, and Pilsners are all great lager beer options, so choose your favorite brand.
The aim is to keep the smoked chicken juicy and flavorful. The beer produces steam inside the chicken, making it moist and full of flavor.
You may also use soft drinks like root beer or cola instead of beer.
Why Use a Beer Can to Smoke Chicken?
Beer-can chicken will knock your socks off! Using a beer can to smoke chicken makes the bird moist and tender.
If there are leftovers, you can serve them with tacos or salads.
Best of all, you only use a half can of beer to make the chicken, so you get a chance to drink the other half.
What Are The Benefits of Beer Can Chicken?
There are several benefits of beer can chicken, with the most important one being that it tastes great.
The bird is smoked low for a smoky flavor and then cooked at a higher temperature for crispy skin. The beer makes the meat moist and tender, giving everyone that juicy bite they crave!
The chicken also has a great flavor that comes from the hickory wood chips (or wood chips of choice) and dry rub. 
Since the chicken is held upright over the heat, it gets smoked evenly.
Lastly, making this beer-can chicken recipe is fun. Roasting chicken upright on a beer can is fun to make, fun to see, and fun to eat!