It is easy to bbq bologna. Simply baste a bologna log with a wet binder (such as mustard or olive oil) and coat it with your favorite rub or seasoning. Place in a smoker for 2-3 hours over indirect heat until a dark crust forms.
Can you BBQ Bologna?
Of course, you can! BBQ bologna is simple to make and can be done on any grill (or smoker). It just needs a coating, a dust of your favorite spices, and a few hours at a low temperature!
Print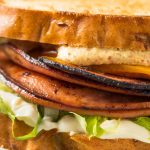 Smoky BBQ Bologna on a Charcoal Grill
---
Total Time:

3 hours 15 minutes

Yield:

4

1

x
Description
This tasty BBQ Bologna recipe is the perfect choice for a summertime BBQ. It's light and flavorful, with a hint of spice and smoke that will get your taste buds singing.
---
1

pound

bologna log

1/4

cup

brown sugar

1 tbsp

yellow mustard

1 tsp

soy sauce
---
Instructions
Buy your loaf of Bologna from the store. You will want to ask for a whole Bologna chub. This will look like a large, round log.
Remove the bologna from the packaging. Score the Bologna with a knife by making five slits 1/4-inch deep in a diamond pattern on the surface.
Preheat your charcoal grill (or pellet grill) to 225°F. Add the wood chips of your choice (mesquite wood is a popular option).
Place your Bologna in a baking dish and baste it with the mustard and soy sauce; then, rub your meat in brown sugar.
Place your Bologna on the grill grates over indirect heat. When using a charcoal grill, ensure the bologna isn't over the coals.
Leave the Bologna on the grill for at least 3 hours or until it has a crispy and crunchy exterior. No need to check the internal temperature since Bologna is pre-cooked. 
Notes
You can use your favorite BBQ sauce as a binder rather than mustard and soy sauce.
Prep Time:

5 minutes

Cook Time:

3 hours

Cuisine:

American
How Long Does it Take to Smoke Bologna?
The amount of time it takes for your Bologna to smoke depends on several factors, such as the thickness of the cut and how smoky you want it to taste. The most critical detail about Bologna is that it is already cooked, so you don't have to check the internal temperature for safety.
If you're going to smoke Bologna, it is best to smoke it at 225°F for at least 2-3 hours (and up to 4). Just be sure not to leave it too long on the grill, or it will become dry and tough!
What is the Best Way to Cook Bologna?
The best way to cook Bologna is by smoking it so it takes on that delicious smoke flavor.
What is the Most Popular Type of Bologna to Smoke?
Two of the most popular choices for smoking are ring bologna and rag bologna.
Ring bologna is typically sold in links, often from a deli case at the grocery store. It looks like a version of smoked sausage and can be sliced into rounds for sandwiches or eaten whole as a snack with cheese and crackers.
Rag bologna is native to West Tennessee. It was traditionally packed into cloth and sold by farmers who needed an economical way to feed their families when they butchered hogs on their farms. Rag Bologna contains more fat and filler than other types of Bologna.
What is Bologna Made From?
Bologna is a type of sausage comprising ground meat and spices such as salt, peppercorns, sugar, and celery seeds which is then formed into a loaf shape that ends up being smoked and sliced thinly.
The ground meat in your Bologna can vary – it can be chicken, turkey, pork, beef, sometimes game meat, or a combination of more options.
What differentiates it from other precooked meat is it's infused with fat! It can be eaten cold or as a slice of hot smoked meat and is often served on a sandwich. Because the meat is processed, it's cheaper than other cuts.
What Does Bologna Taste Good With?
If you've ever eaten Bologna, chances are you ate it cold—in the form of a sandwich. Did you know there are other ways to enjoy it?
For a twist on the classic, fry the bologna before adding it to your sandwich – it takes on a unique flavor that is hard to beat. Simply add American cheese, lettuce, tomato, onion, and mustard on white or rye bread with your smoked fried bologna for a real treat.
A bologna salad is a fun way to mix things up at your next barbecue! Dice up some bologna and add your favorite veggies like tomatoes, cucumbers, or carrots for crunchy freshness in every bite! Mix with mayonnaise and shredded cheese. This refreshing treat goes great with kaiser rolls!
If you're looking for something fancier than just a simple sandwich, try making a charcuterie board with smoked bologna as one of the components! Add some cheese, olives, pickles and other veggies, along with grapes and some crackers or breadsticks!
Simply mix cooked pasta with sliced bologna, tomatoes, chopped onions, shredded cheddar cheese, salt & black pepper to taste—and voila! An easy side dish that everyone will love!
These are perfect for kids' lunches or snacks at work! To make these, simply place a slice of smoked Bologna into a muffin cup and crack a fresh egg over it. Add a little salt and pepper, and some grated cheese on top. Bake until golden brown!