Venison jerky is typically made in a dehydrator, which cooks the meat at a low temperature for hours. You can replicate this environment in a smoker at 160°F and smoke for 2-3 hours. Smoking adds extra flavor without compromising the texture of this wild game meat.
Step-by-Step Guide to Smoking Venison Jerky
These are the steps you need to make homemade jerky:
Pick the venison cut.
The best cuts to make smoked deer jerky are the backstraps, tenderloins, and hindquarters of the deer.
Chill and slice the meat.
Cut your deer meat against the grain while it's still chilled. The pieces should be 1/8-inch or 1/4-inch thick. A meat slicer will give perfectly uniform slices if you have one.
Marinate for 48 hours.
Marinate your deer jerky for two days in a marinade of your choosing. A traditional marinade consists of ground black pepper, paprika, cayenne pepper, maple syrup, Teriyaki, and Worcestershire sauce.
Preheat the smoker and add wood chips.
Preheat your smoker to 160°F. Pick your favorite wood for your jerky. Hickory and mesquite are great choices.
Place jerky in the smoker.
Place jerky in the smoker. You can place your thin slices on a metal grid/rack or pizza screen.
Smoke for 2 to 3 hours.
Smoke your jerky between 2 and 3 hours – it should be dry but bendable and not brittle.
Cool the jerky.
Let your jerky cool off before storing it.
Store the jerky.
Place in an air-tight bag and store in the cupboard for one month, in the fridge for 3-6 months, or freeze it for up to a year.
Print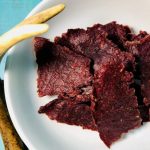 Korean BBQ Deer Jerky Recipe
---
Author:

Total Time:

3 hours, 30 minutes
Description
The sweet and spicy flavors of Korean barbecue infuse this deer meat jerky in this spin on a classic.
---
3

lb

. sliced venison roast

1

cup

soy sauce

1/2

cup

sesame oil

1/2

cup

brown sugar

1

pear (fresh, grated)

2 tbsp

sesame seeds (plus more for sprinkling)

3

green onions – finely chopped (or

3 teaspoons

onion powder)

2 tsp

minced ginger

2

limes (juiced)

1 tbsp

minced garlic

2 tsp

red pepper flakes (or ground black pepper)

1/2 tsp

Instacure #1 (also known as Prague Powder)

1 tbsp

kosher salt
---
Instructions
Take a bowl and place all the ingredients inside of it, reserving the salt, sesame seeds, and red pepper flakes.
Slice the venison into 1/4-inch-thick pieces in equal sizes.
Pound the meat with a mallet until it's uniformly flattened.
Add the venison pieces to the bowl with the marinade.
Cover the bowl and let it sit in the fridge for an entire day – and up to 48 hours.
Check the mixture every once in a while and stir it to ensure all the meat is evenly coated.
Remove the marinade bowl from the refrigerator. Take each venison piece out of the mixture and place it on a sheet pan.
Season each piece with kosher salt, the remaining pepper flakes, and the sesame seeds. Discard the marinade.
Set your smoker to 165°F and add mesquite wood pellets to it.
Place meat slices in the smoker directly on the grates, ensuring they don't touch.
Smoke until the pieces are dry but bendable (not brittle). This will take about 2 to 3 hours, but check after 2 hours to know where you stand.
When it's done, get it off the smoker and let it cool to room temperature before storing your jerky in an air-tight container.
Prep Time:

30 minutes

Cook Time:

3 hours
Nutrition
Serving Size:

1 ounce

Calories:

70

Sugar:

1.5g

Sodium:

354mg

Fat:

4.4g

Saturated Fat:

1.9g

Carbohydrates:

1.9g

Fiber:

0.3g

Protein:

5.7g

Cholesterol:

8.2mg
What is the Best Temperature to Smoke Deer Jerky?
The best temperature to smoke deer jerky is between 150°F – 170°F, similar to the temperature used in dehydrators. You can smoke venison jerky at higher temperatures, but risk charring it.
More important than the temperature of the smoker is the internal temperature of the jerky. It's recommended that jerky be heated before drying to ensure safe consumption. A safe internal temperature for jerky is 160°F. A dehydrator will not heat meat enough to reach 160°F which is the temperature recommended for killing bacteria.
How Long Does it Take to Smoke Deer Jerky?
Venison jerky can take about 3 hours to smoke, but many things may affect the smoking time including whether you keep the smoker closed, how thinly you slice the meat, the smoking temperature, and the cut of meat you're working with.
How Much Sugar Do You Use for Deer Jerky?
Sugar is fantastic for preserving jerky (and other food) while retaining moisture. For every pound of meat, you will need 1/4 cup of sugar in your marinade.
What is the Best Type of Wood to Use for Smoking Deer Jerky?
The type of wood you choose will have a significant influence on the flavor of your venison jerky.
Mesquite
This is an excellent choice for those looking for a strong aroma that will boost your jerky's flavor.
Hickory
Hickory has long been one of the most popular types of wood used for smoking meat because it produces a robust and hearty flavor that pairs well with almost any kind of meat—including deer.
Pecan
Pecan adds an earthy flavor to your jerky while providing plenty of nutty, smoky notes.
Cherry
Cherry has a milder flavor than mesquite, and it has less impact on the taste of your meat. It's also an excellent choice if you like sweet-flavored smoke.
Is it Better to Smoke Deer Jerky or Dehydrate It?
Both options work well, but smoking adds incredible flavor that a dehydrator cannot replicate.
The Best Way to Store Venison Jerky
Allow jerky to reach room temperature before storing.
Only refrigerate or freeze venison jerky when it's come to room temperature – otherwise, it can accumulate moisture which will ruin it over time.
Dry the jerky.
Before storing the jerky, pat it dry with paper towels.
Add an oxygen absorber.
Include an oxygen absorber in the storage container.
Vacuum-seal the jerky.
Vacuum seal a resealable bag to keep moisture out.
Cold storage will make jerky last longer.
Store jerky at room temperature for up to 1 month, in the fridge for 3-6 months, or a freezer for up to a year.