To make smoked trout fillets, brine the trout fillets in a mixture of water, kosher salt, sugar, soy sauce, and your favorite spices for 8 hours. Remove the fillets from the brine, rinse well, and dry. Preheat your smoker to 225°F and allow the trout fillets to smoke for 2 hours.
Smoking freshwater fish such as rainbow trout, lake trout, or steelhead trout is easy and only takes a couple of hours on the smoker!
How Long Do You Smoke Trout For?
The time it takes to smoke a trout depends on the temperature you use. At 180°F you should smoke for 90 minutes. At 250°F, you would only need to smoke for about 40 mins.
No matter what temperature you use to smoke the fish, the internal temperature of the trout should reach 145°F.
Print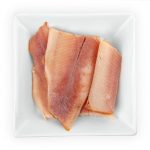 Perfectly Smoked Trout Fillet Recipe
---
Author:

Total Time:

2 hours, 10 minutes
Description
If you want to learn how to smoke trout filets, this freshwater rainbow trout recipe. The fish is soaked in a flavorful wet brine and is later infused with beautiful fruitwood smoke. Perfect as an appetizer or a main course, this smoked trout is full of the smoke flavor you crave.
---
8

skin-on rainbow trout fillets, bones removed

1/2

cup

brown sugar

1/4

cup

kosher salt

1

gallon

water

1 tbsp

freshly ground black pepper

2 tbsp

soy sauce
---
Instructions
Create your brine by combining water with the sugar, salt, black pepper and soy sauce. Bring the mixture to a boil, then allow it to cool to room temperature.
Place your deboned trout fillets into the brine, and place them in the refrigerator for 8 hours.
Remove the fillets from the brine and rinse well.
Pat the fillets dry with paper towels.
Preheat your pellet smoker to 225°F and add your hickory or other fruitwood pellets, allowing it to preheat for at least 15 minutes with the lid closed.
Place the fish directly on the grill grates, skin side down. To smoke the fish, close the lid and let it smoke until the fish becomes opaque and begins to flake. This process should take between 90 minutes and 2 hours, depending on the thickness of the fish.
Once the fish reaches an internal temperature of 145°F, you can remove it from the smoker. Serve the fish immediately or store it in the refrigerator.
Prep Time:

10 minutes

Cook Time:

2 hours
Nutrition
Serving Size:

3 ounces

Calories:

147

Sodium:

630mg

Fat:

3.6g

Saturated Fat:

0.9g

Protein:

26.4g

Cholesterol:

69mg
Should Bones Be Removed Before Smoking Trout Fillets?
It is advised to de-bone trout fillets before smoking. It is easier to pull the bones while the flesh is elastic.
Are Smoked Trout Fillets Ready to Eat?

As a general rule, fish that has been hot smoked does not need to be further cooked and is ready to eat, while fish that has been cold smoked is still raw at the time of consumption.
What Temperature Should You Smoke Trout?
Expert smokers generally agree that the ideal temperature to smoke your trout is 225°F.
There is a bit of wiggle room with this estimate as you can smoke trout anywhere from 180°F to 225°F safely. Anything under 165°F allows for the growth of bacteria and is inadvisable, while anything higher than 225°F causes less smoke to be absorbed.
What Types of Wood Pellets are Best for Smoking Trout?
These are the top recommendations best suited for trout:
Cedar
Cedar is the most aromatic and is one the most popular when it comes to fish that contain a lot of fat, such as trout.
Cherry
The wood of the cherry tree has some similarities in flavor with its fruit and it pairs beautifully with trout.
Alder
Among all hardwoods, alder has a mild flavor that is delicate and earthy at the same time, perfect for fish without overpowering it.
Does Smoked Trout Taste Like Salmon?
Smoked trout resembles smoked salmon in texture and taste, but it has a much lighter flavor when compared to salmon and is far less salty than salmon.
The flavor of salmon is much richer than that of trout due to its higher fat content. Salmon is considered less gamey tasting than trout. As a rule of thumb, salmon tends to be quite oily when it is cooked.
What Should You Serve with Smoked Trout?
There are many delicious side dishes and sauces that can accompany smoked trout. Here are some of my favorites:
Should You Hot Smoke or Cold Smoke Trout?
Whether you choose to hot smoke or cold smoke depends on how you want to serve the fish and the texture and flavor profile you want to achieve.
A hot-smoked trout is cooked to the point where the natural oils are concentrated in the fish and the smoke infuses the flesh as it cooks. As it cooks, liquid is lost from the fish and the natural oils are infused into it.
A cold-smoked version of the meat is used less often and retains the moisture of the meat, while the smoke only permeates the top layer of the meat.
How to Store Smoked Trout
Smoked fish should always be stored chilled or frozen so that the trout remains fresh. If frozen smoked trout is wrapped correctly, it will keep for 12 months in cold storage at -22°F.