To make a smoked spiral ham, unpackage the ham and place it directly on the smoker at 225°F for an hour. During the last 20 minutes, brush it with a glaze made from maple syrup, bourbon, and chicken stock until a sweet crust forms and the internal temperature of the ham reaches 140°F.
Can a Spiral Cut Ham be Smoked?
Yes, a smoker can be used to cook a spiral ham. Spiral ham purchased from the grocer is already cooked, so you only need to add sauce or glaze and reheat the meat!
When cooked in a smoker, the ham is infused with an intense wood-fired flavor that you cannot obtain from an oven or gas grill.
How Long Should You Smoke a Spiral Ham?
If your smoker is preheated to 225 degrees F, smoke ham for one hour.
If you want a double-smoked ham, the ham should be smoked for two hours. Approximately every 30 minutes, baste the ham with apple juice and drippings from the pan. The extra basting offsets the added smoke on a double-smoked spiral ham.
Print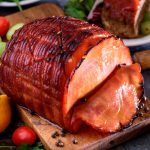 Smoked Spiral Ham with Maple Bourbon Glaze Recipe
---
Author:

Total Time:

4 hours, 10 minutes
Description
A sticky sweet glaze covers this incredibly smoked spiral ham, giving it a sweet, crunchy exterior made from chicken stock, bourbon, and maple syrup. If you plan on feeding a crowd or want some tasty leftovers after dinner, an 8-pound whole ham can easily feed 14-16 people. This maple-glazed ham recipe will also work for pre-cooked smoked turkey, and brisket!
---
Equipment Needed
Aluminum foil
Aluminum pan
Applewood or Cherry Wood chips or pellets
Basting brush
Cast iron skillet
Meat Thermometer
Mixing bowl
Small saucepan (optional for brown sugar glaze)
Ingredient List
8

lb

spiral-cut ham

1/4

cup

chicken stock

1/4

cup

bourbon

1/4

cup

maple syrup
Maple Bourbon Glaze
1/2

cup

maple syrup

1/2

cup

bourbon

1/4

cup

ketchup

1/4

cup

dark brown sugar

4 tsp

apple cider vinegar

4 tsp

dry rub
Dry Rub Ingredients
1/4

cup

light brown sugar

1 tsp

kosher salt

1 tsp

onion powder

1 tsp

paprika

1 tsp

garlic powder

1 tsp

black pepper

1/4 tsp

cayenne pepper (optional)
---
Instructions
Start by placing your ham cut side down on a smoker that has been preheated to 225 degrees Fahrenheit. The ham should be smoked for one and a half hours with the lid closed.
Place the ham in a 12-inch cast iron skillet after removing it from the smoker. The braise ingredients (chicken stock, bourbon, and maple syrup) should be mixed together and poured over the ham.
Set the smoker to 300 degrees Fahrenheit. You should cover the ham and skillet tightly with aluminum foil, place the skillet into the smoker, and continue smoking the ham until it reaches 140 degrees Fahrenheit (around two hours).
Create your glaze by mixing the glaze ingredients in a pot over medium heat, bringing it to a simmer, and then allowing it to reach room temperature.
The ham should be removed from the smoker and the foil should be opened. If there is any excess braising liquid, drain it and set it aside. The ham should be turned on its side and liberally brushed with the maple bourbon glaze.
The glaze should be set by placing the ham in your oven on high broil for 2-3 minutes or until it begins to caramelize.
Remove from the oven and serve immediately with your favorite sides!
Prep Time:

30 minutes

Smoke Time:

1 hour 30 minutes

Cook Time:

2 hours
Nutrition
Serving Size:

8 ounces

Calories:

683

Sugar:

14g

Sodium:

2917mg

Fat:

41g

Saturated Fat:

15g

Carbohydrates:

17g

Fiber:

1g

Protein:

52g

Cholesterol:

150mg
What is the Best Way to Smoke a Spiral Cut Ham?
Set your smoker temperature between 230°F – 240°F. As soon as the spiral-cut ham is placed on the smoker, the lid should be closed. Every hour, bast the ham with a braising liquid.
During the last 20 minutes of smoke time, glaze the ham. It will take three hours for the smoking process to complete from start to finish.
How Long Does it Take to Smoke a Fully Cooked Ham at 225°F?
At a grill or smoker temperature of 225 degrees, a fully cooked ham will smoke in 1 hour.
What is the Difference Between a Ham and a Ham Roast?
Ham is already cooked, so it is ready to be smoked while ham roast is raw. If you want to smoke this, you will need a much longer cooking time.
It is important to note that a ham roast is not cured ham. It has longer muscle fibers and less marbling than a shoulder roast or Boston butt and is as lean as the center loin but not as tender.
Ham is a specific cut of pork from the hind legs of a domesticated pig, while pork is a raw cut of pork from a domesticated pig.
How Long Does it Take to Smoke a Spiral Ham?
It takes approximately 20 minutes to cook one pound of precooked ham at 240°F. When the item has been completely warmed, the internal temperature should be 140°F.
Does Spiral Cut Ham Have Any Bones?
It is possible to make spiral ham boneless, but butchers typically create spiral ham by cutting a bone-in ham into one large spiral shape.
How to Store and Reheat Smoked Spiral Cut Ham
Store your spiral ham in a sealable ziplock bag or a Tupperware with a closable lid.
When reheating spiral-sliced ham in a conventional oven, cover it with heavy aluminum foil and heat it at 325°F for about 10 minutes per pound. You may also warm individual slices in a skillet or microwave.