For delicious double-smoked ham on a Traeger grill, place a smoked pre-cooked ham in the Traeger at 225°F over indirect heat for 20 minutes per pound of ham. Add an extra layer of flavor by coating the ham with your favorite BBQ rub or glaze and placing it back in the wood smoke for 20 to 30 minutes until caramelized and crispy.
Many people cook their holiday meals in the oven, but using your Traeger grill smoker to make holiday classics like this Traeger smoked ham frees up the oven and makes a killer main course!
If you want to make a double-smoked ham for a special occasion, this twice-smoked ham is delicious, juicy, flavorful, and feeds a crowd. By combining the classic glaze ingredients of brown sugar and butter, and basting it while it smokes, this ham will develop a nice, crispy caramelization on the outside.
Best of all this recipe is easy to make since your double-smoked ham will require little attention when it's smoking on the Traeger smoker!
How to Make Smoked Ham on a Traeger Pellet Grill
Here's how to make smoked ham on a Traeger:
Step 1: Preheat the smoker to 225 degrees F.
Step 2: Place the ham on an aluminum foil-lined baking sheet and then place it on the top rack, with the fat side down. Stick the meat thermometer into the thickest part, without touching the bone.
Step 3: Mix your desired glaze ingredients in a small saucepan over moderately high heat. Be sure to bring it to a boil for three minutes.
Step 4: Let the internal temperature of the Traeger smoked ham reach 130 degrees F. A 10-pound ham should take about 3 to 4 hours. Coat the ham with the brown sugar glaze and crank the heat up to 300 degrees F. After 30 minutes, baste with the brown sugar glaze again. After another 30 minutes, the internal temperature of the ham should read 140 -145 degrees F.
Step 5: Take the Traeger smoked ham off the pellet smoker, cover it with aluminum foil to prevent moisture loss, and let it rest for around 10 minutes before carving. Serve with your favorite side dishes!
Ready to give it a try? Here is a simple Traeger smoked ham recipe that you can try at home.
Print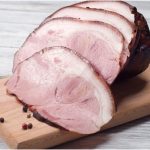 Traeger Double Smoked Ham Recipe
---
Author:

Total Time:

4 hours, 40 minutes
Description
A bone-in ham turns out perfectly using a Traeger pellet grill. You can make this smoked ham recipe easily with a sweet-spiced glaze of apple and honey. It is scored before cooking to add smoke flavor and create more space for the sweet glaze to coat the smoked ham.
---
Equipment Needed
Traeger pellet grill
Instant-read meat thermometer
Grill pan
A small saucepan
Wood pellets
Ingredients
8

to

10

-pound spiral ham

1

cup

brown sugar

1/2

cup

honey

1 tsp

ground cloves

1 tsp

ground cinnamon

2 tsp

Worcestershire sauce
---
Instructions
Preheat the smoker to 225 degrees F.
Take your ham out of the refrigerator and make a diamond pattern by slicing across the top in a criss-cross pattern, taking care to keep the same depth of around 1/2".
Arrange the ham with the scored side down directly on the grill grates of your Traeger.
Close the lid and cook the ham for 1½ hours.
Pull your ham from the Traeger and place the ham in a 12-inch cast iron skillet. Pour chicken stock on top of it. Use aluminum foil to cover the smoked ham and the pan. Place the ham back into the smoker, close the lid, and crank up the temperature to 300 degrees F.
Continue smoking for 2 hours until the internal temperature reaches 140 degrees F.
Prepare the glaze. Mix all the glaze ingredients in a saucepan. Cook over moderately high heat while frequently stirring until your glaze reaches the boiling point.
Remove your ham from the Traeger and discard the aluminum foil. Remove any excess liquid. Brush the ham generously with the brown sugar-honey gaze.
Place the ham back in the smoker for 15 minutes to allow the glaze to set.
Remove from the smoker and cover the ham with fresh aluminum foil. Let the glazed ham rest for 30 minutes.
Serve with drippings collected in the cast iron skillet. Enjoy!
Notes
Most hams found in a grocery store near you come pre-smoked (that's why this ham is called a double-smoked ham). You can use a bone-in ham or a boneless ham.
Cured ham like a spiral-cut ham (also called a holiday ham) ensures not only the convenience of serving pre-sliced ham but also allows the smoke to reach the core of the ham. Sometimes, spiral-cut hams include the shank bone as well. This adds more flavor to the ham since it smokes perfectly.
Prep Time:

10 minutes

Rest Time:

30 minutes

Cook Time:

4 hours
Nutrition
Serving Size:

6.9 ounces

Calories:

238.3

Sugar:

4g

Sodium:

620mg

Fat:

4.6g

Saturated Fat:

1.7g

Carbohydrates:

5g

Protein:

35.2g

Cholesterol:

42.7g
The Best Wood Pellets to Use for Smoking Ham
Many experts recommend sweeter woods for smoking ham. Here are a few of my favorites:
Mesquite
Mesquite can be strong, but it produces a gentle smoke flavor when mixed with other pellets. Mesquite in a Traeger pellet grill is fantastic and is one of the best wood pellets for smoking ham when tempered by milder wood in a blend.
Hickory
Hickory wood pellets are also a great choice for adding a strong flavor to your smoked ham.
Applewood and Cherry
You can use these two options interchangeably to create a mild flavor. These two are known for delivering an awesome smoke ring and excellent color on the meat.
Pecan
Pecan is also fantastic for adding a strong flavor to meat with a nice, nutty finish. These wood pellets produce excellent flavor notes.
How Long to Smoke Ham on a Pellet Grill
When smoking ham on a wood-pellet grill at 225 degrees F, it will take 20 minutes per pound of ham. That means a 6-pound ham should take about one hour and 20 minutes to reach the desired temperature. Smoking a bit longer will ensure that your ham gains all the smoke flavor and a crispy bark.
Pre-smoked ham reaches doneness when the internal temperature hits 140 degrees F. The best and more accurate way to tell when the ham is done is to monitor the internal temperature of the ham using an instant-read meat thermometer.
How Long Should You Smoke Precooked Ham?
You should smoke your precooked ham at 225℉ for about 20 to 30 minutes per pound of ham. The internal temperature in the thickest part of the pre-cooked ham should read 140 degrees F when it's done. Otherwise, a fresh ham that is uncooked should reach 160 degrees F.
Seasoning Smoked Ham
Don't be afraid to experiment with different rubs and seasonings for your smoked ham. The dry BBQ rub you use should include your favorite herbs and spices.
Consider adding ground pepper or red pepper flakes for heat. If you want a little tanginess, add mustard powder.
If you prefer sweet ham, spritz your ham with apple cider vinegar and apple juice. Once you remove the ham from the smoker, customize its flavor by adding honey glaze, brown sugar, or maple syrup.
Can You Smoke a Smoked Ham?
Yes, you can smoke pre-smoked ham. This is the best type of ham to smoke in a Traeger pellet grill.
When re-smoking it, you can customize the flavor using wood pellets such as mesquite, hickory, pecan, or apple wood.
What is the Best Way to Prepare a Smoked Ham?
Thaw a smoked ham 24 hours before cooking and let it come to room temperature before cooking to speed up the process.
Before smoking, don't remove any fat to help it become moist and tender. You can remove any excess fat after cooking if you don't want to consume it. Put the ham on the grill grates with the fat cap towards the heat source.
Cook the smoked ham at 225 degrees F until the internal temperature of 140 degrees F is reached. An instant-read meat thermometer will tell you when it reaches this temperature.
If you want to take it a notch higher, baste your ham with drippings. While this is not mandatory, it can improve the flavor.
Your smoked ham will be delicious, but you can jazz it up even more with spiced maple glaze.
What Temperature Do You Cook a Smoked Ham on a Pellet Grill?
When cooking smoked ham on a pellet grill, keep the temp low to make it moist. Smoke at 225 degrees F.
When it reaches an internal temperature of around 130 F, glaze it and continue to smoke until caramelization is complete. Remove it from the smoker once it reaches an internal temperature of 140 degrees F.
How to Store and Reheat Smoked Ham
After serving, put your leftover ham in an airtight container. The leftover ham will be safe to eat for up to 5 days. It is important to store your leftover ham in the refrigerator within one hour to avoid bacteria growth. Make sure to use a shallow container to store the food in the refrigerator to ensure it chills faster.
The best way to reheat your smoked ham is in an oven. Preheat your oven to 350℉ and then put the smoked ham in a large, baking dish. Cover the baking dish with aluminum foil and reheat for around 20 minutes.