It's easy to make smoked cheeseburgers: simply form 1/2 pound meat patties dressed with salt and pepper, and allow them to smoke until they reach 135°F on your smoker. Top with cheddar cheese and allow to smoke for another 15 to 20 minutes or until the burgers are fully cooked and the cheese has melted. Place your burgers on warmed buns basted with your favorite bbq sauce and fixings!
Should You Smoke Cheeseburgers?
Yes, absolutely. They won't be the same as your favorite fast-food joint; they'll be way better!
The good news is that smoking a juicy burger is pretty simple and doesn't require fancy equipment or ingredients. You'll only need a smoker and your favorite burger ingredients.
Not only is the following ultimate juicy smoked cheeseburger recipe the best-tasting smoked cheeseburger I've ever eaten, but I'm also always being asked for this recipe.
Print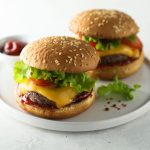 Ultimate Juicy Smoked Cheeseburgers Recipe
---
Total Time:

1 hour 45 minutes

Yield:

4

1

x
Description
The combination of beef, crispy buns, and gooey cheese is hard to resist, but we've added a secret ingredient that has taken this classic burger to the next level: smoke! That's right! We're talking juicy, flavorful smoked meat cooked over an open flame and smothered with cheese. Basically, the kind of smoked bbq burger you'll dream about for weeks after having it.
---
2

lbs

80/20 ground beef

3/4 tsp

salt

1/2 tsp

black pepper

4

burger buns

4

slices cheddar cheese
---
Instructions
Start by forming the beef patties – take balls of ground meat to make patties and ensure each burger weighs 8 oz (½ pounds).
Shape your patties, so each is ½ inch thick – a hamburger bun is usually a bit smaller than this, but don't worry, the meat patties will shrink while smoking. 
Season each hamburger patty with salt and pepper.
Put patties in the fridge and leave them there for a minimum of 15 minutes (and up to a few hours).
Preheat your Traeger or pellet grill to 225 degrees F and add your preferred wood pellets. For this type of meat, Hickory is recommended.
Place the burgers on the grill grates and close the lid for about an hour. Don't open it during this time, as you'll need at least one hour of continuous smoking after placing the patties on the grill.
Right before your patties reach the ideal doneness put the buns on the grill grates and place the cheddar cheese on the smoking patties while they're still on the grill. 
For a medium smoked cheeseburger, you'll want to add the cheese and buns when an internal temperature of 135°F is reached.
Smoke patties for 15 to 20 minutes – until the cheese melts on top and the buns are toasty.
Ideally, you'll take your meat patties off the smoker once they reach an internal temperature of 145°F (for medium).
Take the toasted buns and patties off the grill grates.
Build your perfect cheeseburger with your favorite condiments, and serve it with your favorite side dishes!
Notes
To avoid drying out your burger, don't press the patties with a spatula while smoking.
Pick a ground chuck containing 80 percent lean meat and 20 percent fat content so they remain juicy while smoking.
Feel free to add other seasonings to your patty to enhance the flavor: some ideas include garlic powder, onion powder, Worcestershire sauce, and smoked paprika.
Prep Time:

20 minutes

Cook Time:

1 hour 20 minutes

Category:

Main Course
How Long Does it Take to Smoke a Cheeseburger?
The buns, cheese, and meat patty will all smoke at different time intervals. The meat patty goes first on the grill, followed by the buns and cheese. I'll focus on the meat patties because time is the most important factor here.
The amount of time it will take to smoke a cheeseburger will depend on the following factors:
The thickness of the meat patty. If you're buying pre-made patties, you can't really control this aspect, but if you're making them, you get to pick how thick they are. Most recipes will have a patty thickness of 1/2 inch.
The diameter of the patty. Aim for a diameter of 3″ to 4″.
The temperature of the smoker. Burgers will smoke faster and have less smoke flavor at higher temperatures.
The type of meat used. Pork behaves differently than beef. If you use all-beef patties, you have more leeway on smoking time and temperature.
 The USDA recommends an internal temperature of 160°F on all ground beef for safe consumption. For an estimation based on your desired doneness, check the chart below.
| | |
| --- | --- |
| Doneness | Temperature |
| Rare | 125-130°F |
| Medium-rare | 130-140°F |
| Medium | 140-150°F |
| Medium-well | 150-160°F |
| Well-done | 160°F |
How Long Does it Take to Smoke Burgers at 225?
The answer is until it reaches the desired internal temperature. Don't base this on color and texture; use a probe thermometer to ensure you reach the right doneness. As an estimate, a regular-sized meat patty can take about 60-65 minutes to smoke at 225°F.
What Temperature Do You Smoke Cheeseburgers?
I'm going to tell you a secret: smoking your burgers at a lower temperature is better. That's why the ideal smoking temperature is 225°F.
Smoking at a lower temperature will give you more flavor and won't overcook your meat, so your burger will be juicier.
Should You Flip Burgers When Smoking?
If you want to flip your burger, only do so once. Smoked burgers should not be flipped repeatedly because you want to leave them undisturbed as much as possible so they absorb smoke.
What Kind of Cheese Should You Put on a Smoked Cheeseburger?
To turn your smoked hamburger recipe into a smoked cheeseburger, you need cheese. Of course, you can always add homemade smoked cheese for extra smoky flavor!
Here are some of the best choices:
Gouda
Gouda melts well and has a mild flavor that will complement the burger's beef.
Cheddar
Cheddar is one of the world's most popular types of cheese because its flavor profile works well with so many different foods. It melts well and has a nice tangy and sharp flavor, which complements the smoky burger.
Swiss
If you want something more flavorful than Gouda but not overpowering like a sharp cheddar. It's got a nutty flavor that makes it an excellent option for this dish.
American Cheese
This classic cheese melts quickly, coating the burger perfectly as it smokes. It adds a nice saltiness to the flavor profile of the burger.
Can You Make Smoked Cheeseburgers in an Electric Smoker?
You can make smoked cheeseburgers with a traditional smoker, as well as with an electric smoker. The flavor of an electric smoker is similar to pellet grills because most modern electric smokers allow you to use wood pellets.