Smoked cheese has a delectable, nutty flavor that is hard to beat. Smoking cheese on your grill or in your smoker is easy with a cold-smoking process. Allow the cheese to reach room temperature and then arrange the cheese inside your smoker with a lit smoking tube filled with your favorite wood chips. Allow cheese to absorb the smoke for 2 to 4 hours. Blot, wrap, and refrigerate for 7 days and you have smoked cheese!
Smoked cheese will wow any cheese lover and leave them yearning for more. From Gouda to Mozzarella, you'll find a variety of cheeses to add zing to your burgers, salads, pasta, and more.
Why Make Smoked Cheese?
Smoked cheese is cheese infused with a smoke flavor. Smoking blocks of cheese not only brings out a delicious flavor and taste but also allows it to last for a long time. 
Print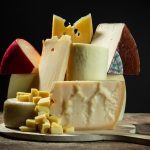 How to Make Smoked Cheese Recipe
---
Description
This smoked cheese recipe is the only step-by-step guide you'll need if you want to smoke cheese. The same method can be used for a variety of cheese and you can switch up the flavor easily by choosing different wood chips! You can use an offset grill, pellet grill, or water smoker – any grill type can be used for cold-smoking.
---
Small cut blocks of your favorite cheese ((Brie, Cheddar, Gruyere, Gouda, and Swiss are great options))
---
Instructions
Prepare the cheese: Let the cheese come to room temperature. Remove the cheese from the refrigerator at least 2 hours before smoking. Make sure there's no moisture forming on the cheese before smoking it. 
Select the right fuel for smoking cheese: Applewood, maple, hickory, oak, and cherry are all great options for smoking cheese.
Prep the smoke: Light the smoking tube according to the manufacturer's instructions and put it in the smoker. Once the smoke starts coming from the smoking tube, place the cheese on the grill pan or grill grates. There should be enough airflow between the blocks of cheese to ensure the smoke reaches all sides of the cheese.
Smoke your cheese: Close the lid and smoke your cheese for two to four hours.  
Rest your smoked cheese: Once you pull the cheese out of the grill you will need to let it rest. The rest period allows the smoke flavor to set firmly. Carefully blot smoked cheese with a paper towel to remove excess oil. Then wrap the cheese with butcher paper or plastic wrap and place it inside the refrigerator for 7 days. This aging period helps the smoke flavor to develop even further. 
Notes
Check the weather: Smoke cheese at home when the weather is cool (less than 60 degrees F outside).
Use a reliable probe thermometer: Use a good probe thermometer to check the temperature. The smoker temperature should not rise over 80-90 degrees F.
Small blocks of cheese: Smaller blocks of cheese will bring out more smoke flavor than large blocks. 
Ice pan: You can place an aluminum foil ice pan or icebox in the smoker underneath the cheese to lower the temperature near the cheese during the smoking process.
Room temperature: Let the cheese come to room temperature and remove any moisture forming on the entire surface area of the cheese before smoking. 
No flame: Smoke your cheese with a consistent stream of smoke with no flame or heat. 
Prep Time:

2 hours

Cook Time:

4 hours
What is Cold-Smoking Cheese?
The cold smoking method entails smoking cheese on a cold smoker or charcoal grill at a low temperature.
There are two methods of cold-smoking cheese:
Using a regular grill: Smoking is done indirectly with the cheese over a pan of ice to maintain very low temperatures.
Using a pellet grill: Smoking is done indirectly to keep the heat source away from the cheese.
Another important consideration when cold-smoking cheese is the kind of fuel you use because it influences the cheese flavor.
Natural wood like alder, applewood, chestnut, hickory, and oak are the most commonly used types of wood as either wood chips or wood pellets. You can even use different varieties to create a unique smoke flavor.
What Can You Make with Smoked Cheese?
Smoked cheese works well with almost everything made with it.
Here are some delicious ideas for using smoked cheese:
Can you Smoke Cheese With a Regular Smoker?
Yes! The most important thing when smoking cheese in a regular smoker is very low temperatures.
Various types of cheese, particularly soft cheese can melt at moderately low temperatures. As long as the cheese is cold-smoked, you can use any type of smoker.
When is the Best Time of Year to Smoke Cheese?
The best time to smoke cheese is during the colder months (Fall and Winter) when the temperature is less than 60ºF outside. Warmer temperatures will melt the cheese.
What Temperature Should Cheese be Smoked At?
Low temperatures are very important when cold-smoking cheese. The best temperature for cold-smoking cheese is below 90 degrees Fahrenheit. Fatty milk starts to liquefy at around 90°F.
How Long Does Cheese Take to Smoke?
It takes about 2 to 4 hours to cold smoke cheese.
After smoking the cheese, you need to wrap it tightly and allow it to sit in the refrigerator for one to two weeks. If you eat your cheese immediately, the smoke flavor will be too strong. Letting it rest creates a rich, yet more subtle smoke flavor. After one or two weeks, you can check to see how the cheese tastes.
What Kind of Cheese Is Best to Smoke?
You can smoke both hard and soft cheeses. Hard cheeses and semi-hard cheeses like Gouda, Parmesan, Pepper Jack, and Cheddar cheese are perfect for beginners because they don't easily get over-smoked.
However, the kind of cheese you smoke will depend on your individual tastes and preferences.
Try smoking any of the following types of cheeses:
Brie
Cheddar
Colby Jack
Gouda
Gruyere
Mozzarella
Monterey Jack
Pepper Jack
Scamorza
Swiss
What Kind of Cheese Does Not Work Well With Smoking?
Semi-soft cheeses like Gorgonzola are bad candidates for smoking because they take on smoke fast, making them difficult to place on the smoker. Additionally, softer cheeses can melt easily, which ends up ruining the whole process.
Some of the common cheeses that should not be smoked include Camembert, Chevre, and Gorgonzola.
How Do You Store Smoked Cheese?
For the best results, make sure to vacuum seal your smoked cheese before putting it in the refrigerator.
Once you have finished smoking the cheese, wrap it in butcher paper and put it in the refrigerator for 24 hours. After that, transfer the smoked cheese to a vacuum-sealed bag and let rest in the refrigerator for one to two weeks. The longer you let the cheese age slowly, the better its taste will be. 
When properly sealed, smoked cheese will last for at least 12 months. Avoid freezing the smoked cheese because this can make it crumbly rather than the creamy and smooth texture you want.
What Are The Benefits of Smoking Cheese?
Here are some key benefits of smoking cheese:
Produces flavor and aroma that's hard to beat.
Smoking cheese uses natural wood chips or wood pellets that help to produce an all-natural smoky flavor. 
Smoking cheese produces clean smoke, resulting in minimal clean-up. 
You can smoke various cheese types, including natural and processed cheese.