To make smoked candied bacon start with thick-sliced bacon and coat each strip in maple syrup, brown sugar, and spices, before smoking them at 250°F for 2 hours or until caramelized. Let the strips cool for 10 minutes before serving.
How Do You Make Smoked Candied Bacon?
This simple smoked candied bacon recipe makes a surprisingly addicting treat that's crisp and crunchy. You need three ingredients to make smoked candied bacon, and the preparation takes just a few minutes.
Season the Bacon Strips
To start, season your sliced bacon strips generously with brown sugar and brush with maple syrup. For extra spicy smoked candied bacon, add a pinch of cayenne pepper.
Prepare the Bacon for Smoking
Line a baking sheet with tin foil and lay the bacon on top before arranging it on a cooling rack. Make sure to leave some space between the bacon strips to prevent sticking.
Preheat the Smoker
Ready your smoker for smoking at 225°F over indirect heat. Let it heat up to 225°F, add your desired pecan or apple wood pellets, and then place the bacon into the smoker.
Smoke the Bacon
Let the bacon smoke for around 60 minutes, then remove the bacon from the smoker and flip each bacon strip. Sprinkle some more brown sugar and brush with additional maple syrup.
Place the bacon back in the smoker and smoke for an additional 60 minutes.
Cool the Bacon and Serve
Remove the smoked bacon from the smoker and place it on parchment paper or use a cooling rack. Let it cool for 30 minutes. Serve it immediately or put it in an airtight container to store it for later use. Enjoy!
Print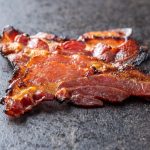 Thick-Cut Maple Candied Bacon Recipe
---
Author:

Total Time:

1 hour, 50 minutes
Description
This smoked candied bacon is easy to make and one of the sweetest things you'll ever taste in your lifetime. Give this candied bacon recipe a shot, and it will soon become your favorite snack recipe!
---
1/2

cup

light brown sugar

1/2

cup

maple syrup

1

lb

Thick-cut bacon
---
Instructions
In a medium-sized mixing bowl, mix the maple syrup and brown sugar to create a thick syrup-sugar mixture.
Separate your bacon strips and use a pair of tongs to place each strip into the bowl. Toss the strips in the mixture and make sure all of them have a sticky coating of maple syrup and brown sugar.
Set the smoker to 225°F and add your desired wood pellets or wood chips. Apple wood, cherry, pecan, and oak pellets are all excellent options for this smoked bacon candy recipe.
Once the smoker is ready, place every piece of bacon on the grill grates. Make sure to give every piece plenty of space. Each piece of bacon should shrink during the cooking process, but it may not cook properly if the pieces touch each other.
Flip each strip of bacon after an hour of cooking, so they can cook more evenly. Brush a little more maple syrup on the other side of the bacon slices after flipping them.
Check on the pieces every 10 minutes to ensure they are smoking evenly, but ensure you allow them to smoke for an additional one hour of total time.
Use a pair of tongs to transfer your smoked candied bacon to a parchment paper-lined baking sheet and let cool for 10 minutes at room temperature.
Serve or store in an air-tight sealed container for later use.
Prep Time:

10 minutes

Rest Time:

10 minutes

Cook Time:

1 hour, 30 minutes
Nutrition
Serving Size:

1 ounce

Calories:

220

Sugar:

27g

Sodium:

383mg

Fat:

23g

Saturated Fat:

8g

Carbohydrates:

28g

Fiber:

1g

Protein:

7g

Cholesterol:

37mg
How Long Should You Smoke Bacon?
The exact amount of time will depend on the type of smoker you choose, the temperature of the smoker, and how thick the bacon is.
As a general rule, plan to smoke bacon for 2 to 3 hours, but it can take longer if you want a more intense smoky flavor.
It's essential to monitor your bacon closely while it's smoking to ensure that it doesn't burn or dry out. When the bacon is fully cooked, remove it from the smoker and let it cool.
What is the Best Temperature for Smoked Candied Bacon?
The best temperature for smoked candied bacon will depend on a few factors, such as the type of smoker you're using and the desired level of doneness.
Generally, smoking bacon at a temperature of 225°F to 250°F is ideal. This temperature range will allow the bacon to cook slowly and evenly, allowing the smoke to penetrate the meat and the brown sugar in the sugar mixture to caramelize.
It's essential to monitor your pig candy carefully and adjust the heat as needed to ensure that the bacon doesn't burn or dry out.
How Long Does it Take to Smoke Bacon at 225?
It will take approximately 2-3 hours to smoke bacon at 225°F. This is just a general guideline, as the exact amount of time will depend on the thickness of the bacon, the type of smoker you use, and the desired crisp texture.
It's important to check on the bacon closely while it's smoking to ensure it is fully cooked. When the bacon is done smoking, remove it from the smoker and let it cool before serving.
How Do You Keep Candied Bacon Crispy?
There are several steps you can take to help keep candied bacon crispy.
Use a Wire Rack
First, ensure you smoke your bacon strips on a wire rack arranged on a baking sheet. This will allow warm air to circulate around each piece of bacon and help it cook evenly on both sides.
Ensure Bacon is Evenly Spaced
Next, make sure there's plenty of space on the baking sheet. Overcrowding can cause the bacon to become soggy. Instead, give each bacon strip enough space to cook evenly and crisp up.
Allow Bacon to Cool
Finally, allow your bacon to cool before storing it. If you store the bacon while it is still warm, the moisture from the bacon will cause it to become soft or lose its crispness.
What is the Best Bacon to Use for Candied Bacon?
The best bacon to use for candied bacon is good quality, center-cut, thick-cut bacon. This type of bacon will have the correct balance of fat and meat, which will help it stay extra juicy and flavorful once it's candied and smoked.
Thicker bacon will also hold up to the brown sugar in the candying mixture, allowing it to caramelize and form a crispy, tasty crust.
When selecting bacon for candying, look for bacon that has a good amount of marbling, which will help to keep it moist and flavorful.
You can also try different types of smoked bacon, such as applewood-smoked bacon or hickory-smoked bacon, to add different flavors to your candied bacon.
Is it Hard to Make Candied Bacon?
Making candied bacon is not hard to do. Candied bacon is made by coating bacon with brown sugar or a sugar-based maple syrup mixture and then baking it until it is caramelized.
While making candied bacon may seem daunting at first, it is pretty simple, requires just a few ingredients, and can be done in just a few steps!
Meal Ideas for Smoked Candied Bacon
There are many ways to enjoy smoked candied bacon, depending on your tastes and preferences. One of the best things about candied bacon or pig candy is its versatility.
Here are a few ideas:
Chop it up and use it as a tasty addition to omelets or mix it into scrambled eggs.
Serve it as a side dish with breakfast, brunch, or dinner.
Use it as a topping for salads, sandwiches, or burgers.
Sprinkle your candied bacon on popcorn.
Use it to add flavor and texture to soups or stews.
You can also get creative and use smoked candied bacon in your own recipes, such as in a bacon jam or a bacon-wrapped appetizer. The possibilities are endless!
How to Store Candied Bacon
To store candied bacon, place it in single layers divided by parchment paper in a ziplock bag and place it in the fridge for 4 to 5 days.
To store it for a longer time, use parchment paper to separate the candied bacon in layers and keep it in an airtight container for up to three months.
When you're ready to eat the bacon, place it on a wire rack and reheat it in the air fryer or oven at 350°F until it is warm and crispy. This will help to maintain its crispness and flavor!