The ultimate Traeger smoked burgers can be made even better with the addition of candied bacon. Smoke your 1/2" burger patties at 225°F until they reach 125°F, then reverse-sear them at 400°F for a few minutes until they reach your desired doneness. Top with caramelized bacon and your favorite burger toppings for the best burger you'll ever eat.
This amazing smoked burger Traeger recipe requires just a few elements to come to life: the right kind of meat, toasty buns, some intensely caramelized bacon, and plenty of smoke.
The Best Way to Smoke Burgers on a Traeger
Here is the step-by-step guide on how to smoke a great burger on a Traeger smoker:
Prepare the meat patties by making them 1/2 inch thick with a diameter of 3″ to 4″. Another way to estimate the size is by ensuring they're bigger than the buns (since they'll slightly shrink in the smoker).
Preheat your smoker to 225°F.
Place patties on the grill until they reach an internal temperature of 125°F which should take 25 to 30 minutes.
Remove patties from the grill grates.
Raise the temperature of the grill to high heat at 450°F.
Sear both sides of your burger patties until they reach your ideal doneness.
Print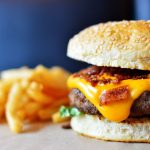 Candied Bacon Traeger Smoked Burgers
---
Author:

Total Time:

1 hour, 45 minutes
Description
Get ready for a perfectly smoked meat patty assembled on a toasty brioche bun with some smoky-sweet candied bacon, smothered in a layer of melted cheddar cheese. This smoked burger recipe will surely be a hit at every BBQ gathering!
---
1 1/2

pounds

of Ground Beef (80/20)

1 tbsp

(

12g

) Brown Sugar

1 tsp

Kosher Salt

1 tsp

Chili Powder

1 tsp

Garlic Powder

1 tsp

Onion Powder

1/2 tsp

Black Pepper

4

slices Cheddar Cheese

4

Hamburger Buns

4

slices center-cut bacon

2 tbsp

maple syrup

2 tbsp

honey

1/4

cup

smoked ketchup or bbq sauce
---
Instructions
Preheat your smoker to 225 degrees F.
In a bowl, mix all the dry seasoning.
Form 4 burger patties to be slightly larger than the buns you use.
Season the meat on both sides with the dry ingredients.
Prepare your candied bacon by mixing maple syrup and honey and coating your center-cut bacon slices with this sweet glaze. You can place the bacon slices on an opened piece of foil inside the smoker next to your burgers while they are cooking.
Place hamburger patties in the smoker and let them sit until they reach an internal temperature of 140ºF (70-80 minutes).
Take the patties out, wrap them in aluminum foil (like a brisket), and place them back in the smoker for 12 minutes. This process helps the burgers to remain moist and pasteurizes the meat.
After 12 minutes, unwrap the burgers and place cheddar cheese (or cheese of your choice) on the burgers, and allow them to smoke for an additional 3 to 5 minutes.
Toward the end of the cooking time, place your burger buns on the smoker until they become toasty.
You can remove your bacon from the smoker with your finished burgers, or increase your smoker temperature to 275°F and allow your bacon to smoke for a few extra minutes to make the bacon crispier. If you don't finish the bacon at a higher temperature the bacon will be softer.
Compose your burger by putting together the meat patties with the toasted buns and top with the candied bacon.
Prep Time:

15 minutes

Cook Time:

1 hour, 30 minutes
Nutrition
Serving Size:

1 burger

Calories:

600

Sodium:

1080mg

Fat:

24g

Saturated Fat:

10g

Carbohydrates:

44g

Protein:

23g

Cholesterol:

55mg
What is the Best Meat for Making Traeger Smoked Burgers?
To make the best burgers, you must start with the best ingredients. High-quality ground meat is the key here! If you're looking for a tender burger rich in flavor and texture, you should use 80/20 ground chuck. It's better than leaner cuts like sirloin.
The 80/20 ratio works best for Traeger smoked burgers because it gives you a nice balance of fat and lean meat.
Best Temperature for Traeger Burgers
When smoking burgers, the perfect temperature is 225°F.
How Long Do You Cook Burgers on a Traeger?
When choosing your desired burger doneness, check the internal temperature using a meat thermometer.
| | |
| --- | --- |
| Doneness | Temperature |
| Rare | 125°F – 130°F |
| Medium-rare | 130°F – 140°F |
| Medium | 140°F – 150°F |
| Medium-well | 150°F – 160°F |
| Well-done | 160°F – 165°F |
Target Internal Temperature for Burgers
The USDA recommends an internal temperature of 160°F for ground beef to ensure it is safe to eat.
It is essential to know that if your patties reach 140°F internal temperature and stay at that level for 12 minutes, this also successfully kills harmful bacteria by pasteurization.
How Long Does it Take to Smoke Burgers at 225?
If you're smoking at 225°F most burgers will take an hour to an hour and a half depending on their thickness.
Best Wood Pellets for Smoking Burgers on a Pellet Grill
Here are four of the best wood chips for smoking burgers:
Hickory
This is one of the most common woods for smoking beef products because it's got a robust and earthy flavor that goes well with beef.
Mesquite
Mesquite has a distinct flavor that many people love. These pellets are your best bet if you're looking for an intense smoke flavor.
Apple
Applewood is excellent for smoking because it has an intense sweetness that pairs nicely with pork. It adds depth without being overpowering.
Pecan
Pecans have a milder nutty flavor which pairs nicely with burgers as an accent flavor note.
Smoked Burger Topping Ideas
Here are some ideas for adding some flare to your smoked burger:
Island Style
Add grilled pineapple, spam, teriyaki sauce, a drizzle of mayonnaise, and some toasted sesame seeds for a tropical take on a smoked burger.
Philly Cheesesteak Style
Top your burger with sautéed mushrooms, onions, and peppers. Add some mozzarella cheese and cover with barbecue sauce. You'll never want regular burgers again!
Kimchi
Kimchi is a spicy Korean fermented cabbage packed with umami flavor and crunchy texture. It's a great way to add some zest to your burger without overpowering other flavors.
Goat Cheese, Maple Syrup, and Arugula
This unusual combination is stunning. The sweetness of maple syrup complements the bitterness of arugula in a way that's truly hard not to love. Creamy goat cheese adds the tanginess this combination needs to knock it out of the park!
Sun-dried Tomato Mayonnaise
The sweet and savory combination of tomato and mayonnaise is incredible. It's super easy to make: just put some sun-dried tomatoes in a food processor with some mayonnaise and blend it until you get a nice consistency! Add fresh herbs for a punchier flavor!
Tips for Making Juicy Burgers on a Pellet Grill
These tips will keep your burgers juicy while cooking on a pellet grill:
Make your meat patty bigger than your buns to accommodate the shrinkage that will inevitably occur when smoking the meat.
A thin burger patty will dry out quickly. Ensure your patties are at least a half-inch thick if not thicker.
Choose 80/20 chuck as the base for your burger patty. This fat ratio is optimal for juicy burgers!
Don't press burgers with a spatula while smoking because this causes juice to run out and leaves you with a dry burger.