To smoke Picanha, you must first trim it by removing some of the fat cap and all of the silverskin. Season the Picanha with Kosher salt. Preheat the smoker to 180°F and smoke the steak until it reaches an internal temperature of 110°F. Raise your smoker's temperature to 450°F and let the Picanha smoke until it reaches an internal temp of 135°F for medium-rare.
What is the Best Way to Smoke Picanha?
Picanha (also called culotte, rump cap, or sirloin cap) is one of the beefiest cuts of meat. In the US, you can cut this type of meat into smaller pieces, but the best way to smoke it is whole.
Tools Needed to Make Smoked Picanha
Meat thermometer
Traeger pellet smoker or a Weber Kettle
Sharp knife
Small bowl
Wood chunks/Wood chips
How to Prepare Picanha for Smoking
Trimming the Picanha is the first part of the prepping process. You don't have to completely cut the thick fat cap off. Instead, it is best to make checkered cuts on the steak using a sharp knife. However, you will want to ensure the silverskin is cut off entirely.
Sprinkle seasoning or Kosher salt on the opposite side of the fat cap and let it sit in the fridge for a couple of hours.
Prepare the Smoker
Preheat the smoker to 180°F and choose your desired wood chunks or wood chips. For Picanha, the perfect choices are hickory or mesquite.
Smoke the Picanha
There are two ways to smoke this steak – either as a whole Picanha roast or by placing small cuts of beef on skewers.
If smoking whole, place the Picanha with the fat cap side facing up. Smoke the steak until it reaches an internal temperature of 110°F and then apply the reverse-sear method by increasing the smoker's temperature to 450°F and sear the Picanha on the grill grates for a few minutes on each side.
After searing, wrap the steak in aluminum foil or butcher paper, similar to brisket. Place it back in the smoker with the lid closed until it reaches an internal temperature of 125-130°F for medium-rare doneness.
If you're smoking small pieces of Picanha on a skewer, the process is similar, but you won't need to foil-wrap them. Due to the smaller size, they will finish smoking directly on the grill grates.
Rest the Picanha
After reaching the desired internal temp, let the Picanha rest for about 15-20 minutes. While resting, the internal temperature will rise from 5°F to 10°F. The last step is to slice the Picanha against the grain to ensure the meat is fork-tender.
Print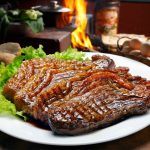 Brazilian Smoked Picanha Steak Recipe
---
Author:

Total Time:

3 hours, 20 minutes
Description
This Brazilian Smoked Picanha Recipe is a tender, juicy piece of heaven that is a proven crowd-pleaser. This is one of Brazil's most famous cuts of beef, so if you've never had it before, it's time to experience one of the best bbq smoked steaks you've ever had!
---
3

lb

Picanha Steak Culotte

3 tbsp

Beef rub
Beef Rub
1 tbsp

Kosher salt

1 tbsp

black pepper

1 tbsp

garlic powder or granulated garlic
---
Instructions
Place the Picanha with the fat cap side down and rub some kosher salt over the surface of the meat.
Refrigerate the Picanha for 90 minutes.
Preheat the smoker to 180°F.
Cut the fat cap in a criss-cross pattern while the Picanha is still chilled.
Mix your simple dry ingredients together to make the beef rub.
Sprinkle the dry rub all over the cut of meat, making sure to cover all sides
Place the meat in the smoker, making sure it's placed with the fat cap up. Cook Picanha like this until the internal temperature reaches 110°F.
After getting to that point, raise your smoker's temperature to 450°F and let the Picanha smoke until it reaches an internal temp of 125°F.
After this point, you should take your meat off the smoker and wrap it in aluminum foil, as it will continue to cook for a little bit. Rest it for 20 minutes. This way, you can ensure your Picanha will be a perfect medium-rare.
Unwrap the smoked meat and slice it against the grain.
Serve with your favorite side dish and sauce – chimichurri sauce goes excellent with Picanha!
Prep Time:

90 minutes

Rest Time:

20 minutes

Cook Time:

90 minutes
Nutrition
Serving Size:

100g

Calories:

277kcal

Sugar:

0g

Sodium:

132mg

Fat:

8g

Saturated Fat:

3g

Carbohydrates:

0g

Fiber:

0g

Protein:

48g

Cholesterol:

125mg
What Temperature Should You Smoke Picanha?
You have to start by setting your smoker at a low temperature (180°F-225°F) and cooking it like this until it reaches an internal temp of 110°F. Then you'd have to increase the smoker's temperature at the very end (450°F) until it reaches the desired doneness.
When it comes to smoking Picanha, both the temperature of the smoker and the internal temperature of the meat matter! The USDA recommends that you smoke your beef meat until it reaches an internal temp of 145°F, but things are more nuanced when it comes to this type of meat.
How Long Should You Smoke Picanha?
A 3lb piece of Picanha meat will take around 2 hours to smoke. When calculating the required cooking time, make sure also to include the prep time.
Can You Smoke Picanha Like a Brisket?
Yes, you can! Smoking Picanha can be a delicious and flavorful way to prepare this cut of beef, and it is an excellent alternative to smoking a brisket if you are looking for a change of pace.
Wrapping the Picanha helps to keep it moist and tender during the long smoking process. It also helps to prevent the exterior from becoming too charred or burnt.
Should You Smoke Picanha Fat Side Up or Down?
It's recommended that you place Picanha with the fat cap up. This is because the fat on Picanha helps protect the meat from direct heat. By placing the fat side up, the meat is less exposed to heat, which can help to prevent it from becoming overcooked or burnt.
What Type of Wood to Use for Smoked Picanha
When it comes to smoking Picanha, there are a lot of choices. The classic options are Hickory and Mesquite, but Oak, Pecan, and Cherry also impart delicious and unique flavors!
What is the Difference Between Picanha and Skirt Steak?
Picanha and skirt steak are both cuts of beef popular in South American cuisine. Picanha is a cut of beef taken from the top sirloin cap and characterized by a thick fat cap on one side. It is a flavorful and tender cut of meat, typically grilled or roasted.
Skirt steak is a thin cut of beef taken from the cow's underside near the plate and flank. It is a leaner cut of meat than Picanha and has a bold, beefy flavor. It is often marinated before grilling or pan-searing to help tenderize the meat.
One of the main differences between Picanha and skirt steak is the fat content. Picanha has a thick layer of fat on one side, while skirt steak is a leaner cut of meat. Picanha is also generally more tender than skirt steak, which can be chewy if not cooked properly. Picanha is typically sliced against the grain, while skirt steak is usually sliced with the grain.
Best Steakhouse Sides for Smoked Picanha
Smoked Picanha is a tender cut of beef often served in Brazilian steakhouses. If you've ever been to one, you know it's not just about the meat—the sides are just as important!
Here are some of the best steakhouse sides for smoked Picanha: