For most Pit Boss rib recipes, you'll want to use the 3-2-1 smoking method. Smoke your seasoned, uncovered ribs for 3 hours, then wrap them up tight with foil and smoke for 2 hours. During the last hour, the ribs are uncovered and smoked while slathered in sauce.
The Best Method for Making Pit Boss Ribs
There are many different methods for making Pit Boss ribs, but one of the most popular and effective methods is the 3-2-1 method. This method involves smoking the ribs for 3 hours, wrapping them in foil with a liquid for 2 hours, and then finishing them off uncovered on the grill or in the oven for 1 hour.
Print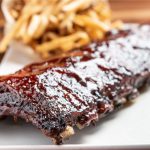 Pit Boss Smoked and Slathered Ribs Recipe
---
Description
Try this smoked Pit Boss rib recipe for mouth-watering smoky racks with an excellent finish. The potent and smoky flavor of these ribs will stay with you. These ribs are a perfect main course, easy for beginners to make, and flavorful enough for any pitmaster to enjoy.
---
---
Instructions
Trim excess fat and the membrane from the rib racks using a sharp knife.
Pat the ribs dry with a paper towel.
Rub the sides of the ribs with your Pit Boss dry rib rub.
Preheat your Pit Boss smoker to 200°F and add your wood pellets (cherry and apple work great).
Place the ribs on the grill grates (meat side up) and close the lid.
Cook ribs for about 3 hours. Don't raise the cover during this time.
Get the ribs out of the smoker and wrap them in heavy-duty aluminum foil with the bone side up.
Raise the temperature of the smoker to 225°F.
Place the butter on the ribs, sprinkle with brown sugar, and add your apple cider (or apple juice).
Tightly wrap them so no juices can escape, and place them back in the smoker.
Smoke the Baby Back ribs for another 2 hours.
Get the wrapped ribs out of the smoker and unwrap them.
Grab them with your tongs and place the pork ribs – this time unwrapped – in the smoker with the bone side down.
Use a basting brush to cover them in BBQ sauce and cook for another hour until caramelized. The ribs are done once the internal temperature reaches 200°F to 205°F.
Rest your ribs for 10 minutes before slicing and serving with your favorite side dishes!
Notes
You can make this recipe on any pellet grill or pellet smoker, including Traeger, Weber, or a Green Egg so use what you have. It'll taste great!
Nutrition
Calories:

709kcal

Sugar:

42g

Sodium:

733mg

Fat:

40g

Saturated Fat:

16g

Carbohydrates:

53g

Fiber:

2g

Protein:

38g

Cholesterol:

151mg
Target Internal Temperature for Pit Boss Ribs
Ribs usually have to reach an internal temperature of 145°F for them to be safe, but you must continue cooking them beyond this temperature for the best result.
The target internal temperature for pit boss pork ribs is around 200°F to 205°F.
This temperature range will ensure that the ribs are fully cooked and tender but not dry or overcooked. To take the temperature of the ribs, you can use a meat thermometer and insert the probe into the thickest part of the rib, away from any bones or fat.
How Long Does it Take to Smoke Ribs at 225 on a Pit Boss?
Smoking times can vary depending on the size and thickness of the ribs, the smoker, outdoor temperature, and humidity. It's always a good idea to use a meat thermometer to ensure that the ribs are fully cooked and safe to eat.
Here are some estimates for different types of ribs:
| | |
| --- | --- |
| Type of Ribs | Smoking Time |
| Pork Spare Ribs | 6-7 hours |
| St. Louis Style Ribs | 5-6 hours |
| Baby Back Ribs | 4-5 hours |
| Beef Ribs | 6-8 hours |
| Lamb Ribs | 3-4 hours |
What is the 3-2-1 Rule for Smoking Ribs?
3-2-1 refers to the amount of hours each of the three steps in this method takes.
First, you must smoke the ribs for 3 hours at a low temperature. Then, you take your ribs off the heat and wrap them up in aluminum foil or butcher paper (same as you would for brisket). Finally, the last part of the cooking process is adding your barbecue sauce and searing your ribs right at the end to ensure they form a crispy and glazed exterior.
This method ensures your bbq ribs will be soft and tender on the inside and crispy and flavorful outside.
What is the Difference Between Baby Back Ribs and Spare Ribs?
Baby Back ribs are cut from the top of the ribcage, close to the loin muscle. They are shorter and more curved than spare ribs and have a more tender texture due to the higher amount of muscle and fat in this area. Baby Back ribs are also leaner than spare ribs.
Spare ribs are cut from the belly of the pig below the Baby Back ribs. They are longer and flatter than baby back ribs and have a tougher texture due to the higher amount of connective tissue in this area. Spare ribs also have more fat marbling throughout the meat, which can make them more flavorful.
You can use both racks of ribs in the recipe provided above, but the cooking times may vary depending on the size and thickness of the ribs. Use a meat thermometer to ensure you get them just right!
What is the Best Rub for Pit Boss Ribs?
When it comes to ribs, flavor is the name of the game. The best rub is whatever one you like best! Here are my three favorite rib rubs:
This brown sugar, paprika, and spices will give your ribs an authentic Kansas City flavor. It's an all-purpose rub that you can use on meat or vegetables.
This sweet heat rub is excellent for those who like spicy food It's made with garlic, coffee, and molasses, adding an earthy sweetness to balance the spice blend.
This a coarse rub, so if you're looking for something with texture, it's the best you can get. Its main ingredients are coarse salt, garlic & onion powder.