To smoke pork chops on a pellet grill, coat them with olive oil and season with dry rub or salt and pepper. Preheat the Pit Boss to 225°F and cook for about 1½ hours or until the internal temperature reaches 145°F on a meat thermometer inserted into the thickest part of the pork chop. Allow them to rest for 10 mins before serving.
You can make this Pit Boss pork chops pellet grill recipe in just a few hours. These perfectly smoked pork chops are easy to prepare and can be served on their own or with any pork side dishes you love!
Method for Making Pork Chops on a Pit Boss
Tools Needed to Make Pork Chops on a Pellet Grill
You need the proper equipment to get the job done. Here are the tools you need to get started:
Pit Boss Pellet Grill
Although it's possible to smoke pork chops on a standard charcoal grill or gas grill, you need a large smoker to accommodate your pork chops. A Pit Boss or another pellet grill such as a Traeger is an excellent choice. 
Wood Pellets
When choosing wood pellets for pork chops, opt for sweeter woods such as apple wood, cherry, or peach. You may also use stronger woods like pecan, hickory, or mesquite for a more robust smoke flavor.
Meat Thermometer
Buy a high-quality meat thermometer or temperature probe to help you monitor the internal temperature of the pork chops during the cooking process.
Peach Paper or Aluminum Foil
After smoking your pork chops, wrap them in foil or peach paper to rest before slicing and serving.
Sharp Knife
A high-quality knife is vital to trim the meat.
Buying Pork Chops
There are two factors to consider when choosing pork chops on a Pit Boss: you want at least 1-inch thick chops and to ensure real bone-in pork chops.
Thin-cut pork chops can dry out quickly on a pellet grill. Choose a pork chop at least 1 inch thick to ensure it cooks slowly and takes on enough smoke flavor. You don't want your pork chops to cook so quickly that they dry out. 
Be sure to get real pork chops. Many grocery stores pass pork loins off as boneless pork chops and they are not as delicious as real pork chops on the bone.
How to Prep the Pork Chops for Smoking
Brine the Pork Chops
Although brining is optional, it is a great way to cook juicy pork chops. Dry brining can help make your bone-in pork chops extra juicy as it infuses as much moisture into your pork chops as possible via osmosis. Simply cover your chops in a blend of sugar, salt, and spices and allow them to rest in the mixture for several hours.
You can also make a liquid brine for your pork by combining brown sugar, salt, your favorite spices, and water overnight. Bring your mixture to a boil and cool the liquid before adding your chops. Cover the container entirely and allow it to sit in the cold refrigerator overnight.
Prepare the Pellet Grill
Preheat your pellet grill to 225°F. Add your favorite wood chips to create a smoky environment to add smoke flavor.
Rinse, and pat the pork chops dry with paper towels to eliminate any excess moisture. 
Rub some olive oil all over the pork chops and sprinkle BBQ rub all over the meat's surface to add flavor.
Let the seasonings soak into the pork chops for around 30 minutes as the chops come to room temperature.
Smoke the Pork Chops
Place the bone-in pork chops on the grill grates, close the lid, and start smoking.
Remove the smoked chops once they have reached 140°F. Cover them in aluminum foil and let them reach 145°F as they rest. Use an instant-read meat thermometer to check when they are done.
Rest the Pork Chops
Rest your pork chops once they have reached 145°F for around 10 minutes before serving!
Print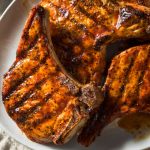 Smoked Bone-In Pit Boss Pork Chops Recipe
---
Author:

Total Time:

2 hours, 25 minutes
Description
This smoked bone-in Pit Boss pork chops recipe shows you how to smoke pork chops on a Pit Boss pellet grill or vertical pellet smoker to make juicy, smoked, thick pork chops bursting with smoky flavor. There is minimal prep time involved, and this recipe is perfect for beginners.
---
6

oz

bone-in pork chops

1

pinch Kosher salt

1/4

cup

olive oil
---
Instructions
Combine the lemon pepper seasoning and Kosher salt in a large bowl. Coat the chops in olive oil and sprinkle with the spice mix all over the pork chops.
Preheat the Pit boss pellet grill to 225°F and add your desired wood chips (apple, cherry, or hickory are great choices).
Once the Pit Boss is preheated, place pork chops on the grill grates and insert a meat temperature probe into the thickest part of the meat.
Smoke your pork chops until the internal temperature reaches 145°F. This should take about 70 to 90 minutes.
Allow the chops to rest for 10 minutes before serving!
Notes
The total cooking time is an estimate since the exact time depends on the thickness of your pork chops, the pellet grill you're using, and the temperature of the pork chops when placing them on the smoker.
If you prefer to make your own lemon pepper seasoning, you will need the zest of two lemons. Combine the zest with 2 tsp each of Kosher salt and crushed black pepper and 1 tsp of garlic powder. Add a little paprika for an extra jolt of flavor.
Prep Time:

15 minutes

Rest Time:

10 minutes

Cook Time:

2 hours
Nutrition
Serving Size:

6 ounces

Calories:

330

Sodium:

118mg

Fat:

20g

Saturated Fat:

7.2g

Protein:

34g

Cholesterol:

108mg
Best Temperature for Pit Boss Pork Chops
The ideal temperature for smoking pork chops is 225°F. At this temperature, the chops will take on the perfect amount of smoke and will not cook too quickly. You will end up with a juicy, flavorful chop if you keep an eye on the internal temperature.
How Long Does It Take to Smoke Pork Chops at 225?
Depending on the thickness of the pork chops, it takes around 70 to 90 minutes to smoke bone-in pork chops.
Target Internal Temperature for Pellet Grill Pork Chops
The USDA recommends smoking pork until it reaches a safe temperature of 145°F. However, you can smoke pork chops until the internal temperature reaches 140°F because carryover cooking will bring the temperature to 145°F as long as you let your chops rest for 10 minutes.
Smoking Boneless Pork Chops vs Bone-In Pork Chops
You can smoke both bone-in pork chops and boneless pork chops. Some people prefer smoking bone-in pork chops because they tend to be juicier and have more flavor while others opt for boneless pork chops because they are cheaper and cook faster.
Best Wood Pellets for Smoking Pork Chops
Pork chops work well with apple wood, cherry, hickory, or maple. These are the best wood pellets for smoking pork chops if you're looking for milder smoke flavors that won't overpower the meat.
Mesquite is a bit strong for smoking pork steaks, so use these wood pellets for beef or brisket.
Don't be afraid to experiment with a mix of hickory and other fruitwood wood pellets you love!
How to Keep Pork Chops Moist While Smoking
Here are some surefire ways to keep your pork chops juicy and tender while smoking:
Buy Bone-In Chops
Get bone-in pork chops, which are the juiciest.
Thickness Matters
Buy a thick-cut pork chop. It should be at least ¾ inches thick, so it doesn't cook too fast and dry out.
Use a Brine or Marinade
Ensure you dry-brine or liquid-brine your pork chops to help tenderize the pork chops before smoking. This helps the chops retain moisture and gives them a better flavor.
Bring to Room Temperature Before Smoking
Bring the pork chops to room temperature before smoking, which will help the meat to cook more uniformly.
Use a Meat Thermometer
Use a digital meat thermometer to ensure the internal temperature of the pork chops reaches 145°F, and take them off the pellet smoker immediately.
Rest your Chops
Be sure to rest your pork chops for at least 5 minutes and up to 10 minutes. The meat fibers will relax while resting, which gives the meat the moistness you desire.
Best Way to Store Smoked Pork Chops
You should store smoked pork chops in the refrigerator within 2 hours after taking them off the pellet grill. If you store the smoked meat in an airtight container in the fridge, it can last for 3 to 4 days.
You can store smoked pork chops in the freezer for three months. Just make sure to store them in an airtight container (vacuum-sealing works best). Freezing the smoked pork chops for a more extended period can affect the quality and texture of the meat.