To make smoked Pit Boss burgers, start with an 80/20 ground chuck blend and form 1/2" thick patties. Season patties on both sides with Pit Boss dry rub and smoke them on your Pit Boss at 250°F until the burgers reach an internal temp of 140°F. Keep the patties at 140°F or higher for 12 minutes and smoke until they reach your desired doneness.
Pit Boss burgers are a staple for any Pit Boss pro that wants to impress a crowd, but if you're making smoked hamburgers for the first time, this recipe and step-by-step guide will lead you to a perfectly smoked, spicy, savory burger bursting with wood-fired flavor.
How to Cook Burgers on a Pit Boss Pellet Grill
These steps will allow you to create the perfect smoked BBQ Pit Boss burger:
Buy the right meat for your burgers.
For hamburger patties, you should purchase ground beef with an 80/20 ratio. That is a content of 80% lean meat to 20% fat. Avoid leaner cuts like ground sirloin, and opt for ground chuck.
Shape your patties.
Prepare the patties by making them slightly larger than the burger buns (they will shrink while cooking). You will want to form them so they are 1/2" thick and between 3 and 4 inches in diameter.
Season your patties.
Season the burger patties with salt and pepper or your favorite Pit Boss dry rub.
Preheat the Pit Boss pellet grill.
Preheat the Pit Boss pellet grill between 225°F – 250°F. The perfect temperature for ground beef patties is in this temperature range. The lower the temperature, the longer the burgers take and the more smoke flavor they absorb as they cook.
Cook Low and Slow.
Cook hamburgers low and slow and add wood pellets as necessary to maintain the smoke.
Grill patties until they reach an internal temperature of 140°F, and hold them at this temperature or higher for another 12 minutes to ensure your meat is pasteurized. Additionally, you can sear the patties on a flame broiler for 3-5 minutes on each side (on direct heat) if you prefer.
Toast the burger buns.
Toast burger buns on the grill for about 5 minutes until the outside is browned and crispy.
Assemble your burgers.
Assemble the burger by adding the meat, along with your favorite toppings and condiments!
Print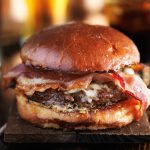 Spicy Jalapeno Bacon Pit Boss Burgers Recipe
---
Author:

Total Time:

1 hour
Description
This smoked burger recipe combines all of the best flavors of a traditional hamburger with the freshness of jalapenos, a kick from hot sauce, and a salty crunch from bacon.
---
2

pounds

80/20 ground chuck (ground beef)

4

Slices Raw Bacon

4

Pepper Jack Cheese, Sliced

1/2

cup

Prepared Barbecue Sauce

2

Jalapeno Peppers, Thinly Sliced

1/2

cup

Olive Oil

4

Onion Burger Buns

1

Onion, Crispy

1/4

cup

Pit Boss bold burger seasoning
---
Instructions
Preheat your Pit Boss grill to 350°F (medium-high for gas grills).
Make your meat patty by mixing the ground beef and the burger seasoning.
Form the burger patties (you can use a Pit Boss Burger Press if you have one to make this easier).
Get your grill basket and place jalapenos in it. Drizzle the jalapenos with olive oil.
Place your grill basket on the grill and flip it occasionally until you see the peppers are cooked through (they will appear soft and browned on the outside).
Remove the vegetables from the basket and place them to the side.
Place the bacon in the basket and cook for about 5 to 7 minutes until crunchy. While cooking the bacon, you can place the burger patties on the grill, and allow them to sear on each side for 5 – 10 minutes.
At this point, the internal temperature of the patties should reach 135°F – 140°F. If not, leave them for a bit longer until they get to this temperature.
Top the burgers with pepper jack cheese, close the grill's lid, and turn off the heat. The burgers will continue to cook at or above 140°F, and the cheese will melt.
Remove the burgers after 12 minutes and assemble your burgers: place the meat patties on the buns, and add the bacon, jalapenos, onions, and barbecue sauce.
Prep Time:

30 minutes

Cook Time:

30 minutes
Nutrition
Serving Size:

1 burger

Calories:

595

Sugar:

9.8g

Sodium:

1422mg

Fat:

33g

Saturated Fat:

13g

Carbohydrates:

40g

Fiber:

2.7g

Protein:

33g

Cholesterol:

106mg
Best Meat to Buy for Pit Boss Burgers
The fat-to-lean meat ratio is one of the most significant factors in determining how juicy your burger will be. The best ratio is 80/20, which means that 80% of the content should be lean meat, and 20% should be fat. This ensures that your patty will cook evenly and retain its juiciness while still being tender enough to bite into easily.
Best Temperature for Pit Boss Burgers
The best way to cook these burgers is low and slow, so anything in the range of 225°F – 250°F ensures the meat maintains its juiciness. You can definitely cook them at a higher temperature of 350°F to cook them faster, but you have to monitor them closely, so they don't overcook.
More important than the temperature of your grill is the internal temperature of the meat you're cooking.
How Long Does it Take to Cook Burgers on a Pit Boss?
A meat patty will reach a safe temperature in about 25-30 minutes if grilled at 225°F. However, the time depends entirely on what doneness you're going for and the grill's temperature. Since most meat patties are made from ground beef, here are some estimates:
| | |
| --- | --- |
| Desired Doneness | Temperature Range |
| Rare | 125-130°F |
| Medium-rare | 130-140°F |
| Medium | 140-150°F |
| Medium-well | 150-160°F |
| Well-done | 160-165°F |
Always measure the meat using a meat thermometer to ensure your patties reach the ideal internal temperature.
Target Internal Temperature for Beef Burgers
Per the USDA, ground beef burgers must reach an internal temperature of 160°F. However, if you pasteurize the burger for 12 minutes at a temperature of 140°F or above, this will also ensure you can safely eat the meat.
Best Wood Pellets for Pit Boss Burgers
Hickory Pellets
Hickory is an excellent choice for Pit Boss Burgers because it pairs well with beef and pork. Hickory has a strong flavor that will make your meat taste as if you cooked it over an open flame—so if that's what you're looking for, this is definitely the right choice!
Mesquite Pellets
Next up is mesquite, which goes well with a wide variety of meats. Mesquite is strong and bold, but it also enhances the natural flavors of whatever you're smoking.
Apple Pellets
Apple is a good choice because it's milder than other woods and has a sweeter flavor. It's also great if you want to give your meat plenty of flavor without adding too much smoke.
Favorite Toppings for Smoked Burgers
Side Dish Ideas for Pit Boss Burgers
What could be better than dill pickles? Fried dill pickles! These crunchy little snacks are the perfect way to freshen up your burger meal and add a new dimension of flavor.
This recipe goes great with the Pit Boss Burger because of the sweet corn flavor that complements the smoky taste of the beef patty.
This salad contains nutrients and vitamins and keeps you full all day long.
This old-fashioned onion rings recipe will make you feel like you're at a burger joint.