Smoking tri-tip steak like a pro requires only a few simple steps because tri-tip is a cut of beef that's easy to smoke, and perfect for beginners. The most critical thing for tri-tip is allowing the meat to reach the perfect internal temperature before pulling from the smoker: 130°F for medium-rare or 140°F for medium.
How to Smoke Tri Tip on a Traeger or Pit Boss Pellet Grill
If you've got a Traeger or Pit Boss pellet smoker, then you're in luck – the best tri-tip is made on these babies.
Here are the steps to help you start your journey toward becoming a true pitmaster.
Marinate overnight. Apply your favorite marinade to the meat and let it sit in an air-tight container in the fridge overnight to soak in the flavor.
Prepare the meat. Remove any excess fat and silver skin, then pat the roast dry with paper towels.
Rest the meat. Next, you'll want to let the meat sit until it reaches room temperature and season it with salt and pepper. You can also add other seasonings if you prefer- some examples include rosemary, thyme, brown sugar, and garlic powder to enhance the smoke flavor.
Prepare the grill. You'll want to ensure your grill is clean. You can do this by brushing off the grill grates with a wire brush or cleaning them with a bristle brush and some water.
Ready your wood chips. Choose the perfect wood chips. When it comes to tri-tip, hickory, red oak, and pecan wood pellets are great options.
Use the Smoke setting. You must set your smoker on the "Smoke" setting at the beginning.
Place the tri-tip in the smoker. Allow your tri-tip to smoke for an hour.
Increase the temperature of the smoker. After an hour, turn your grill up to 250°F. Leave the tri-tip for about 30-45 minutes or until the internal temperature of the meat reaches 135°F – always check with a meat thermometer.
Remove from the smoker and let it rest. Let your steak rest for 10-15 minutes, and to serve, slice the meat against the grain.
Print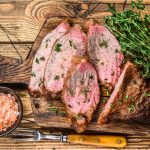 Santa Maria Style Smoked Tri Tip Recipe
---
Total Time:

1 hour 35 minutes

Yield:

6

1

x
Description
Everybody knows the secret of a Santa Maria tri-tip is in the rub. This Santa Maria Style Smoked Tri Tip Recipe is juicy and delicious, making you feel like you're in the heart of California BBQ country. This recipe is so easy that even the most novice griller can make it.
---
Dry Rub
1

tsbp Kosher salt

1 tbsp

finely ground black pepper

1 tbsp

garlic powder

1 tbsp

onion powder

1 tsp

cayenne pepper

1 tbsp

dried oregano

1 tsp

dried rosemary

1/2 tsp

dried sage
---
Instructions
Preheat the grill to 250°F.
Mix all the dry ingredients in a small bowl.
Massage the rub into the roast, making sure you cover all sides.
Cover the tri-tip with plastic wrap and let it sit for about 1 hour.
Set up your grill to indirect heat on one side and direct heat on the other.
Place your tri-tip on the side with direct heat – Sear your meat for 3 to 4 minutes on each side.
Move your tri-tip to indirect heat – place it fat side up on the grill grate.
Cover your grill and cook the tri-tip for about 20 to 40 minutes. Time will vary depending on the desired doneness, your grill, and the size of the meat.
Check the internal temperature of your tri-tip by placing a thermometer in the thickest part of the meat. For medium-rare, the temperature should be 130°F and add ten degrees Fahrenheit for medium.
Once it reaches the desired temperature, take your steak off the heat and let it rest for 10-15 minutes.
Place the tri-tip on a cutting board and cut it against the grain.
Notes
The preferred wood to use with this recipe is red oak for authentic Santa Maria-style tri-tip. You may also use the wood chips of your choice if you wish for a different smoke flavor.
Prep Time:

1 hour

Cook Time:

35 minutes

Cuisine:

American
What is Tri-Tip?
This type of steak was first marketed in California. It's a popular dish in many states, one of the reasons being its incredible versatility – you can grill it, barbecue it, or cook it in liquid to make succulent braised dishes.
Tri-Tip is a cut of beef that comes from the bottom sirloin. It's also referred to as Triangle Tip, Triangle steak, or Santa Maria steak.
The tri-tip is a lean cut of meat, meaning it's low in fat and calories. It's also pretty darn tasty! Tip-trip is the perfect piece of meat for grilling a tasty smoked beef – and the best part is that it's one of the cheapest cuts of meat.
The tri-tip roast weighs about 3 to 4 pounds, but you can buy it in smaller or larger sizes. It's usually sold whole or half, so if you want to cook just one piece at a time, you'll need to trim it down yourself.
How to Smoke Tri-Tip on a Charcoal Grill
The first step to smoking tri-tip on a charcoal grill is to set up your grill. You want to ensure that you have enough charcoal ready to start cooking immediately.
You'll want to use indirect heat when cooking tri-tip on a charcoal grill. This means that you should only put coals on one side of the grill (the side without food). You should place the coals at least 12 inches away from where the meat will be – so as not to burn it!
After about 3 hours of cooking with indirect heat, check your meat for doneness by sticking an instant-read thermometer into its center; the temperature should be between 140 and 145°F (60-63° Celsius).
When the meat is close to the doneness you desire, take it off the grate and place it directly on the coals – let it sear for 5 minutes on each side.
How to Smoke Tri-Tip Like Brisket
Even if a tri-tip is leaner than a brisket, you can cook it like one – even more so if your tri-tip has a fat cap.
Here is how to smoke tri-tip-like brisket:
Season your tri-tip. First, you must ensure your tri-tip is nicely seasoned. A simple seasoning that lets the meat shine is an even mix of salt and pepper, along with some paprika and garlic powder. 
Preheat your smoker to 225 degrees F.
Smoke low and slow. Place your seasoned tri-tip directly on the grill grates and smoke for 4-5 hours or until the internal temperature reaches 165°F. (Make sure to check it with an instant-read thermometer every 45 minutes or so).
Foil it. Remove from the smoker and foil it. You can wrap it tightly using aluminum foil or peach butcher paper.
Smoke until it reaches 200°F. Place the wrapped tri-tip back on the smoker and continue to smoke for another 3-4 hours until the temperature reaches 200°F (and no higher). Make sure to check with a thermometer and stop at exactly 200°F.
Rest the tri-tip. Allow it to rest while still wrapped for 30 minutes to an hour. Then slice against the grain to serve.
How Long Does a 3 lb Tri-Tip Take to Smoke?
A 3-pound tri-tip can take anywhere from an hour and forty-five minutes to two and a half hours. It will depend on a variety of factors, including how thick the cut is, the type of smoker you're using, and the temperature of your grill.
Your meat thermometer is your best friend when determining when tri-tip is done!
If you want your tri-tip medium-rare, you must wait until it reaches an internal temperature of about 130°F-140°F.
Tri-Tip Temperature Chart
This is what really matters when cooking meat: checking the internal temperature with a digital thermometer to achieve the ideal level of doneness.
| | |
| --- | --- |
| Desired Doneness | Internal Temperature |
| Rare | 120°F to 125°F |
| Medium-rare | 130°F to 140°F |
| Medium | 140°F to 150°F |
| Medium-well | 150°F to 160°F |
| Well-done | 160°F + |
The USDA minimum recommended internal temperature is 145°F. After taking it off the grill, your meat will continue to cook – the internal temperature may rise 5-10°F after being pulled off of the grill.
Should You Flip Tri-Tip During Smoking?
Opinions vary greatly when it comes to flipping. Some people swear it helps with keeping the temperature even, while others think it's just for show. Forums are bustling with entirely different opinions on the subject.
The middle ground is to flip your tri-tip once an hour during the smoking process. Flipping once an hour will give you enough time for each side of your tri-tip to develop flavor as your sauce or rub clings to it.