If you love American BBQ and German meat, smoked bratwurst allows you to enjoy the best of both worlds. A great alternative to smoking or grilling hot dogs, smoking brats on a pellet grill combines seasoned pork, fresh herbs, and seasonings, with applewood to add smoke flavor to the final product. Smoking bratwurst is easy but they need to be smoked at a lower temperature of 300°F for an hour to bring out the best flavor.
When many people think of German meat, Bratwurst is usually the first thing that springs to mind. Bratwurst is a type of German sausage that is made with a combination of ground veal, pork, beef, and seasonings. The word 'brat' means finely-chopped or minced meat while "wurst" means sausage.
Most of the brats in supermarkets today, like the popular Johnsonville brats, are made with finely chopped pork with seasonings such as caraway, coriander, ginger, and nutmeg. 
How Long it Takes to Smoke Brats
The cook time varies depending on the size and weight of the brats, as well as the smoker's temperature fluctuations.
As a general rule, you should check the internal temperature of the Bratwurst once it has smoked for around 20 minutes. Once the internal temp reaches 150-160 degrees F, you can remove them from the smoker. Let them rest for around 5-10 minutes before eating.
Since bratwurst sausages are a small cut of meat, you need to rest them for only 5 to 10 minutes after taking them off the pellet grill. 
Print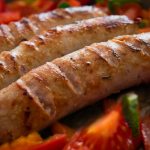 Smoked Brats Recipe
---
Total Time:

1 hour 10 minutes

Yield:

4

1

x
Description
For a mouth-watering lunch or dinner, try making smoked brats in your electric smoker or pellet smoker. If you're looking for a delicious type of smoked sausage, this easy smoked brats recipe is a must-try. The smoker adds a wonderful flavor that's hard to beat!
---
1

package raw Bratwurst

1

package hot dog buns
yellow mustard

4 tbsp

chopped onion

4 tbsp

Sauerkraut (optional)
---
Instructions
Preheat the smoker to 300°F. 
Once your smoker is properly preheated, place the bratwurst sausages in the smoker and smoke for 30 minutes. 
Crank up the heat to 325°F and continue smoking while flipping the sausages.
Smoke the sausages for another 20 minutes, or until the internal temperature reaches 160°F.
Heat the hot dog buns in the smoker for one to two minutes. 
Remove the bratwurst sausages from the smoker and serve with yellow mustard and chopped onions or top with sauerkraut if desired. Enjoy!
Notes
You can make this recipe on any smoker, whether you have an electric smoker, pellet smoker, or charcoal smoker. The same cook times apply. 
Keep in mind the total time may vary depending on several factors. Always ensure the internal temperature reaches 160°F before removing the sausages from the smoker. 
Applewood, hickory, or pecan are excellent options for the best wood chips to smoke with.
Prep Time:

10 minutes

Cook Time:

1 hour

Category:

Main Course

Cuisine:

German
How Long Does it Take to Smoke Brats at 200?
Smoke brats for around 2 hours at 200°F to ensure they are cooked through yet still juicy on the inside. Remember that patience is required to smoke at low temperatures.
Several factors can influence the cooking time, including the size and weight of the brats, and the ingredients used to make them.
How Long Does it Take to Smoke Brats at 250?
Brats take between 45 minutes and 1 hour to fully cook at 250°F. This helps to ensure they are juicy and have a nice, smoky flavor.
How Long Does it Take to Smoke Brats at 275?
Many people smoke brats at 275°F. This takes around 45 minutes per side and delivers a slightly charred bratwurst on the outside while remaining juicy and moist on the inside.
If you use wood chips to increase smoke flavor, you should only use them for the first 45 minutes.
How Long Does it Take to Smoke Brats at 300?
If you set the temperature at 300°F, you should smoke brats for around 20 to 45 minutes. Remember to flip brats while smoking to ensure even cooking.
How Do You Smoke Raw Brats?
You can smoke uncooked or raw brats directly on the pellet grill over medium-high heat for around 25 minutes or until the meat thermometer registers 160°F. Make sure to flip the brats frequently to avoid overcooking.
How Long Do You Grill Smoked Brats?
If you set the smoker temperature at 225, you should grill brats for around 45 minutes to one hour.
If the smoker temperature is set at 350, place brats directly on the heat and cook for around 20 minutes, flipping after every 5 minutes.
What is the Best Way to Grill Smoked Brats?
There are many different ways to grill mouth-watering, juicy brats whether you're using a charcoal grill or propane grill, but it is best to keep it simple.
To get started, preheat the grill to 350°F.
Place brats on the heat and cook for 20 minutes, frequently flipping them. 
Avoid piercing the casing to keep the magical juices inside. 
Remove the brats from the hot grill and let them rest on the cutting board for 5 to 10 minutes before serving. 
What Wood Chips to Use when Smoking Brats
There are many wood options for smoking brats. The use of wood chips infuses the meat with a great, smoky taste.
Here are the best wood options for smoking brats:
Mesquite wood: This is the best option if you want a stronger flavor. However, I recommend using mesquite wood in small quantities because it can be overpowering.
Hickory pellets: This is a versatile wood option that works well with traditional barbecue flavors.
Maple wood: This is suitable for you if you want to add a mild, sweet flavor to your brats.
Applewood: Applewood will add sweetness and a mild smoky flavor many people want in their brats.
Oak: Oak is also commonly used for smoking brats, brisket, veal, and lamb. It gives off a light, nutty flavor, but it does not cover the flavor of the brats. This makes it a good choice for anyone unfamiliar with cooking sausages.
Is it Difficult to Smoke Bratwurst?
Smoking bratwurst is easy but should be smoked low and slow. Smoking bratwurst adds a layer of smoke flavor to the brats and cooking brats on a smoker allows them to retain moisture and maintain their shape. If you grill them over high heat, they can end up losing shape or even bursting.
You can set them up in a vertical smoker to improve airflow and keep them linked. If you don't have a vertical smoker, you can still use a standard pellet smoker. However, you will need to coat the BBQ grill grates with cooking oil to stop the brats from sticking to the grates.
For the best results, remove the bratwurst from the smoker once the internal temperature reaches 160°F. This is the best way to ensure good moisture and the best flavor.
What to Serve with Smoked Brats
The options are endless for bratwurst condiments. Remember, smoked brat recipes can vary from region to region. However, below is a list of the best bratwurst side dishes you should consider to complete your meal: