Deciding how long to BBQ tri-tip roast depends on the size of the roast and the internal temperature of the meat. A large roast needs more grill time than a smaller one. If you want a medium-rare roast, grill it until the internal temperature is between 130°F - 135°F. If you prefer medium doneness, grill until it reaches 145°F.
How Long Does it Take to BBQ a 3lb Tri-Tip?
Tri-tip typically weighs between 3 and 6 pounds.
It usually takes 30 minutes to grill one pound of tri-tip at 325°F – 350°F. For a 3-pound roast, that would be about 1 and a half hours. Changing the grilling temperature will impact the amount of time it takes, but the fundamental factor to consider is the internal temperature of the meat.
It is far better to cook tri-tip (or any meat) based on the internal temperature. Time can vary depending on several factors including the type of grill, weather conditions, raw meat temperature before grilling, moisture content, and more.
Be sure to consult your meat thermometer – it will tell you when your tri-tip is done better than any clock will! If you have a tri-tip and want to grill it to perfection, this recipe and the following temperature chart is all you need.
Print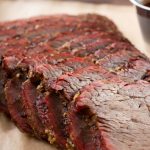 BBQ Smoked Tri-Tip
---
Total Time:

2 hours 20 minutes

Yield:

6

1

x
Description
This BBQ beef tri-tip recipe is a game-changer. It's easy to prepare and the addition of wood chips adds a smoky flavor. You can serve this cut of meat at backyard BBQs and cookouts as a main dish (trust me, it will be the star). It's flavorful, tender, and pairs well with potato salad, baked beans, and cornbread!
---
3

lbs

tri-tip roast

3 tbsp

salted butter

1

sprig fresh rosemary
Beef Rub
1/4

cup

Kosher salt

2 tbsp

black pepper

1 tsp

garlic powder
---
Instructions
Prepare your seasoning by mixing all dry ingredients in a small bowl.
Take the tri-tip out of the refrigerator and allow it to reach room temperature.
Preheat your grill or smoker to 225 degrees F.
If you desire smoky flavor, add wood chips of choice for both pellet grills and charcoal grills. If using a gas grill, take a few sheets of aluminum foil and wrap up a cup of dry wood chips (make a little packet), poke holes in the aluminum for smoke to escape, and lay directly over the fire beneath the grill grate. If you don't want to smoke your meat while grilling, omit the wood chips.
Season your tri-tip with the dry rub by pressing it on all sides of the roast.
Put your tri-tip into the smoker (the fat side towards the heat source) and close the lid.
Smoke it on indirect heat until you're close to the desired doneness – consider the fact that the meat will still cook after you take it off the grill, usually by 5°F-10°F. For a medium-rare roast, you'll want to aim for 125°F and medium is 135°F.
Remove the tri-tip from the smoker and place it in a preheated skillet with the butter for searing on direct heat. You can use your grill or a stovetop for this step. Add the rosemary. Sear each side on medium-high heat for about 3-4 minutes, basting with butter continuously.
Place the tri-tip on a cutting board and let it rest for 15 minutes.
Cut thin slices of tri-tip against the grain to serve!
Prep Time:

5 minutes

Cook Time:

2 hours

Category:

Main Course

Cuisine:

American
What Temperature is Best to BBQ Tri Tip Roast?
Most pitmasters would agree it is best to cook low and slow for lean cuts like tri-tip steak.
An ideal grill temperature is 250°F – 275°F. It's also an excellent idea to reverse-sear your meat on high heat right at the end for a caramelized crust.
The temperature of the meat is key so take the temperature of the roast by placing an instant-read thermometer in the thickest part and monitor it as it cooks.
Typically, there are two steps when cooking a tri-tip roast – we're going to highlight the ideal internal temperatures for each step. The first step is the grilling and/or smoking of the tri-tip. This step requires you to pull the meat off the grill during a particular temperature range depending on the doneness level you prefer.
Grilling/Smoking Temperature
| | |
| --- | --- |
| Doneness | Temperature |
| Rare | 115°F – 120°F |
| Medium-rare | 125°F – 130°F |
| Medium | 135°F – 140°F |
| Medium-well | 145°F – 150°F |
| Well-done | 150°F – 155°F |
Once you have pulled your meat off the grill/smoker per the temperature ranges above, you will want to reverse-sear your meat for a few minutes over direct heat. Once the internal temperature reaches the temperatures in the chart below (based on your preferred doneness level), you will want to remove your meat from direct heat and allow the meat to rest.
Searing Temperature
| | |
| --- | --- |
| Doneness | Temperature |
| Rare | 125°F |
| Medium-rare | 135°F |
| Medium | 145°F |
| Medium-well | 155°F |
| Well-done | 160°F |
What is the Best Way to Cook a Tri-Tip?
The best way to cook tri-tip is by grilling. The tri-tip roast is a big deal in California, where it's known as Santa Maria-style barbecue. It's considered one of the tastiest ways to prepare this cut, and the red oak used in the cooking process enhances its flavor.
An excellent grilled tri-tip should have a nice crust on the outside but remain soft and juicy inside. Grilling allows you to control how much of that crust you get while still having your meat cooked to perfection!
Another benefit of grilling over other methods is adding additional flavorings and sauces to your meat – you can marinate or brine your tri-tip to suit your taste. If you've got a grill, you can create smokey flavors in your meat by adding wood chips.
Grilling allows you to control the heat distribution – you can start by placing your steak on the cooler side of the grill and then end by searing it at a high temperature near the end of the cooking process.
If it's your first time grilling tri-tip, don't worry, it's not as hard as it seems!
How Long Does it Take to BBQ a Tri-Tip at 275?
When grilled at a temperature of 275°F, a tri-tip steak usually requires about 40 minutes per pound to cook.
How Long Does it Take to BBQ Tri-Tip at 350?
When grilled at a temperature of 325-350°F, a tri-tip usually requires about 30 minutes per pound to cook.
How Long Does it Take to BBQ a Tri-Tip at 400?
When grilled at a temperature of 400°F, a tri-tip requires about 20 minutes per pound to cook.
Always check the internal temperature of your tri-tip steak with a meat thermometer – that's the only accurate way to predict when it reaches the desired level of doneness.
How Do You Know Tri-Tip is Done?
You know that your tri-tip is done when it reaches the desired internal temperature – this depends on how rare or well you want your meat done. Most tri-tip roasts are cooked to an internal temperature between 140°F and 150°F, which is considered medium.
The USDA recommends a minimum internal temperature of 145°F with a 3-minute rest period. Remember, your meat will continue to cook for a few minutes after taking it off the grill!