Tri-tip is a cut of meat with meat grain running in two directions and it is vital to cut it against the grain for the meat to be tender. The best way to cut tri tip is to cut the meat into two pieces, dividing it where the meat grain switches before slicing each half against the grain.
Tri-tip is a sirloin steak that comes from the bottom sirloin part of the cow. It has little marbling and is boneless. That's why cutting your tri-tip right matters – you want it to be tender, and the only way of doing that is to cut it against the grain.
This means that when you slice into the grain of the meat, you'll cut through those muscle fibers at an angle instead of straight down them. This helps to break up tough connective tissues and makes them more palatable. But there's a twist: tri-tip has a dual-grain texture which means the grain runs in two directions instead of one.
The Best Way to Cut Tri-tip
The best way to cut a tri-tip is against the grain. Since the tri-tip has two-grain directions, you'll have to follow the grain and change directions while cutting, unless you cut it in half where the grain changes.
It is easier to locate the center seam where the grain changes and then slice each half individually, so you are only working with one meat grain at a time. Not only is it easier to work with by first slicing it in half along the dividing line, but you are also more likely to get the precise, angled slices necessary to ensure the meat is tender.
The best time to cut a tri-tip steak is after it has been cooked. This helps to ensure you can follow the grain more easily.
Which Way Does the Grain Run On Tri-tip?
The grain of the meat is the direction of the muscle fibers in your cut of meat. Since tri-tip is a lean cut of beef, this will be more visible than in other cuts of meat. You can find the grain by looking at the long muscle fibers which run parallel to one another. Once you spot the uniform grain you will slice against it to break down those muscle fibers with a sharp knife, ensuring a tender bite.
It is important to note that tri-tip, which is shaped like a boomerang, has two-grain directions, so you must know which one to cut against.
You can see a fat seam in the middle of these two different grain directions. You'll see that the grain will stand parallel to the shorter side of this seam. In comparison, on the longer side, they'll run diagonally. So when cutting against the grain, you have to know that the grain will change direction, so you'll have to move your tri-tip while cutting it unless you cut it in half where the grain changes.
Is it Necessary to Cut Tri-tip Against the Grain?
Cutting against the grain will result in tender, moist meat. This is because you're breaking up the fibers and including meat and fat in your slices.
Essentially, you're shortening the fibers by cutting against the grain, which makes your meat more "chewable."
How Thick Should You Cut Tri-tip After Grilling?
Grilled tri-tip should be sliced between 1/4" and 1/2" thick. The thinner you cut your tri-tip after it has been cooked and rested, the more tender it will be.
When slicing tri-tip you will want to angle your knife and cut it at a bias.
Print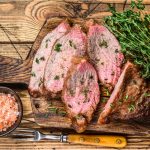 Grilled Tri-tip Steak with Tiger Sauce Recipe
---
Author:

Total Time:

40 minutes
Description
This grilled bbq tri-tip recipe with tangy Tiger Sauce is one of the best ways to enjoy tri-tip. The sauce perfectly complements the beef, and will make your tastebuds sing!
---
1 1/2

pound

tri-tip steak

2/3

cup

teriyaki sauce

1/3

cup

mayo

1 tbsp

sriracha sauce – or garlic chili sauce

1 tbsp

lime juice – more as needed/to taste
Tri-tip Marinade Ingredients
1/4

cup

olive oil

1/4

cup

soy sauce

2 tbsp

lime juice

1 tbsp

minced garlic

2 tsp

Chinese five-spice seasoning

2 tsp

sriracha sauce
---
Instructions
Make the marinade by combining all the marinade ingredients and whisking them together in a bowl until well combined.
Add the tri-tip to the bowl and cover it in the marinade for 30 minutes to an hour.
Preheat the grill to high heat (400°F).
Place your marinated tri-tip on the heated grill and sear on each side for 10 to 15 minutes.
Reduce the heat to medium (325°F) and cook tri-tip until it reaches an internal temperature of 145°F (about 10 minutes). Make sure to use a meat thermometer to check the temperature.
Get your tri-tip out of the grill and allow it to rest for 5 to 10 minutes.
Make the tiger sauce by mixing mayo and sriracha. Add lime juice until it's thinned out, enough for drizzling.
Slice the tri-tip against the grain into 1/4" slices.
Drizzle the tiger sauce and the teriyaki sauce over it and serve!
Prep Time:

5 minutes

Marinating Time:

20 minutes

Cook Time:

15 minutes
Nutrition
Serving Size:

6 ounces

Calories:

585

Sugar:

8g

Sodium:

2996mg

Fat:

42g

Saturated Fat:

9g

Carbohydrates:

10g

Fiber:

1g

Protein:

40g

Cholesterol:

120mg
Unique Features of the Tri-tip Cut
The tri-tip is a triangular cut from the bottom sirloin of the beef. Other names include California cut, bottom sirloin butt, Newport steak, and Santa Maria steak as it is a popular beef cut from California.
Tri-tip is lean meat, which makes it healthier than fattier cuts. It becomes a tender cut if cooked and cut properly. Tri-tip is excellent for grilling, braising, slow-cooking, and roasting cooking methods.
The meat is versatile and perfect for fajitas, sandwiches, and tacos. It's also called the poor man's brisket because it's a relatively cheap cut of meat.
How to Trim Tri-tip Before Grilling
The first step is to place your tri-tip on a cutting board. Find the fat cap and delicately trim away any excess fat. Always leave some fat to protect the beef from direct heat.
As the tri-tip is a lean cut, it is important not to trim all of the fat off. If in doubt, buy your meat from the butcher instead of the grocery store – and ask them to trim it for you.
After your tri-tip has the fat cap shaved down, you're ready to grill it!
Should You Cut Tri-tip Before or After Cooking?
You should cut the tri-tip after it's cooked. Keeping the meat whole will ensure it remains juicy. As it is a lean meat cut, it is easy to overcook it if it has been sliced into smaller pieces.