The ideal internal temperature of country-style ribs is 195°F. While they are safe to eat at 145°F, they need a higher temperature for the meat to be tender and for a gorgeous crust to form outside. Check the internal temperature of your ribs by placing a meat thermometer at a diagonal angle into the center of the meat.
What is The Best Internal Temperature for Country Style Ribs?
Per the USDA, the minimum required internal temperature for country-style ribs is 145°F. However, to make your ribs more delicious and tender, grill them until they reach an internal temperature of 195°F.
Print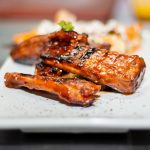 Barbecue Country Style Ribs Recipe
---
Author:

Total Time:

1 hour, 25 minutes
Description
If you're looking for an easy way to make your ribs taste as if they came from a BBQ joint, then this country-style pork ribs recipe is perfect for you. These juicy, fall-apart, meaty ribs are the centerpiece for your next BBQ party, and we promise they'll be a hit with everyone attending.
---
2

lbs

boneless country-style pork ribs

1/4

cup

brown sugar

1/4 teaspoon

ground black pepper

1/2 teaspoon

garlic powder

1/2 teaspoon

onion powder

1/4

cup

water

1/3

cup

Worcestershire sauce

1

and 1/2 ounces of soy sauce

2 tablespoons

single offer original stone ground mustard

1/4

cup

KC Masterpiece Original Barbecue Sauce
---
Instructions
Cut the membrane off and remove it from the back of the ribs.
Pat the ribs with a paper towel.
Mix the dry ingredients for the bbq rub (garlic powder, onion powder, pepper, and brown sugar) with Worchestershire sauce and soy sauce – to make the perfect marinade.
Place ribs in a sealable plastic bag and put the bag in a big bowl. Let them marinate for a minimum of 30 minutes.
Preheat the grill to 350°F.
Place the ribs over direct heat on the grill grates and brush with bbq sauce.
Cover the grill, but turn the ribs every 10 to 15 minutes and continue basting them.
Cook them until they reach an internal temperature of 155°F. Check with a meat thermometer, and take them off when you get there.
Let the ribs rest for 10 minutes, and enjoy them with a great side dish (like coleslaw or potato salad)!
Notes
Ensure you buy boneless country-style pork ribs, not to be confused with spare ribs, baby back ribs, or St. Louis ribs for this recipe. Ask your butcher to help you if you're unsure.
You can spritz your country-style ribs every hour if you want to instead of basting with bbq sauce – use apple juice or apple cider vinegar and water in a spray bottle.
You can wrap the ribs in aluminum foil at the end (brisket-style) to rest them while keeping them warm.
Prep Time:

15 minutes

Rest Time:

10 minutes

Cook Time:

1 hour
Nutrition
Serving Size:

4 ounces

Calories:

358

Sugar:

13.3g

Sodium:

790mg

Fat:

18.1g

Saturated Fat:

3.6g

Carbohydrates:

16.8g

Fiber:

0.4g

Protein:

30.3g

Cholesterol:

112mg
Crispy Country Style Ribs Internal Temperature
The ideal internal temperature for country-style ribs is 195°F if you want a crispy exterior with tender meat.
How Long Does it Take to Cook Country Style Ribs at 225?
Country-style pork ribs are a cut of meat from the pork shoulder (pork butt) close to the pork loin. They have a reasonable amount of marbling and can come boneless or bone-in. This meat benefits the most from slow-cooking methods.
The cooking time depends on factors like the thickness of your ribs and the cooking temperature of your smoker. or grill. If you cook your ribs at 225°F, it will take about 2 hours per pound.
How Long Does it Take to Cook Country Style Ribs at 250?
Cooking time can be lowered if you cook your ribs at a higher temperature. At 250°F, it takes roughly an hour and a half per pound of country-style ribs.
What Temperature are Country Style Ribs Done in an Oven?
If your grill isn't working and you have to make your ribs in the oven, your ideal temperature for cooking country-style ribs is between 375°F and 400°F. Always check the internal temperature with a meat thermometer to ensure they're done.
How to Tell When Country Style Ribs are Done?
The internal temperature should be checked using a meat thermometer to determine if country-style ribs are done. When they reach 145°F, they're safe to eat, but it is better to wait until they reach 195°F if you want them to form a bark.
To take the internal temperature of the ribs, insert the thermometer into the thickest part of the meat, away from any bones or fat. You should insert it into the meat horizontally, not vertically.
At the end of the cooking process, the ribs should be tender, and the juices should run clear when the ribs are pierced with a fork. The outside should have a nice char.
Best Sauce for Country Style Ribs
This sauce is a great classic option because it's straightforward and you can make it with ingredients you probably already have in your pantry.
You'll love this stuff because it's got an outstanding balance of sweet and sour.
If you enjoy the flavor of onion, you'll love this sauce. It packs a punch when seasoning your food!
Top Tips for Grilled Country Style Ribs
For extra delicious Country Style ribs with a perfect smoke flavor, here are some helpful tips & tricks!
Marinate the ribs in a mixture of your favorite spices, herbs, and citrus juice before grilling to add extra flavor.
Grill the ribs over indirect heat to prevent burning and allow for slow and even cooking.
Baste the ribs with your favorite BBQ sauce during the last 10-15 minutes of grilling to add a sticky and flavorful glaze.
Let the ribs rest for a few minutes before serving to allow the juices to redistribute and prevent them from drying out.
Serve the ribs with a side of smoked vegetables or a fresh salad for a balanced meal.
For dry rub that won't stick, coat the ribs in olive oil before covering them in the dry ingredients!