BBQ's are fun but hosting can get expensive. To save money, keep it simple and serve inexpensive chicken kebabs or hot dogs with corn on the cob, and ask your guests to bring something. You can have fun and eat well without breaking the bank.
There is no better way to relax at home in the company of your friends and family than by having a BBQ, and it doesn't have to be expensive.
Money-Saving BBQ Tips
Buy in Bulk
Take advantage of bulk savings at Sam's Club or Costco if you have a membership. Buying hot dogs, patties, hamburgers, veggies, sweet potatoes, chicken thighs, bell peppers, ice cream, buns, baked beans, and chips in bulk can save money. When you buy in bulk, you will often find ground beef and chicken at unbeatable prices at your wholesale club as well.
Make your BBQ a Potluck
Consider making the event a potluck, where you provide the grilled meat and guests provide side dishes, desserts, or drinks of their choice.  BYOB is also a good BBQ idea for large groups – and is something that most BBQ guests are familiar with. A few close friends might be willing to help if you reach out to them.
Make Your Own Sauces and Garnishes
Making BBQ sauces, marinades, and rubs yourself is cheaper and more delicious than purchasing them from a store (provided you have the ingredients at home). Guests will be impressed and you will be amazed at how easy it is to prepare.
Preparation is Key to Save Fuel
As soon as your grill is ready, you should be ready to cook. It is important to understand how to ration your fuel when grilling on a budget, regardless of whether you are a champion at charcoal grilling or a natural gas griller.
Instead of dumping a 10-pound bag of charcoal on the grill (which is entirely unnecessary), use approximately 30 briquettes. If you are a gas grill enthusiast, be sure to turn off the burners immediately after you have finished cooking.
Getting your perfectly cooked meat on the table and digging into it can make it easy to forget to turn off the gas. No matter whether your grill uses propane or natural gas, keeping it on after you have finished cooking is a waste of money. Ensure that everything is turned off before enjoying that burger by taking a few extra seconds.
Check Your Pantry Before Shopping
Keep in mind that you do not need to purchase brand-new condiments such as barbecue sauce if you already have a sufficient supply in your refrigerator or pantry. Perhaps you will even find extra bags of chips, pretzels, and other snacks to serve. To avoid duplicate purchases and unnecessary expenditures, check your pantry and refrigerator before heading to the store.
Consider the Ages of Your Guests
You should also consider your audience: if you have a lot of kids at your BBQ, you will be more likely to serve basic foods such as crackers and chips than more elaborate appetizers. It is best to keep it simple and inexpensive.
Choose Less Expensive Meat Options
It is possible to save some serious money by substituting less expensive cuts of meat for certain dishes. When catering to a large crowd, hot dogs are a cost-effective alternative to brats, for example.
Inexpensive BBQ Meat Ideas
Rather than serve expensive steak, lamb chops, or ribs, all of which are quite expensive, try to choose budget-friendly options like bratwurst, hotdogs, glazed chicken thighs, barbecue drumsticks, or BBQ chicken wings. BBQ's are always fun and grilled food tastes great even if you are not serving up beef.
Here is a great BBQ chicken recipe sure to please a crowd without hurting your wallet!
Print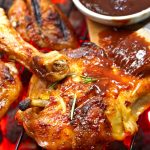 Barbecue Picnic Chicken
---
Description
This savory chicken is a favorite of mine to serve at family picnics. By cooking the poultry on a covered grill, the meat stays tender and juicy for a long period of time. This tangy, lightly sweet home-made barbecue sauce is extremely popular with everyone.
---
2

cloves garlic (minced)

2 tsp

butter

1

cup

ketchup

1/4

cup

brown sugar

1/4

cup

chili sauce

2 tbsp

Worcestershire sauce

1 tbsp

Celery seed

1 tbsp

mustard

1/2 tsp

salt

2

dashes hot pepper sauce

2

whole chickens (cut into pieces)
---
Instructions
Melt the butter in a large saucepan and sautee the garlic until tender. Add the rest of the ingredients to the pot (omitting the chicken). Stir continuously as the basting sauce mixture comes to a boil. Remove the pan from the heat and set it aside. 
On a lightly greased grill rack, grill chicken, covered, over medium heat for 30 minutes, turning it occasionally. The sauce should be applied to the meat when turning.
After 15 minutes of grilling, turn the meat several times and baste it several times until the internal temperature reaches 170 degrees.
Pull the chicken off the grill, and allow to rest for a few minutes before serving with your favorite BBQ sides! Baked beans, potao salad ,and grilled vegetables go great with this chicken!
Prep Time:

15 minutes

Cook Time:

45 minutes
Cheap BBQ Ideas to Feed a Crowd
Using skewers for kebabs is a great grilling idea that will feed a hungry crowd. Kebabs have a high wow factor while using ingredients that are less costly, such as green peppers, onions, and mushrooms.
Although there are delicious recipes for steak kabobs, chicken is a healthier and more affordable choice. You only need chicken meat (buy the cheapest boneless meat you can find) and any low-cost vegetables you like to place between the pieces of meat such as onions and peppers.
As the meat marinates and is rubbed with spices, it takes on the flavor of the marinade and spices.
The following steps will guide you in making flavorful, juicy chicken kabobs: 
Prepare the Chicken
Cube one pound of boneless, skinless chicken breasts into even pieces. Approximately 1 to 2-inch cubes.
Marinate Your Meat
Select your marinade and combine 12 cups with the chicken in a large zip-top bag. Marinate for 30 minutes to two hours. 
Soak the Skewers
For 30 minutes prior to grilling, soak your wooden skewers in water. 
Get the Grill Going
The grill should be preheated to 375 degrees Fahrenheit.
Assemble
You may alternate the chicken pieces with your choice of vegetables on the skewers. Before grilling the kabobs, lightly brush them with olive oil. 
Grill
Place the kabobs on the preheated grill and cook for six minutes on each side, or until the internal temperature reaches 165 degrees Fahrenheit. When the chicken has been seared on one side, close the grill to continue cooking the skewers until they are ready to be flipped. Before you finish cooking the chicken skewers with the lid down, sear the other side with the grill open.
Eat
The kabobs should be removed from the heat and allowed to rest for three minutes before serving. 
Tips for Grilling Chicken Kabobs 
To ensure even cooking, cut the meats and vegetables into similar shapes and sizes.
The meat and vegetables should be cut slightly larger than the space between the grill grates. 
It is better to grill consistently over medium heat rather than over high heat.
The cooking time for chicken is 12-15 minutes.
The best results will always be obtained when cooking to a temperature of 165 F for chicken.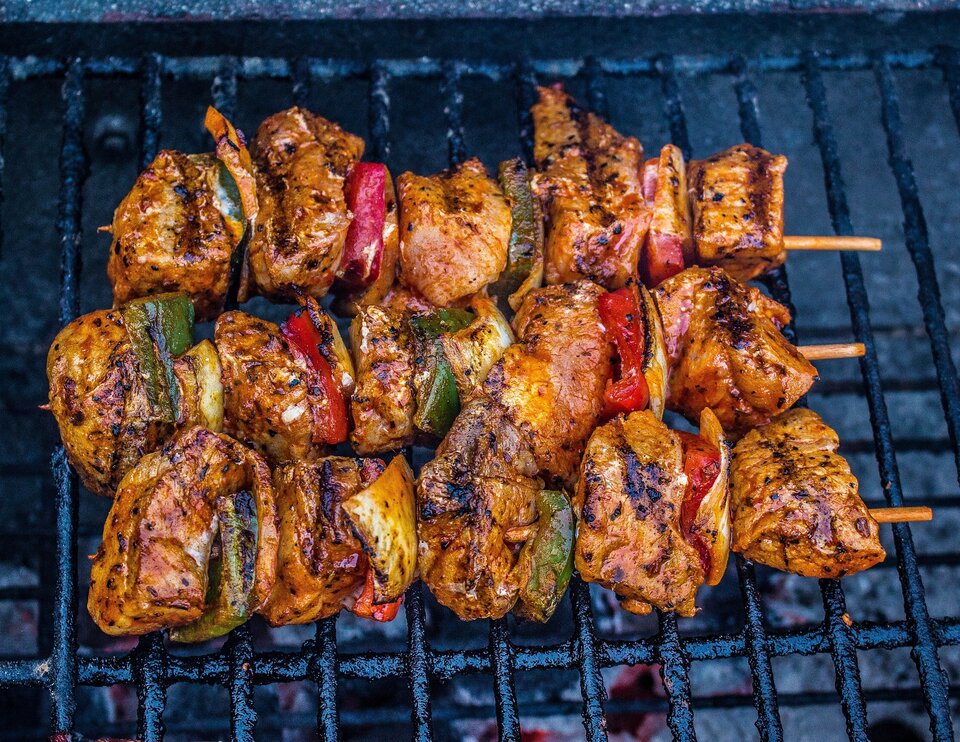 BBQ Sides on a Budget
Here are a few examples of inexpensive BBQ side dishes:
Chips & Salsa. (2 bags of tortilla chips + 2 jars of salsa = $12)
Baked Beans. (2 cans of BBQ Baked Beans = $5)
Potato Salad. (1 bag of potatoes, 1 jar of mayonnaise, 1 lemon, salt and pepper = $10)
Corn on the Cob. (6 ears of corn, 1 stick of salted butter = $7)
Veggie skewers (2 onions, 2 bell peppers, and sliced mushrooms = $7)
What's the Cheapest Thing to Bring to a BBQ?
The cheapest thing you can bring to a BBQ is a couple of bottles of 2-liter soda!
If you want to bring food, a bag of BBQ chips or a jar of spicy pickles are cheap options. An inexpensive dessert option is store-brand ice cream sandwiches.
Is it Cheaper to Make BBQ Sauce from Scratch?
It is more expensive to make BBQ sauce from scratch than to buy a bottle from Walmart or any other discount store.
Homemade sauce has many ingredients and even requires a bottle of ketchup, so you are definitely better off buying a premade sauce if you are on a budget unless you have the ingredients you need at home. Walmart sells BBQ sauce starting at $1.48!