To brine salmon for smoking, you must first create the brine by combining brown sugar, salt, aromatics, soy sauce, and cold water. Cover your salmon filets and refrigerate the fish in the brine solution for 4 to 8 hours. Prepare your smoker and smoke at 225°F until the internal temperature of your salmon reaches 145°F.
How to Brine Salmon
Brining salmon is simple. Whisk up your brine ingredients, so they are well combined. Place your fish skin-side down in a large pan and cover it with the brine solution. Let the fish sit uncovered in the refrigerator for 4 hours. Discard the brine and cook your salmon.
Tools Needed to Brine Salmon
Brining salmon is not complicated and requires only a few tools.
To brine salmon, you'll need:
A large mixing bowl to whisk the brine ingredients together.
A 9 X 13 pan to hold the brine and the salmon.
A refrigerator to keep the fish cold while it's brining.
What Ingredients Are Usually Added to Brine?
Both dry brines and wet brines have similar ingredients and can work equally well for fish such as smoked trout and smoked salmon. They infuse the fish with flavor and ensure it stays moist while cooking.
No matter which type you prefer (wet or dry), smoked salmon brines should have the following:
Aromatics. Spices and herbs add flavor. Add onion powder, garlic powder, or herbs to make your salmon flavorful!
Brown sugar. The sugar helps balance the salt and adds flavor. Use low-carb brown sugar or white sugar if that's what you have on hand. You can also add a sweet bbq sauce that has sugar in it.
Salt. You will need to add at least a tablespoon of salt and up to a half-cup, depending on your smoked salmon recipe. This is a must-have ingredient that draws water out of the meat. This moisture takes on the brine's flavor and soaks back into the meat while smoking.
Pepper. Adding pepper gives the brine a touch of heat. You can keep it classic with cracked black pepper or add a greater depth of flavor by using red pepper flakes.
Water. You will add a cup of water to dissolve your dry ingredients and then add more water to ensure the salmon is completely covered.
If you prefer to use a marinade rather than a brine, you would still add these ingredients, though you would substitute the water for olive oil.
Print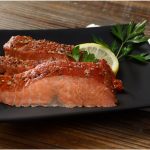 Smoked Salmon with Brine Recipe
---
Author:

Total Time:

8 hours, 10 minutes
Description
This brine recipe is easy to make and uses ingredients you likely have on hand. It creates the perfect balance of sweet and spicy and takes under 10 minutes of prep time. Use this brine with any size salmon filet and any variety of salmon, such as sockeye or king salmon. You'll have the perfect smoked fish for your next gathering!
---
1 1/2

pound

salmon fillet, skin-on

1/4

cup

brown sugar

1/4

cup

kosher salt

1 1/2

cups

low-sodium soy sauce

2

cups

cold water

2/3

cup

white wine

1 tsp

onion powder

1 tsp

garlic powder

1/2 tsp

black pepper

1/2 tsp

red pepper flakes (optional)

1/2 tsp

hot sauce

1 tbsp

lemon juice
---
Instructions
Add all ingredients (aside from the fish) to a large bowl and whisk to combine thoroughly.
Pour a small amount of the brine into a 9 X 13 pan, enough to coat the bottom of the pan.
Lay the salmon in the pan skin side down and pour the rest of the brine solution over the salmon, ensuring the fish is fully submerged.
Refrigerate for 4-8 hours, uncovered. Leaving the fish uncovered ensures that a seal, called a pellicle, forms on the fish to lock in moisture and help the fish smoke.
Prepare your smoker according to the manufacturer's instructions and smoke at 225°F until the internal temperature reaches 145°F, which takes 3 to 4 hours.
Prep Time:

10 minutes

Brine Time:

4 hours

Cook Time:

4 hours
Nutrition
Serving Size:

3 ounces

Calories:

159kcal

Sugar:

3g

Sodium:

1067mg

Fat:

6g

Saturated Fat:

1g

Carbohydrates:

4g

Fiber:

0g

Protein:

25g

Cholesterol:

31mg
How Long Will it Take to Smoke Salmon?
It takes between 3 and 4 hours to smoke salmon at 225°F. If you prefer to smoke at a lower temperature, it may take 5 to 6 hours. You'll know your smoked salmon is done when the internal temperature reaches 145°F.
Should Salmon Always be Brined Before Smoking?
Yes, salmon should always be brined before smoking. Brining infuses the fish with moisture and flavor. Without the brine, your salmon will be dry and lack flavor.
Should You Rinse Salmon After Brining?
No, you don't need to rinse salmon after brining. The exception, however, is for those on a low-sodium diet. Since brine includes salty ingredients that soak into the fish, a quick rinse after brining can help lower the sodium content of the fish.
You can also pat some of the brine off with a paper towel.
How Long Does it Take to Brine Salmon?
It takes between 4 and 8 hours to brine salmon. Let your salmon brine for at least 4 hours, allowing the salt to draw moisture from the fish and the flavors to soak in.
Leaving it any more than 8 hours affects the texture of the salmon. The meat begins to break down creating a mushy texture, and the salt starts to overpower the taste of the meat.
Benefits of Brining Salmon Before Smoking
Brining salmon before smoking has several benefits. The brine creates a seal called a pellicle. The pellicle seals moisture into the salmon and leaves a sticky surface for the smoke to stick to.
The brine also infuses the salmon with moisture, ensuring the fish doesn't dry out during the smoking process, and soaking salmon in brine adds flavor to the meat. You can flavor your salmon to perfectly complement the rest of your meal!
Brine Flavor Variations for Salmon
Salmon is a versatile fish that works well with many brines. Here are a few ideas:
Add 1/2 cup of Scotch whiskey and fresh lemon slices to bring hints of fruit and vanilla to your smoked salmon.
This salmon brine recipe uses ancho chile powder, pineapple juice, and cayenne pepper for an extra spicy kick.
Add 1/4 cup maple syrup and 1/2 tsp ground ginger to the recipe above for an extra sweet brine.
How to Store Brined Salmon
Store brined salmon in an airtight container in the fridge for 2-3 days. You can also freeze brined salmon for 1-2 months in a freezer-safe container.
Be sure to label any fish in the freezer with a "use-by" date to ensure it is delicious and safe to eat!