When it comes to fun and unique barbecue gifts, there are a ton of great gift ideas and options for every budget and occasion. The following gift guide includes the best grilling gifts that will make your BBQ-obsessed loved one light up with joy!
The Most Popular BBQ Gifts
If you're hunting for gift-giving inspiration, here are the top BBQ gifts that anyone would love to have!
A Gas Grill with Sear Burner
It goes without saying – the most obvious gift choice is getting a barbecue grill!
If your grill enthusiast has mentioned they want to upgrade and you know the grill of their dreams, go for it!
Pellet Grill Smoker
Maybe the person you're buying a gift for loves to smoke things (many BBQ enthusiasts do). A pellet grill can be used to smoke everything from meat to cheese, and is perfect for low and slow cooking. A few of the best brands are Traeger and Pit Boss.
Charcoal Grill
Charcoal grills are great because most of them are portable! Charcoal grills can be turned into smokers with the addition of wood chips and are an inexpensive option for making legendary barbecue!
Personalized Cutting Board
A cutting board can help keep the grill clean while cooking and serving food. For an extra-special touch, you can order one that has a custom wood burnt emblem.
Meat Thermometer
Make sure meat is cooked perfectly and safely by checking the internal temperature with a digital meat thermometer! This tool is essential for any griller who wants their food done right (and not overdone).
Grilling Basket
If you're grilling lots of meat and don't have extra space for something on the side, you can place this handy tool on top of the BBQ grill. It will allow you to cook veggies or side dishes, ensuring they will not stick to the grates.
Heat Resistant Grilling Gloves
Heat-resistant grilling gloves are one of the most essential grilling accessories – perfect for handling hot food items like steaks and burgers without burning your hands. They come in all shapes, sizes, and colors these days!
Silicone Basting Brush
A basting brush is great for applying marinades or sauces to meats before cooking them on the grill – this is essential for the tenderness of the meat. You don't want to get barbecue sauce all over your hands.
Meat, Spices, and Marinades
Is there a better gift for the grill master in your life than the gift of meat? If you know where to source good quality meat, this will make a perfect gift for someone who truly appreciates the value of good protein.
You can also gift dry rubs, unique sauces, or marinades to your BBQ fan. You can find a variety of dry rubs at any grocery store, or find specialty rubs online such as this selection from Traeger.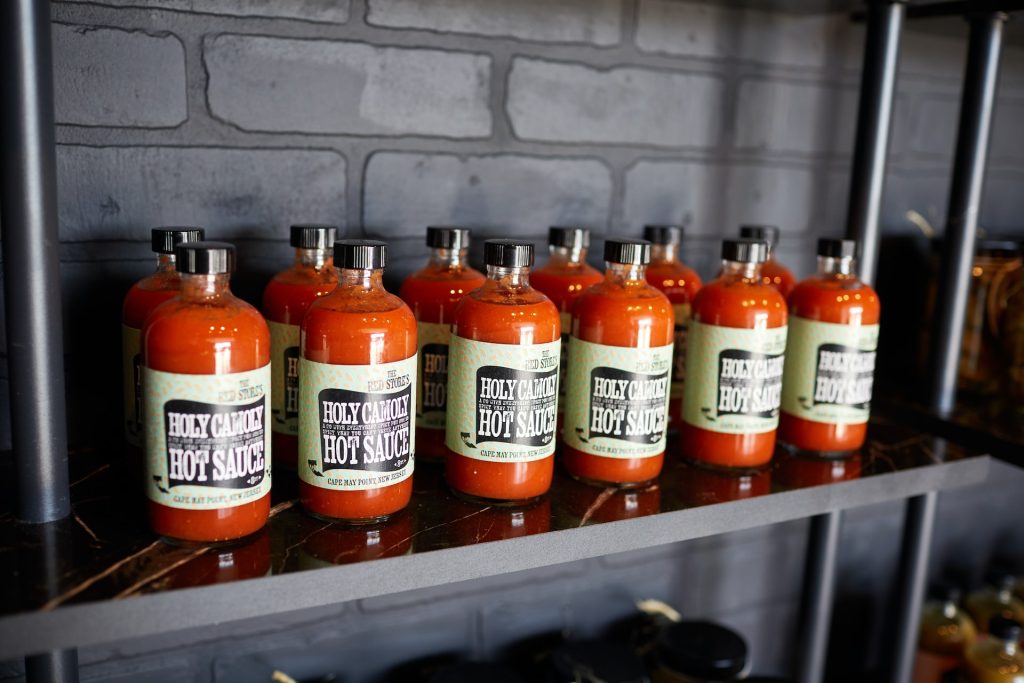 Barbecue Grill Light
Barbecue grill lights help when grilling after dark. LED grill lights make seeing the caramelized crust of the latest BBQ creation easy, even after the sun has gone down.
Best BBQ Gifts for Him
Here are some special BBQ gift ideas for the guy who loves to grill:
Monogrammed Steak Brand
This monogrammed steak brand will ensure everyone knows exactly whose steak is by marking their name right into the meat!
Personalized Apron
You can personalize an apron with your boyfriend or husband's name, nickname, or even a funny phrase that'll make them laugh when they wear it while grilling such as "BBQ King."
Leather BBQ Gloves
If you've got a guy who's constantly grilling, personalized heavy-duty BBQ gloves are the perfect gift when cooking on an open flame. They offer protection from the heat and keep his hands clean—and you can personalize them with a message of your choice.
Best BBQ Gifts for Her
Women love to grill too! Here are a few perfect gifts for her:
Mesh Grill Bags
Perfect for grilled veggies and peppers, mesh grill bags keep BBQ items organized and make cleanup a breeze!
Himalayan Salt BBQ Plank
Grilling on a plank of Himalayan salt brings out the best in BBQ and is a beautiful gift.
Gourmet Smoking Cloche
This pint-sized smoker will add complex flavor to food and drinks. Not only is it a show-stopper, but it also packs a serious punch of flavor.
The Best BBQ Gift Sets
What Should People Look For in Pre-Made BBQ Gift Sets?
Look for products designed specifically for grilling and barbecuing, as well as those that are easy to clean with a grill brush after use.
Luckily, there's no shortage of great BBQ tools out there – and you don't have to get fancy gadgets that make your life harder. You can purchase a great barbecue set with all the basic tools someone needs to grill—a spatula, tongs, sauce brush, a non-stick grill mat, and even some grilling spices!
When is the Best Time to Buy BBQ gift sets?
Summer is the best time to buy BBQ gift sets.
The best time of year to find a BBQ gift set is during the summer months—especially around Memorial Day, the 4th of July, or Labor Day. This is when families are getting out and having fun in their backyards or at the beach and stores sell the most BBQ merchandise. Father's Day is another great time to find gift bundles.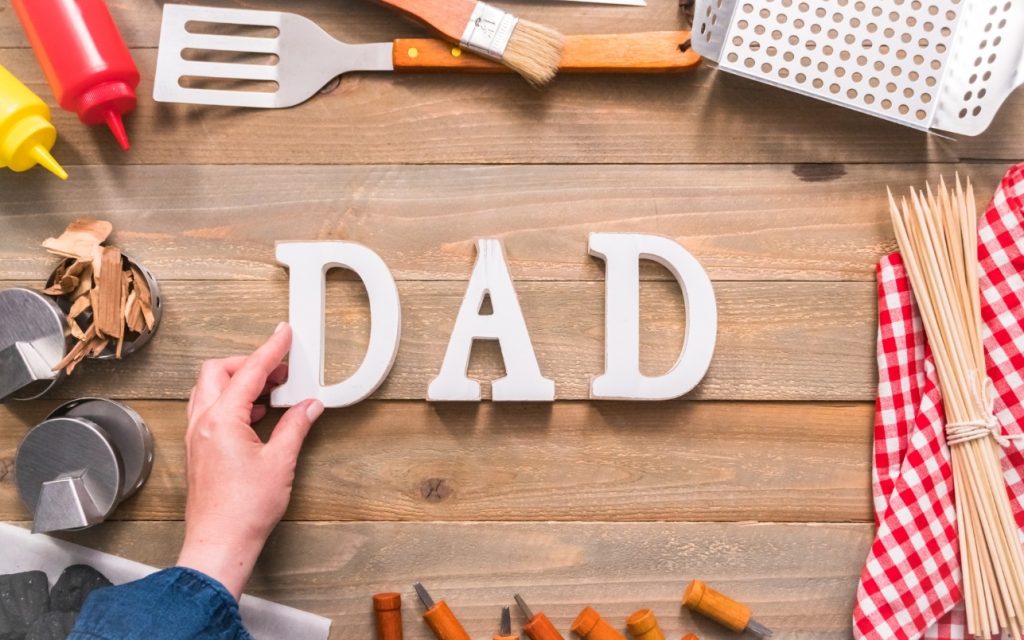 What BBQ Gift Sets Should You Avoid Purchasing?
It's essential to look at more than just the price tag when you are purchasing a BBQ gift set. Watch out for any deals that seem too good to be true—they probably are!
When buying a pre-made barbecue gift basket, you want it to be full of high-quality products that will last long after the holiday season. Check if items are old or expired before buying them.
Where Can You Find BBQ Gift Sets?
You can find good barbecue gift packs in stores like Target and Walmart. You can also find a wide variety of gift baskets on Amazon.
DIY Barbecue Gift Basket Ideas
Homemade gift baskets are thoughtful and you can add the items they need the most.
Once you purchase a basket, it's time to start thinking about what things will go inside it!
Here are a few options for creating a BBQ gift basket:
A bottle of BBQ sauce or hot sauce
A pair of metal or silicone-tipped tongs
Skewers for grilling
A variety of sauces and marinades.
Beer or red wine (both can be added to a sauce or enjoyed straight from the bottle!)
Dry meat rubs
Kebab grilling baskets
BBQ cookbooks
Marinade injector
Making a basket is easy. Simply place all the items you purchased into a basket (some shredded paper at the bottom will help stabilize items). Place larger items in the back with smaller items in the front. You can individually wrap items as well for an extra surprise!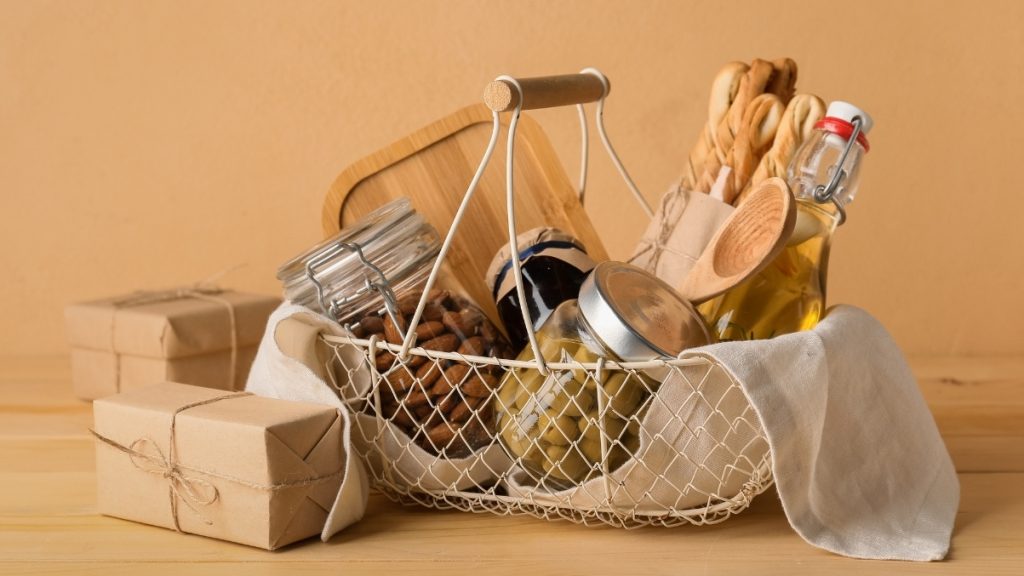 Best Smoker BBQ Gifts
Believe it or not, there are BBQ gifts specifically designed with smoke lovers in mind. Here are a few great gifts!
Meat Claws
There's nothing worse than trying to shred a pile of delicious, juicy meat with your bare hands—it's messy and time-consuming. A good meat claw can shred meat faster and more consistently than hands, knives, or forks.
Meat Smoking Cookbooks
If the person you're shopping for likes to dabble in the art of smoking meats, then a smoker cookbook is a great gift. It offers helpful tips and also allows them to explore new recipes and flavors —which means more delicious smoked foods!
Wood Chips Sampler Pack
Meat smokers love to smoke their meats, but they need fuel to keep those fires burning. Enter wood chips! Give them the gift of variety with a sampler pack of wood chips that come in different flavors.
Lighter
Smoke fans need a lighter if they're going to light their pellet smoker, right? Might as well get one that looks cool! It's perfect also for firing up fireplaces and fire pits.
Smoky Sauces
Why not add a little extra smoke flavor with some extra smoky sauces? There are tons of tasty sauces out there made to add extra smoke flavor to the meat of your choice.
Barbecue Gift Ideas for Dad
If your dad is the grill king and loves to show off his skills at every family gathering, why not embrace it? Here are some great BBQ gifts for Dad that will ensure he's always decked out in top-notch grilling gear.
Grill Set
Give him a grilling tool set with all of his favorite utensils in one place: tongs, spatula, and brush. He'll be able to use these tools repeatedly while cooking out on the grill.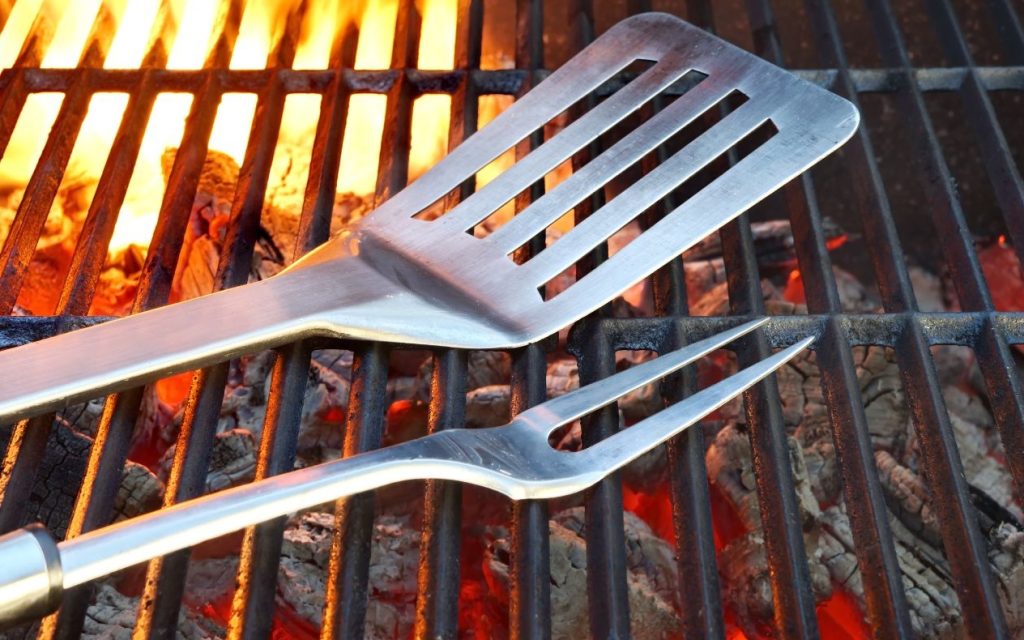 Family Barbecue Portrait
You can hire an artist to illustrate your family enjoying a backyard barbecue or place a treasured family photo taken at a cookout in a beautiful wood frame.
Custom BBQ board
Once you choose an image or design for your custom BBQ meat cutting board, it will be printed or engraved onto high-quality wood as a keepsake for dad.
Custom Leather Grilling Apron with Pockets
Every dad needs an apron— this gift is especially handy because it's got pockets where he can store all his grilling tools – he can even use one pocket for holding his favorite beverage while he cooks.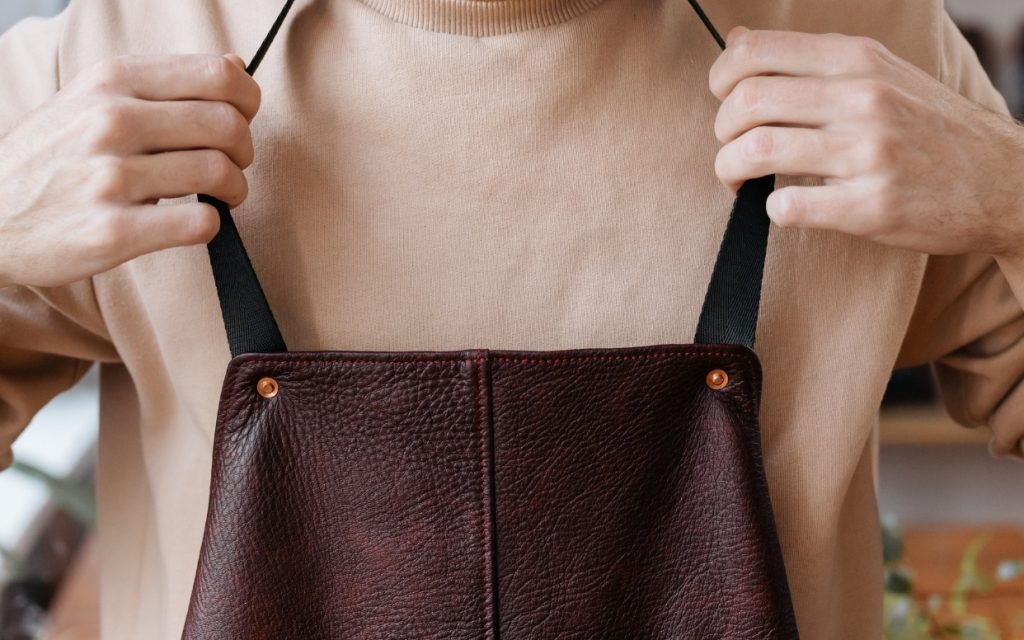 Outdoor Bluetooth Speaker
This outdoor Bluetooth speaker will make his backyard parties even more fun, and he'll love that it's water-resistant so that he can bring it along with him on his nature trips. Rain or shine, dad can listen to his favorite tunes while he cooks up a feast on the grill.
Funny BBQ Gift Ideas
Here's a round-up of BBQ-themed gifts that will make everyone laugh – whether they're a barbecue novice or an expert pitmaster.
BBQ Mugs
If you're looking for a funny BBQ mug, there are a bunch of options that will make your friend laugh out loud. Whether they like puns or not, we've got something that will work for them. An example is this mug with the saying, "Bacon Is Meat Candy".
Funny BBQ Aprons
If your friend is into cooking and grilling, they'll love our funny BBQ aprons. For example, there are aprons with sayings like "I like big butts" (pork butts) and "Keep calm and grill on." Others feature an image of a belly in the front – perfect for all the foodies out there.
BBQ Slogan T-shirts
You get the gist – every object can be personalized with funny messages. This T-shirt is perfect for someone with a raunchy sense of humor. It comes in various colors and has the message "I love a sweet rack" (BBQ rack, that is) written on it.
A Pig Bottle Opener
A stainless steel pig bottle opener is sure to make anyone laugh! It's also great for opening bottles and cans and perfect if your BBQ lover likes pork meat.
Best BBQ Sauce and BBQ Rubs for Gifts
When it comes to grilling season, there's no doubt that barbecue sauces and rubs are popular gifts. There are many fantastic options to pick from:
Jack Daniels Steak Seasoning
This perfect mix for steak comes from the famous whiskey maker. If the brand doesn't speak for itself, it's a favorite of chef Kita Roberts. This blend is just right, and it combines salt, garlic, spices, onions, and peppers.
Rub Your Butt Championship BBQ Seasoning Gift Pack
This special trio was made with gift-giving in mind – it has such a diverse mix of condiments that you can genuinely say nothing is missing from the pack.
Jim Beam All Natural BBQ Sauce Variety Pack
This 4-pack of Jim Beam sauces has something to suit every palate.
Bold N' Spicy Barbecue Sauce
Southern Tang Barbecue Sauce
Smoky Barrel Barbecue Sauce
Maple Bourbon Barbecue Sauce
What Are Good Gifts to Bring to a BBQ?
If you're invited to a BBQ, it's likely that your host has already thought of everything they need to make the event successful. But if you're one of those people who like to bring a little something extra when you go out (and good for you, that's the nice thing to do), here are some ideas for thoughtful gifts to bring to a BBQ:
A delicious bottle of wine from their favorite vineyard
A decadent homemade dessert like brownies.
Barbecue sauce samples from local restaurants or grocery stores.
A 6 pack of local beer or cider.