Ready to be inspired? These outdoor barbeque area ideas will help you create the perfect setup for your next cookout. Whether you choose to add a canopy for extra shade or want to transform your patio into an outdoor kitchen, you can create a comfortable and convenient retreat that's perfect for grilling and relaxing with family and friends without breaking the bank!
1. Create a Permanent BBQ Area on Your Patio
If you have an outdoor patio, you can transform it into an outdoor BBQ area and welcome all your friends and family for a day or night of great entertainment, delicious food, and plenty of fun.
There are a lot of patio ideas that can inspire you when creating your outdoor living space. For example, you can make your grill a built-in by surrounding it with your favorite stone (flagstone looks amazing), and create a work surface with concrete countertops. Use durable materials that you love the look of so you can continue to enjoy your bbq patio area for years to come.
2. Build a Complete Outdoor Kitchen
If you plan to do a lot of outdoor cooking in the summer, it is recommended to build a complete outdoor kitchen. It's a stylish yet functional addition to any backyard though it can be expensive. Full kitchens work well when you have a large backyard space. For a less expensive option, consider a modular outdoor kitchen which can be purchased as one piece and have the pieces you need the most!
If you have a smaller garden area, you can add a propane or pellet grill to your space, or try an all-in-one komodo style grill such as a Green Egg, along with a rolling kitchen cart for preparing food (which can be put away in a storage space when not in use).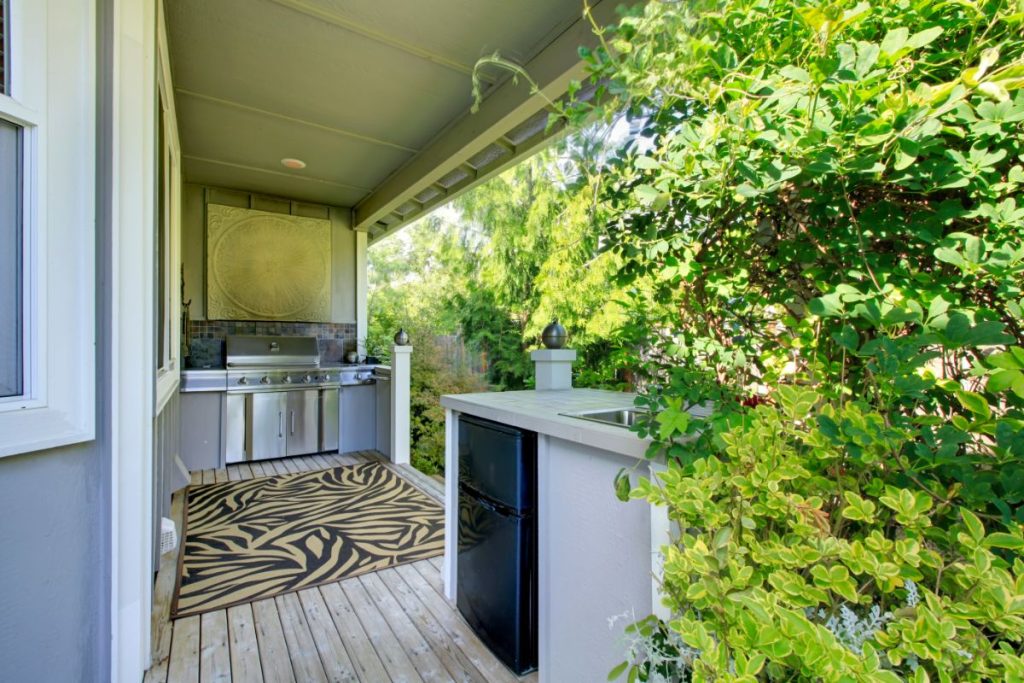 3. Make the BBQ Area Inviting
You may have the best BBQ grill in your outdoor space, but if the BBQ area is not attractive or inviting, it can ruin the fun. Be sure to add a seating area with enough space for family and friends to sit, relax, and interact.
Ensure the seating space has ample seating and is made of outdoor-friendly materials. Include an inexpensive outdoor rug to define the seating area further, and provide a place for people to kick off their shoes and relax. Adding side tables will allow your guests to have somewhere to put their drinks and snacks.
4. Add a Canopy or Pergola to Keep the Sun at Bay
When exploring BBQ area design ideas, if you live in a sunny climate, you should explore awning options. Although we all love some sunshine, cooking in blistering direct sunlight isn't a great experience.
Adding a canopy can improve your outdoor living experience because you can enjoy the sun without putting yourself at risk.
A pergola will also provide enough shade to protect your guests and family during a sunny outdoor event. With a well-covered grilling station in your outdoor space, you can stay cool while cooking and eating outside.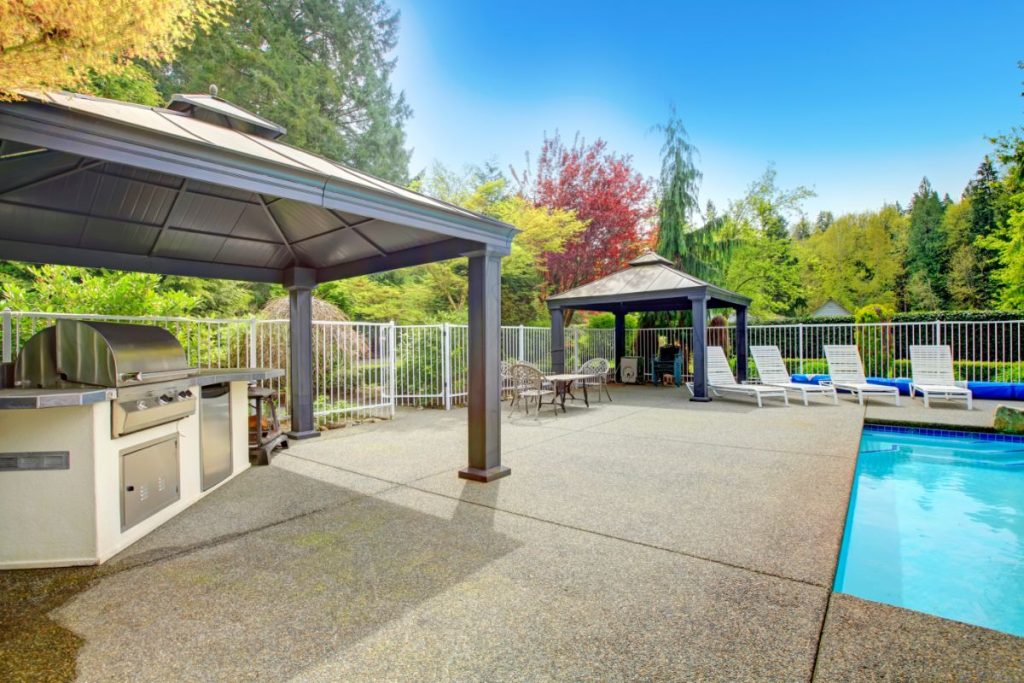 5. Add a Fire Pit
If your gatherings tend to continue after sunset, make sure to get something to keep your guests warm and comfortable during those chilly outdoor autumn nights.
Investing in a beautiful fire pit adds a warm ambiance to any outdoor space. The cooler weather shouldn't hinder enjoying a memorable outdoor BBQ experience. With a fire pit, everyone will enjoy toasting skewered marshmallows over open flames while conversing with friends and family.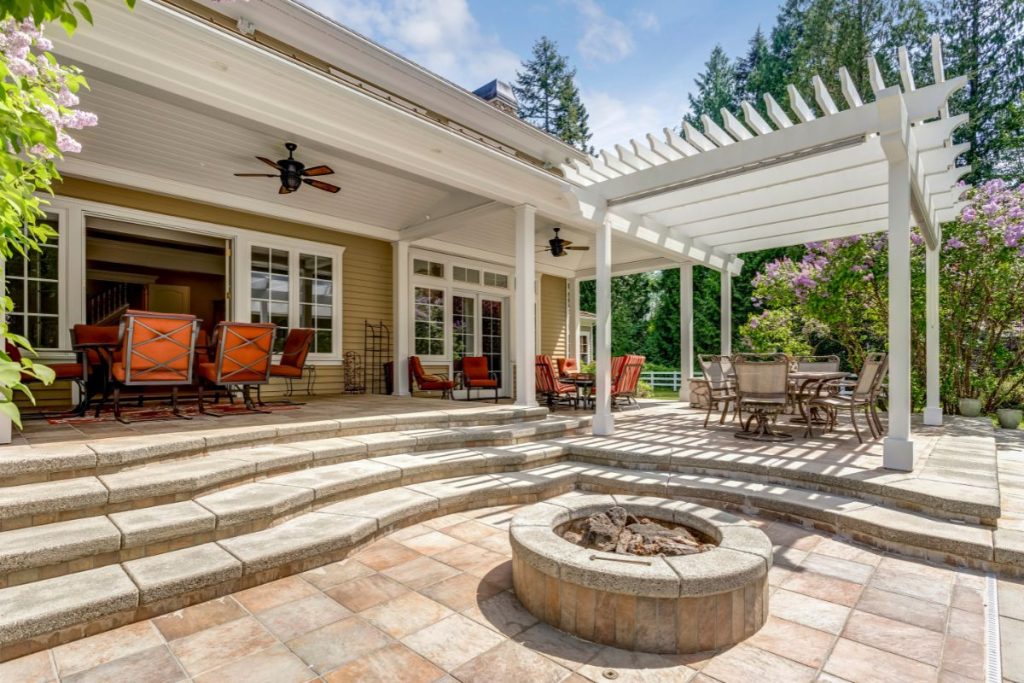 6. Upgrade Your BBQ Equipment
It's your grilling area, so don't be afraid to make the most of it! Consider the perfect grill or smoker for your needs. Although propane and gas grills are more expensive than charcoal grills, they are more cost-effective in the long run since the utility costs are lower. There are also komodo-style cookers that combine grilling and ovens, and smokers which allow you to smoke meat, cheese, and vegetables!

It's a good idea to be realistic about the amount of space you have when deciding to upgrade your equipment. To keep the outdoor kitchen area tidy and easy to work in, choose equipment that allows you to have enough space to move around in. If you are working with a small footprint, you can opt for portable charcoal grills or electric smokers.
7. Designate Different BBQ Areas with Pavers
If your barbecue area also serves as your dining area and pool area, consider separating the space by using different paving materials. 
If you have a multi-tier deck, you can get the most out of it by designating different areas for gathering, barbecuing, dining, and other outdoor activities. Designating different areas boosts the depth and visual appeal of your backyard, making it more interesting to explore and hang out in!
8. Use Fun Lighting
If you often host nighttime BBQs, lighting is essential. Consider using task lighting options, such as built-in LEDs and ceiling spotlights, to increase the functionality of your space. Also, consider adding various atmospheric heating and lighting options, such as patio heaters, patio lanterns, and string lights.
Lighting can make a huge difference in your space and is inexpensive to install!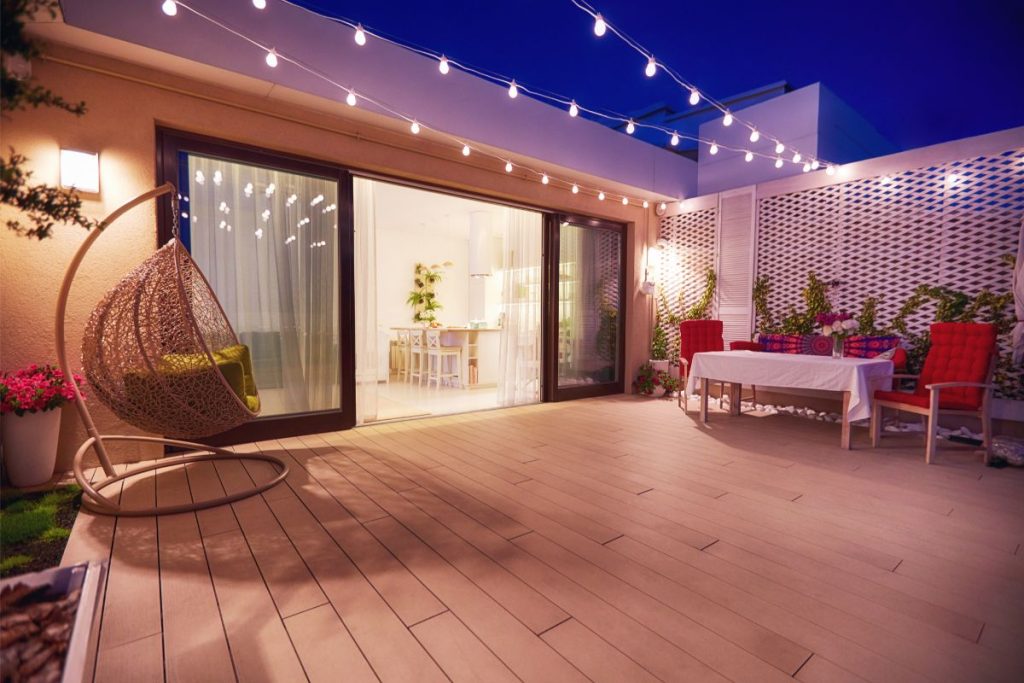 9. Decorate Your BBQ Area With Attractive Accessories
Your outdoor dining area should be practical yet pretty.
Adding the finishing touches to your outdoor living space will make it user-friendly and unique to your personal style. For example, you can accessorize the setup with beautiful blooms, potted succulents, patio water features, outdoor pillows, and throw blankets!
10. Install a Pizza Oven
Outdoor cooking setups aren't complete without a pizza oven. Make your BBQ area the most popular recreation spot in your neighborhood by installing a wood-fired pizza oven in your outdoor cooking area. 
With a wood-fired pizza oven in your backyard, you can make much more than just pizza!
11. Set Up a BBQ Island with a Custom Countertop
Installing outdoor countertops on a BBQ island can add the style it needs to make your barbeque area stand out. There's a wide range of countertop materials out there to choose from, including concrete, granite, marble, and stainless steel. Other options include engineered stone, glass, porcelain, and quartz. So there's something to suit everyone's style and needs. 
When choosing a material for your countertop, you should consider factors such as the price, durability, and location of your BBQ island. For instance, stainless steel is a long-lasting option with a unique, modern look, but it can get very hot in direct sunlight.
12. Add a Bar to your BBQ Island
Your BBQ area design isn't complete without a designated entertaining space. After eating, your guests will want to relax and stay a bit longer to enjoy the inviting atmosphere.
A backyard bar is a great place for encouraging people to mingle before and after eating. You can add a beer fridge, liquor cabinet, or wine cooler under the countertop and tuck stools under the countertop to free up space.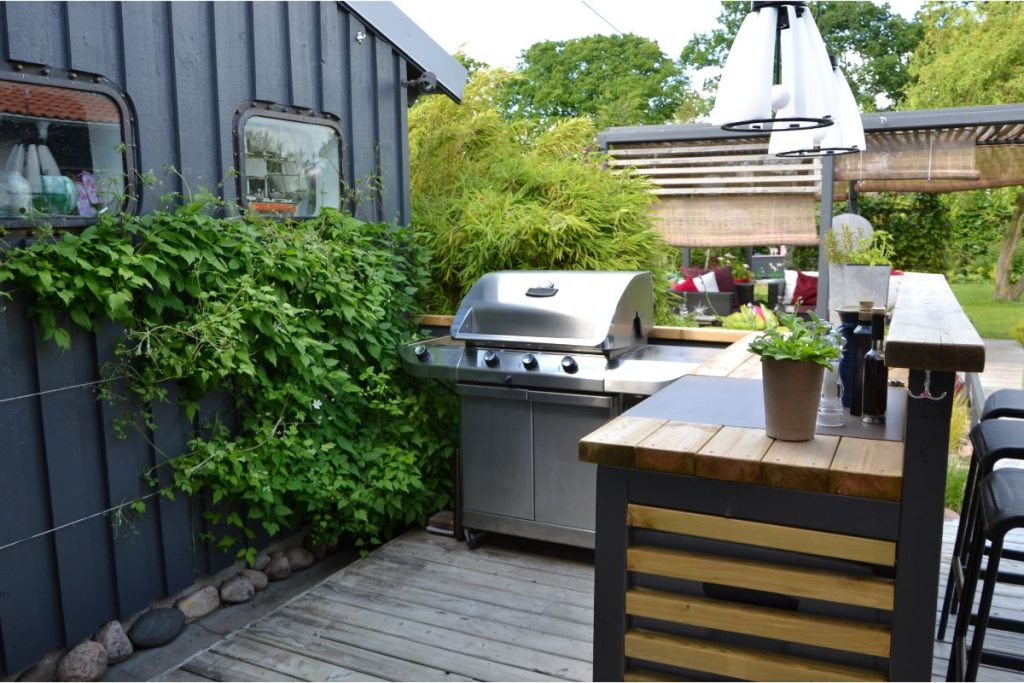 13. Add Functional Storage Space
Seasoned grillers know that BBQ areas need enough storage space. Add more storage space to your BBQ area with open shelving and enough cabinets for food prep supplies and other essentials.
If you prefer a clutter-free space, many outdoor rattan table sets have hidden storage compartments to keep your belongings tidy!
There are many ways to make your backyard barbeque area the talk of the town. Don't be afraid to start small and incorporate some of these ideas to dress up your space and make it inviting!