You can make smoked pork steak on a smoker or pellet grill - simply preheat the smoker to 225°F, put your favorite wood chips or pellets inside, and place your brined and seasoned pork steak on the smoker over indirect heat until the internal temperature reaches 145°F.
How to Get the Best Smoked Pork Steak
For a fresh pork steak, consider purchasing a pork shoulder and having a butcher slice it into steaks. The fresher your steaks, the better they will taste!
To get the best pork steak, you will need to cook it at a low temperature for an extended period of time. Keep the smoke and temperature steady and flip the steaks occasionally to ensure even cooking.
What Type of Smoker is Needed for Pork Steak?
You can cook pork steaks on any smoker, including a pellet grill such as a Pit Boss or Traeger, a charcoal grill, or an electric smoker.
Best Temperature for Smoking Pork Steak
Set the smoker temperature to 225°F. The steaks must be rotated while cooking to ensure even smoke penetration.
Best Thickness to Choose for Pork Steak
Purchase pork steak that is at least 1 1/2 inches thick. The thicker the pork is, the better. Pork that is lean and thin is easy to overcook.
Print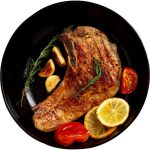 Spiced Apple and Hickory Smoked Pork Steak Recipe
---
Author:

Total Time:

5 hours
Description
This smoked pork steak recipe makes juicy and flavorful pork steaks every time. This stunning main course recipe can be made on an electric or pellet smoker. Hickory and applewood pellets are the perfect wood chips to complement this recipe.
---
5

pork steaks (boneless pork butt or shoulder sliced into

1

1/2" thick pieces)

1

cup

apple cider vinegar

1

cup

barbecue sauce

1 tablespoon

garlic paste

2 tablespoons

kosher salt

1 tablespoon

olive oil

2 tablespoons

Worcestershire sauce

3 teaspoons

chili powder

1 teaspoon

cumin

2 teaspoons

fresh cracked black pepper

3 teaspoons

garlic powder

1 teaspoon

mustard powder

3 teaspoons

onion powder

1/2 teaspoon

oregano

3 teaspoons

smoked paprika

1/2 teaspoon

thyme

1/2 teaspoon

white pepper
---
Instructions
Place pork shoulder steaks onto a baking sheet and season them with Kosher salt. Place them in a refrigerator for a few hours before removing them and allowing the meat to come to room temperature.
Preheat the smoker with the lid closed to 225°F and add your favorite wood chips.
Whisk together the Worcestershire sauce, apple cider vinegar, olive oil, and garlic paste in a metal saucepan.
Whisk together the dry rub seasoning ingredients in a small bowl until well combined.
Sprinkle the dry rub on each side of the pork.
Place the pork steaks directly onto the grill grates of the smoker and place the saucepan inside the smoker, next to the steaks. Smoke the pork steaks for around 2 hours, and every 30 minutes, baste them with the saucepan liquid.
After 2 hours, add BBQ sauce to the pork steaks with a silicone brush. Smoke for 15 minutes, then flip and brush bbq sauce on again. Smoke for 30 more minutes, or until the internal temp has reached 145°F.
Remove the pork steaks and allow them to rest for at least 10 minutes before serving with your favorite sides!
Prep Time:

2 hours

Rest Time:

15 minutes

Cook Time:

2 hours, 45 minutes
Nutrition
Serving Size:

6 ounces

Calories:

438

Sugar:

1g

Sodium:

117mg

Fat:

28g

Saturated Fat:

10g

Carbohydrates:

2g

Protein:

43g

Cholesterol:

161mg
How Long Do Pork Steaks Take to Smoke at 225?
It takes roughly 2 and a half hours to smoke pork steaks at 225°F. The time it takes to smoke pork steaks will vary depending on their thickness.
How Do You Know When Pork Steaks are Done?
The safe internal temperature for pork is 145 degrees F. To check for doneness, use a digital cooking thermometer.
Should Smoked Pork Steaks Be Wrapped in Foil?
Smoked pork steaks can be wrapped in aluminum foil or butcher paper. Wrapping them up like a brisket speeds up the cooking time. Wrapping also keeps in the meat's fat and juices, resulting in juicy and tender pork.
Should Pork Steaks Be Flipped When Smoking?
Pork steaks should be flipped while smoking to guarantee even cooking. Larger cuts of meat need to be flipped more often than smaller cuts. You can flip and rotate the meat while you baste it.
What are Good BBQ Sauces to Use on Smoked Pork Steaks?
BBQ pork steaks are rich in flavor and moisture but can be enhanced by barbecue sauce or BBQ rubs!
This sauce is stunning on pork steaks and has sweetness and a little heat!
Sweet Baby Ray's BBQ sauce will give your pork steak a classic taste that most people associate with good BBQ. It is a sweet sauce with a slight tang.
Lillie's Q Ivory BBQ sauce is perfect for those who enjoy spicy flavors. This sauce is unlike most American BBQ sauces because it combines mayonnaise, vinegar, and pepper.
Brine Recipes for Smoked Pork Steak
Brines prevent moisture loss during cooking. You can make a dry brine or use a liquid brine.
The main ingredient in any brine is salt. Salt tenderizes meat from the inside out. Brines are different than marinades because brining seasons the meat all the way through instead of just on the surface as a marinade does.
This apple and herb brine is the ideal balance of savory and sweet. The mixture of apple juice and spices is a perfect balance for smoky pork steaks!
A flavorful brew moistens the pork and adds a yeasty depth of flavor. The recipe can be adjusted by using different types of beer.
Garlic and rosemary enhance this pork brine made from a base of brown sugar, garlic, and herbs. It is an easy way to create layers of flavor in any kind of meat!