To smoke a smoked cornish game hen, sprinkle your favorite dry rub over the hen and smoke for 2 hours at 250°F. Once the internal temperature reaches 165°F, remove the hen from the smoker and let it rest for 20 minutes before serving it with your favorite sides.
What Do You Need to Smoke a Cornish Hen?
To create a delicious and crispy smoked cornish hen, you'll need:
Cornish hens
Dry rub
Meat Thermometer
Pecan wood chips or wood pellets
Smoker or pellet grill
What Temperature Should the Smoker Be for Cornish Hens?
The temperature of the smoker should be between 225°F and 260°F. This temperature range allows the cornish hens to cook slowly and evenly, producing juicy yet crispy birds.
Print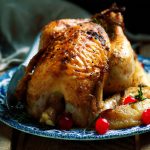 Pecan Smoked Cornish Game Hens Recipe
---
Author:

Total Time:

2 hours, 35 minutes
Description
This smoked cornish game hen recipe will create tender, juicy cornish hens with crispy skin. You only need a few spices from your spice cabinet and a smoker to make this delicious recipe!
---
Cornish game hens, defrosted (1 per person)

2 tsp

dried oregano

2 tsp

garlic powder

1 tsp

ground black pepper

2 tsp

kosher salt

4 tsp

smoked paprika

1 tbsp

olive oil
---
Instructions
Open and remove the packaging from your defrosted cornish hens. Remove the giblets.
Dry the skin with a paper towel. Mix the spices together in a small bowl.
Slowly drizzle the olive oil over the top of the cornish hens and rub it down the sides.
Sprinkle the spice rub over the skin to ensure an even coating for each cornish hen.
Preheat your smoker for cooking with indirect heat to 260°F. If your smoker only gets to 225°F, plan on an extra 30 minutes of cooking time.
Place the cornish hens on the smoker grate with the breast side down. Add enough pecan wood chips or pellets to ensure the smoker maintains steady smoke for an hour.
After 1 hour and 30 minutes, check the internal temperature of the hens with a meat thermometer.
The hens are done when the thickest part of the breast and the inner thigh reaches 165°F.
Remove the hens from the smoker and let them rest for 20 minutes so the juices redistribute through the meat.
Serve each person one cornish hen along with your choice of side dishes. Enjoy!
Prep Time:

15 minutes

Rest Time:

20 minutes

Cook Time:

2 hours
Nutrition
Serving Size:

1 hen

Calories:

667kcal

Sugar:

0g

Sodium:

150mg

Fat:

46.8g

Saturated Fat:

12g

Carbohydrates:

0g

Fiber:

0g

Protein:

57.2g

Cholesterol:

300mg
How Long Does it Take to Smoke a Cornish Hen?
Smoking a cornish hen takes between an hour and a half and two hours depending on the temperature of the smoker.
| | |
| --- | --- |
| Temperature | Approximate Time |
| 225°F | 2 hours, 15 minutes |
| 230°F | 2 hours |
| 245°F | 1 hour, 45 minutes |
| 260°F | 1 hour, 30 minutes |
How to Season a Cornish Hen
There are many different ways to season cornish hens. You can brine your hens, sprinkle them with a dry rub, or stuff them with herbs.
You should always smoke them over a subtle fruitwood, like pecan. Avoid hickory or mesquite wood chips, as the more assertive flavor of these wood chips may overpower the birds.
Brine for Cornish Hens
To make your cornish hens juicy and flavorful, make this simple brine ahead of time and allow the birds to rest in the brine for 2 to 8 hours before smoking.
1/2 cup of brown sugar
1/2 cup of kosher salt
1/2 gallon of cool water
Fill a food-grade bucket with cool water. Add the salt and stir until the salt is dissolved. Add the brown sugar and stir until dissolved. Soak the cornish hens in this brine solution for 2 to 8 hours. Smoke as directed above.
Dry Rub for Cornish Hens
Create this easy dry rub for Cornish hens and ensure they are evenly coated before smoking.
Mix the following ingredients in a small bowl:
1/2 tsp black pepper
1/2 tsp dried thyme
1/2 tsp garlic powder
1 tsp dried rosemary
1 tsp kosher salt
1 tsp lemon zest
Rub the birds with olive oil and sprinkle on the dry rub, ensuring an even coating. Smoke as directed above.
Herb Stuffing for Cornish Hens
To make a delicious, aromatic stuffing that will flavor the meat, tie a bundle of fresh parsley, sage, rosemary, and thyme. Place the bundle in the cavity of the cornish hen along with a quarter slice of lemon and tie the legs together with butcher's twine. Smoke as usual.
Tips to Keep Cornish Hens Moist
Brining cornish game hens helps keep them moist during cooking.
If the meat is drying during the smoking process, tent the cornish hens with aluminum foil.
How Do You Know When Cornish Hens are Done?
Cornish hens are done when the internal temperature reaches 165°F. The skin of the hen should be golden brown. The meat may begin to separate from the leg bones.
What's the Difference Between a Cornish Game Hen and a Cornish Hen?
A cornish game hen and a cornish hen are the same thing. Both names refer to the same poultry.
A cornish game hen looks like a small chicken. Cornish game hens are more tender than chicken, and are usually served whole due to their small size.
Smoked Cornish Hen Side Dish Ideas
Smoked cornish hens pair well with many different side dishes. Whether you're having a BBQ or celebrating a holiday, these sides are perfect for your next special occasion!
How to Store and Reheat Smoked Cornish Hen
Store smoked cornish hen in an airtight container in the refrigerator for 3-4 days.
Reheat your smoked cornish hen in the oven for the best results. Place the smoked cornish hen in an oven-safe dish and tent it with aluminum foil. Heat the cornish hen at 350°F for 20 to 25 minutes, or until the meat reaches an internal temperature of 165°F.