Corned beef is beef brisket that has been cured in brine. An overall tougher cut of meat, it is perfect for smoking at a low temperature. When smoked, it is typically fattier, more tender, and juicier than other types of brisket. 
Nothing says Sunday night supper at home with the family like smoked corned beef brisket. The aroma will fill your house and drag people to the table long before you are ready to call them. This recipe is so good you may even get a knock on the door from your neighbors!
Tips to Make the Best Smoked Corned Beef
For the best smoke flavor, you should select a hardwood such as oak or cherry. You can also use hickory, pecan, or apple.
Don't be afraid to use store-bought spice rubs if you don't have all the ingredients you need to make your own.
To remove some of the salt from corned beef, place it in a large container of water for two hours. Ideally, the meat should be soaked overnight in order to reduce its saltiness. Your corned beef will be too salty if you skip this step or just soak it for an hour. 
At 165°F, wrap in foil or butcher paper to speed up the cooking process.
Allow the beef to rest for 30 minutes before serving so that the juices can remain inside.
Print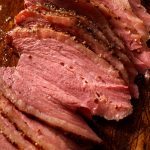 Smoked Corned Beef Brisket
---
Total Time:

8 hours 40 minutes

Yield:

8

1

x
Description
This smoked corned beef recipe adds a smoky twist to a traditional St. Patrick's Day dish. You can serve it as a main dish or add it to other dishes such as corned beef hash or corned beef tacos!
---
3

lbs

corned beef brisket

2 tbsp

black pepper

1 tbsp

garlic powder

1 tbsp

onion powder

1 tbsp

ground mustard seeds

1 tbsp

ground coriander seeds

2

cups

beef stock
---
Instructions
The smoker should be preheated to 250°F. Rinse the corned beef with cold water after removing it from the brine it comes in. Pat the area dry with a paper towel.
Mix dry spices in a small bowl.
Rub the corned beef with the dry rub mixture.
Place the meat in the smoker, close the lid, and smoke for three to four hours or until it reaches 165°F.
Remove the corned beef from the smoker and place it in an aluminum foil pan with the beef stock. Cover with aluminum foil and place it back in the oven. Smoke until the internal temperature reaches 205-210°F, approximately four to five hours.
Let the meat rest for 30 minutes before slicing it.
Prep Time:

10 minutes

Cook Time:

8 hours

Cuisine:

Irish
How Long Should You Smoke Corned Beef on a Pellet Grill?
It should be smoked until the meat reaches a temperature of 195 degrees Fahrenheit. The smoking time will vary depending on the size of the meat. Approximately four to five hours will be required to complete this process.
What is The Difference Between a Corned Beef Brisket and a Smoked Corned Beef Brisket?
Brisket has a full, beefy flavor, and because it is a fatty meat, it absorbs the flavors of whatever it is cooked with. Smoked briskets have a smoky flavor, and you taste less saltiness compared with corned beef brisket.
Is Smoked Corned Beef The Same as Pastrami?
Pastrami and corned beef are different cuts of meat: Today's corned beef and pastrami are both made from beef, albeit from different parts of the animal. The brisket of corned beef is made from the lower chest of the cow; pastrami is made from either the deckle, which is a lean, wide, firm shoulder cut, or the navel, a smaller and juicier section below the ribs.
Corned beef and pastrami also have different spice mixes: After brining, pastrami is coated with black pepper, coriander, mustard seeds, fennel seeds, and sometimes fresh garlic; this spice coating gives it a blackened appearance. The corned beef is naked. There is no spice mix to speak of.
How Much Corned Beef Should You Buy?
It is best to use a large serving size: 2 pounds of cooked Corned Beef or approximately 1/2 pound per person.
Best Tips for a Tender Smoked Corned Beef
Before slicing the beef, remove it from the smoker and allow it to rest in the foil-covered pan for at least 30 minutes. For the most tender meat, slice it against the grain.
Freezing and Reheating Smoked Corned Beef
If corned beef is not stored properly, it cannot be reheated. Food that is left out all night or for more than two hours at room temperature is unsafe to consume.
Frozen corned beef can be stored for up to four months. Simply wrap the corned beef in butcher's paper or aluminum foil and place it in an air-tight container or ziplock bag. Be sure to label it with the date.
For the best texture and flavor, frozen meat should be reheated and consumed within three months of freezing.
Corned beef is best reheated in a stockpot. Despite its lengthy procedure at first, you will be rewarded with a high-quality product in the end.
Leftover Corned Beef Ideas
Here are some delicious and creative ways to use your leftover smoked corned beef: