To smoke a sirloin steak on a pellet grill, marinate the steak for 30 minutes. Pat the meat dry, and season with salt and pepper before smoking it on a pellet grill at 225°F. Smoke the steak until its internal temperature reaches 135°F for a medium rare steak. Remove from the smoker, wrap with foil, and rest for 20 minutes.
What Do You Need to Smoke Sirloin Steak?
To make the following smoked top sirloin steak recipe, you only need a pellet grill, a meat thermometer, wood pellets, paper towels, and aluminum foil.
Any kind of smoker will work fine for this smoked sirloin steak recipe. Whether you have a Traeger pellet grill or a Pit Boss, you're good to go!
For a rich smoky flavor, use hardwood options such as mesquite, hickory, pecan, oak, maple, or fruitwood wood chips like cherry or apple wood. Avoid softwoods such as fir, pine, and spruce. Don't use woods that look waterlogged, rotten, or powdery.
Finally, use a quality meat thermometer to keep track of the internal temperature of the piece of meat.
Print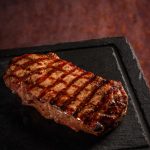 Smoked Top Sirloin Steak Recipe
---
Author:

Total Time:

1 hour, 20 minutes
Description
This smoked top sirloin steak recipe on a pellet grill is easy and versatile. You can change the flavor by using different dry rubs or switching up the marinade ingredients to get your favorite flavor profile. This smoked beef can rival any seasoned pitmaster's results!
---
3

lbs

boneless top sirloin steak

1 tablespoon

BBQ rub

1 tablespoon

Kosher salt

2 teaspoons

black pepper

1 tablespoon

red wine vinegar

1 tablespoon

fresh cilantro (chopped)

1 tablespoon

diced garlic

1 tablespoon

diced ginger
Juice of

1

lime

2 tablespoons

olive oil

1/4 teaspoon

red pepper flakes
---
Instructions
Prepare your top sirloin steak by patting the steak dry with a paper towel.
Make your smoked top sirloin steak marinade. Combine all the marinade ingredients in a medium-sized bowl (ginger, garlic, fresh cilantro, red wine vinegar, olive oil, BBQ rub, lime juice, black pepper, and kosher salt). Place the steak in the marinade and coat it evenly. Cover and place it in the refrigerator.
Marinate your top sirloin steak in the refrigerator for at least 30 minutes and up to one full day before smoking it for the best flavor.
Preheat your pellet grill to 225°F. Add your wood pellets.
Place the top sirloin steak in the pellet smoker, right on the grill grates.
Smoke your sirloin steak until the internal temperature of the steak reaches 135°F for a medium rare steak. This should take around 45 minutes on the pellet smoker. If you prefer your steak at a different temperature, monitor the internal temperature of the meat, and remove it from the grill when it reaches your desired doneness.
Remove the top sirloin steak from the smoker, cover it with aluminum foil and let it rest for 20 minutes. This will allow the protein to relax and the meat to absorb moisture to ensure you will eat the best steak ever! Serve it with your favorite side dishes and enjoy!
Prep Time:

15 minutes

Rest Time:

20 minutes

Cook Time:

45 minutes
Nutrition
Serving Size:

6 ounces

Calories:

506kcal

Sodium:

194mg

Fat:

19g

Saturated Fat:

5g

Carbohydrates:

3g

Fiber:

1g

Protein:

76g

Cholesterol:

201mg
What Kind of Cut is Sirloin Steak?
Also known as the top sirloin steak, sirloin steak is taken from the sirloin butt of a cow and sits in the primal sirloin section near the loin, just a step away from popular cuts like the T-bone steak and the porterhouse.
Sirloin steak is leaner than ribeye steak but fuller-flavored than filet. Like brisket and other lean cuts of meat, top sirloin steak is perfect for smoking at low temperatures.
What is the Best Way to Cook Sirloin Steak?
The best way to cook sirloin steak is to smoke it on a pellet grill. The smoking process infuses a deep, smoky flavor into the meat. Smoked sirloin steak is perfect for a summer cookout or BBQ.
How Long Does it Take to Smoke a Sirloin?
The smoking process should take a total time between 45 minutes and 1 hour at 225°F. The cooking time varies depending on the size and thickness of the steak. Insert a good meat thermometer into the top sirloin steak to test for doneness.
What Temperature Do You Smoke Sirloin Steak?
The best smoking temperature for sirloin steak is 225°F, but you can smoke this cut between 225°F and 275°F.
Wood Pellets to Use for Smoked Sirloin
The best wood pellets for smoking top sirloin steak are strong hardwoods such as hickory, mesquite, or oak. These hardwoods will produce a rich, smoky flavor without overpowering the sirloin steak because this cut of meat has an inherently strong flavor.
You can also experiment with flavored wood chip options like cherry or apple wood if you want a fruitier flavor.
How Do You Know When Sirloin Steak is Done Smoking?
You should smoke a top sirloin steak until the internal temperature reaches your desired doneness. Keep in mind per the USDA guidelines, the internal temperature of this steak must reach 145°F to be safe to eat.
Smoked top sirloin steak should be cooked over indirect heat to allow the meat to cook more evenly and to prevent the meat from drying out. To properly determine the internal temp of the steaks, use a premium-quality meat thermometer with its probe inserted into the thickest meat section.
| | |
| --- | --- |
| Desired Doneness | Internal Temperature |
| Rare | 120°F – 130°F |
| Medium-rare | 130°F – 135°F |
| Medium | 135°F – 145°F |
| Medium-well | 145°F – 155°F |
| Well-done | 155°F – 165°F |
What are Good Seasonings for Smoked Sirloin?
You can season smoked top sirloin steaks with a simple dry rub of salt, pepper, and your favorite herbs and spices.
Most beef smoker recipes use a combination of black pepper, kosher salt, brown sugar, onion powder, garlic powder, and smoked paprika.
Combine the seasoning ingredients in a medium-sized bowl and then rub it evenly over the steak's surface. If the dry rub does not stick properly to the steak, add some olive oil to the steak before applying the dry rub.
Whichever flavors you prefer, be sure to use lots of seasoning to tenderize the meat and give it a great flavor!
Best Smoked Sirloin Recipes
Smoked top sirloin steak is a versatile piece of meat. Try these impressive beef recipes for smoked sirloin steak dishes!
Peppercorn sauce and sirloin steak make a natural combination, like BBQ and beer. With roasted potato chunks topped with caramelized onions, this recipe is full of flavor and sure to impress!
If you'd like to add a fresh twist to your steak, this easy recipe is for you! Covered in chimichurri sauce, your smoked top sirloin steak is guaranteed to be the star of the table!
The smoky flavor of macaroni and cheese pairs perfectly with smoked sirloin steak. This dynamic duo is a hearty and satisfying meal.
There's nothing quite like the comfort of smoked mashed potatoes, and smoked top sirloin steaks slathered in BBQ sauce. Simply cut the meat against the grain, add the sauce, and serve with creamy smoked mash on the side!
How to Store and Reheat Smoked Sirloin Steak
Everyone loves leftovers and luckily you can use smoked sirloin steak the next day! Simply place your leftover smoked sirloin steak in an airtight container within an hour of cooking it, and store it in the refrigerator for 2 to 3 days.
The best way to reheat your smoked sirloin steak is in the oven. Warm your smoked top sirloin steak in the oven at 275°F for 20 minutes, then reverse sear it for 1 to 2 minutes in a cast-iron skillet. Enjoy!