To make jerky in your pellet grill or smoker, select the cut of meat you want to work with, and trim it into 1/4-inch thick strips cutting against the grain. Marinate your jerky for 12 hours and up to 2 days. Smoke for 2-3 hours at 160°F. It is done when the jerky reaches 160°F and is dry but still flexible.
Homemade jerky is a delicious appetizer and a great way to add crunch to your next meal. While you can make jerky using a dehydrator, there are many benefits to using a smoker or pellet grill. Smoking adds flavor that you can't duplicate in any other way. Smokers also pasteurize the meat, removing harmful bacteria whereas dehydrators do not.
Step-by-Step Guide to Homemade Jerky
If you have a pellet grill, you can use it to make delicious homemade jerky.
Step 1: Choose your meat cut.
Look for a lean cut of meat to make your jerky. The best picks are bottom round, sirloin tip, and flank steak. If ever in doubt, your butcher will know exactly what type of meat you'll need for your jerky.
Step 2: Trim and slice the meat.
Thaw any frozen meat in the refrigerator before using or start with chilled fresh meat. Trim silverskin or excess fat from your piece of meat if needed before slicing.
Slices should be uniform and either ¼ or ⅛ inch thick. You can use a sharp knife to cut them precisely, but if you have a meat slicer, this will enable equal thickness. You'd ideally want to cut your slices against the grain for tender jerky or with the grain for more chewiness.
Step 3: Marinate your jerky.
Once all of your meat is sliced, you will want to place it in a marinade.
Marinating the meat is the most crucial part of this process because the meat will get flavor and salt from the marinade. You'll want to marinate the beef strips in a mixture of your favorite spices and liquids for around 24 hours, so it thoroughly penetrates the meat.
When you take it out of the marinade, you want to pat dry each piece with paper towels.
Step 4: Preheat the smoker and place your jerky inside.
Place your strips on a rack over a drip tray in your pellet grill. Ensure the grill is preheated to 160°F to 180°F and filled with your favorite wood pellets.
Step 5: Smoke the jerky.
Smoke on low heat for 2 to 3 hours. You want everything to cook slowly over indirect heat. Always check jerky after the 2-hour mark. You'll know it is done when dry but can bend slightly without being brittle.
Step 6: Cool the jerky.
Cool your jerky after removing it from the smoker before storing it in an airtight container.
Print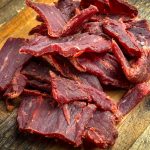 Homemade Jerky on a Pellet Grill Recipe
---
Author:

Total Time:

4 hours, 30 minutes
Description
This smoked beef jerky recipe is made from thinly sliced beef with a traditional marinade. If you want a tender-chewy snack packed with protein, nothing beats homemade jerky! It's like a gourmet meal in a bite-sized form.
---
1

lb

beef bottom round

3 tablespoons

horseradish

1/3

cup

white vinegar

1/2 teaspoon

sea salt

1/2 teaspoon

garlic powder

1 teaspoon

cracked black pepper

1/4 teaspoon

curing salt (optional)
---
Instructions
Trim the silverskin and any excess fat from your beef.
Put in the freezer for about two hours.
Combine the rest of the ingredients and place them in a ziplock bag.
Take the meat out of the freezer and slice it into 1/4-inch thick strips against the grain. Try to make all the slices have the same thickness.
Add the slices of meat to the zip-lock bag with the marinade.
Let it sit in the fridge for a minimum of 8 to 12 hours, ideally 24 hours.
Remove the bag from the fridge and get the meat slices out. Place them on a tray and pat each piece dry using a paper towel.
Preheat your smoker to 160°F and add your favorite wood pellets.
Place beef slices in the smoker and let them smoke for 2 hours. Check them after 2 hours and continue to smoke until they are dry, and still able to bend slightly (approximately 30 minutes to 1 hour).
Remove slices from the smoker and allow them to cool completely before storing in an airtight container.
Prep Time:

30 minutes

Cook Time:

4 hours
Nutrition
Serving Size:

1.5 ounces

Calories:

177

Sodium:

303mg

Fat:

7g

Saturated Fat:

2g

Carbohydrates:

1g

Protein:

24g

Cholesterol:

70mg
What is the Best Temperature to Smoke Jerky?
The best temperature for smoking jerky is between 150°F and 170°F – cooking at a lower temperature helps your meat dehydrate. You can smoke jerky at a higher temperature, but you'd risk charring your meat!
Per the USDA, beef and venison jerky must reach 160°F to be safe to eat.
How Long Does it Take to Smoke Jerky at 225?
Since jerky is made from a thin cut of meat, it doesn't take long to smoke it! It takes 2 and 1/2 to 3 and 1/2 hours to smoke jerky at 225°F.
Keep in mind that other factors can affect smoking time, like how thin you cut the slices, the temperature of the smoker, and the type of meat you're using.
What are the Best Wood Pellets to Use for Smoking Jerky?
To get the most out of your jerky, it's essential to choose the right kind of wood pellet—one that will smoke well and also impart a delicious flavor to your meat.
Hickory
This is the most popular type of wood pellet for smoking meats. It has a strong flavor and can complement many different meat flavors. Hickory is a hardwood that produces a lot of smoke and has a deep, rich flavor.
Mesquite
Mesquite is another popular choice because of its strong taste, but unlike hickory, mesquite has an earthy flavor that's great for enhancing other flavors in your jerky.
Apple
Applewood is a sweet-tasting softwood that produces milder flavor notes than other woods, but the gentle aroma lets the jerky be the star of the show.
Pecan
Pecan wood is an excellent choice for smoking jerky. It has a mild, sweet flavor that will add buttery richness to your jerky.
What Can You Do to Make Jerky Taste Better?
The best thing to do for your jerky to bring out the best in it is to give it the right jerky marinade and seasoning.
This classic works well for most meat types. It includes the most popular jerky seasonings: salt & pepper, garlic powder, cayenne pepper, chili, brown sugar, ground chipotle, soy sauce, Worcestershire sauce, and of course, some liquid hickory smoke.
This unique homemade jerky marinade combines pomegranate juice, apple cider vinegar, and lemon juice with brown sugar, ginger powder, and a little bit of sea salt & black pepper for a rich marinade that imparts a strong flavor. This marinade works best for venison jerky or beef jerky.
Add a twist to your traditional marinade by adding some bourbon and blueberry flavor notes. It's a surprising combination that really works and will surprise everyone's palates. This is perfect for both venison and beef jerky.
Shelf Life of Homemade Jerky
| | |
| --- | --- |
| Storage Temperature | Shelf Life of Jerky |
| Room Temperature | 1 – 2 weeks |
| Refrigerator | 3 – 6 months |
| Freezer | Up to 1 year |
Top Tips for Storing Jerky
Pick lean jerky meat – the leaner the meat, the longer it lasts.
To prolong the life of your jerky, use a cure or heat it until it reaches an internal temperature of 160°F.
Bring the jerky to room temperature before placing it in the fridge or the freezer to ensure it doesn't accumulate moisture.
Place jerky in a vacuum-sealed ziplock bag.
Remember to pat the jerky dry before putting it in any bag or container.
Place an oxygen absorber in the bag together with your jerky.
Keep your jerky away from sunlight and store it in a cool, dry place.