To make snack sticks in a smoker, place your sticks in a preheated smoker set to 110°F for 45 minutes. Increase the smoker temperature to 130°F, adding wood chips, and smoke them for 3 hours, increasing the temperature by 10 degrees per hour. Then, place the sticks in water heated to 165°F for 15 minutes to poach them until they reach 158°F, before rinsing them in cold water for 5 minutes.
What Do You Need to Make Snack Sticks?
Snack sticks are sticks of meat made from sheep casings or small collagen casings stuffed with ground meat such as beef or venison. They're often referred to as smoked sausages.
To make them, you will need the following equipment:
Meat thermometer
Rack or hanger
Rub or seasoning for the meat sticks
Wood chips or pellets for smoke flavor
Water pan or spray bottle for moisture
Tongs or meat forks for handling the sticks
What is the Best Way to Smoke Snack Sticks?
The best way to smoke snack sticks is to prepare the meat mixture by combining ground meat, seasonings, and curing agents in a bowl. Next, stuff the mixture into sausage casings and tie off the ends to form individual snack sticks.
Once the snack sticks are formed, you will have to place them on a smoker rack and set the smoker to a low temperature of 110°F.
To cook them properly, you need to increase the smoker's temperature gradually as they smoke, increasing it by 10 degrees Fahrenheit every hour. Ultimately, they should reach an internal temperature of 160 degrees Fahrenheit in about 3 to 5 hours, depending on their size and the type of meat.
Print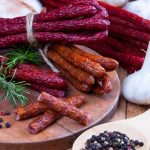 Easiest Smoked Beef Snack Sticks Recipe
---
Author:

Total Time:

5 hours

Yield:

40

sticks

1

x
Description
The classic beef sticks recipe is excellent for parties, tailgates, and cookouts. It's hard to find a more portable finger food than beef jerky sticks that can be enjoyed by both adults and kids alike.
---
---
Instructions
Take your beef chuck and grind it in your meat grinder – your grinder plate should be about 3/16″.
Mix all of the ingredients (ground beef and seasoning included) with a stand mixer.
Use 18-24 mm collagen casings to stuff the filling (LEM collagen casings are a good idea). This part is like sausage making, so you can use your fingers or a sausage stuffer from Amazon.
Tie the casings into 24″ rings.
Preheat smoker to 110°F.
Place the formed sticks into the smoker for 35-45 minutes until dry. Don't use wood here, as it should only dry (not smoke).
Raise the temperature of the smoker to 130°F and add your desired wood. Smoke for 2 to 3 hours.
Preheat a pot of water to 165°F and place the sticks into the pot of water.
Poach the sticks for 15 minutes or until the internal temperature reaches about 158°F. After taking the meat sticks out, carryover cooking will increase the temperature to 160°F.
Once the sticks reach 160°F, pour cold water over the sticks for 5 minutes straight.
Let them cool down, and dry them with a paper towel. Once cool and dry, cut them however you wish!
Store them at room temperature or in the refrigerator in an airtight container.
Notes
Mix the spices before rubbing incorporating them into the meat, so there are no concentrated spice pockets.
You can choose leaner meat for extra chewiness (70/30 fat content).
You can pick sheep casings to give the stick a snap or small collagen casings to provide it with a nice color.
You can cool snack sticks by air drying or placing them in an ice bath.
Use a binder to have more room for error and avoid mistakes when making snack sticks.
You can add cheddar cheese or encapsulated citric acid to the mixture if you enjoy a different flavor or texture.
Prep Time:

1 hour

Dry Time:

1 hour

Cook Time:

3 hours
Nutrition
Serving Size:

1 stick

Calories:

156

Sugar:

0.16g

Sodium:

578mg

Fat:

9.8g

Saturated Fat:

4.3g

Carbohydrates:

0.6g

Fiber:

0.12g

Protein:

16g

Cholesterol:

58mg
How Long Do Snack Sticks Take to Smoke?
The time it takes to smoke snack sticks depends on several factors, like the meat you're using, the temperature of the smoker, the thickness of the meat, and the method you want to follow.
The time can range anywhere from 5 hours to 9 hours!
When smoking snack sticks, you should start with a low temperature and gradually increase it as the cooking process continues.
Three Methods for Making Snack Sticks
Method 1: Smoke & Ice Water Bath
Start your smoker at 125°F for 1 1/2 hours. Increase the temperature to 135°F for the next hour. Then increase the temperature again to 155°F for 1 hour. Increase the temperature one final time to 165°F and continue smoking the snack sticks until their internal temperature is 140°F. Then submerge in ice-cold water and hang to dry.
Method 2: Smoke & Air Cooling
Smoke at 130°F for 1 hour then increase the temperature to 140°F with the lid open for 2 hours. Increase the temperature to 160°F for 2 hours, and finally crank it up to 180°F until they reach the ideal internal temperature of 160°F. Rinse with water and hang them at room temperature for about 30 minutes.
Method 3: Smoke & Cold Water Rinse
Start your smoker at 110°C for 45 minutes (do not add wood chips during this step). Then increase the temperature to 130°F and add your desired wood chips. Allow the snack sticks to smoke for 2-3 hours, gradually increasing the temperature each hour by 10 degrees. Finish the sticks by poaching them in water that is165°F for 15 minutes. Then pour cold water on them for 5 minutes and allow them to air dry.
How Do You Put Snack Sticks in a Smoker?
To put snack sticks in a smoker, place the snack sticks on a smoking rack or hang them using a smoking hook, ensuring there is enough space around the sticks for the smoke to circulate. Close the smoker lid and allow the snack sticks to smoke for the recommended amount of time.
Can You Smoke Snack Sticks on a Pellet Grill?
Yes, you can smoke snack sticks on a pellet grill. Pellet grills can maintain a consistent temperature and provide a smoky flavor, making them suitable for smoking snack sticks.
Best Wood for Smoking Snack Sticks
When it comes to smoking snack sticks, several different types of wood work well and there are several places you can find quality wood chips. Some of the best options include:
Hickory
This is a classic wood for smoking meats and works well for snack sticks. It has a robust and bold flavor that adds depth to any meat.
Maple
This wood has a milder flavor than hickory and adds a slightly earthy taste.
Cherry
This type of wood has a fruity, sweet flavor that works well with snack sticks.
Apple
This wood has a mild and slightly sweet flavor.
The best wood for smoking snack sticks depends on the flavor profile you're trying to achieve. Experiment with different woods to find the one that best suits your tastes.
How to Store Snack Sticks
Ideally, you'd want to store snack sticks in a pantry at room temperature and consume them in 2 to 3 weeks, but you can also refrigerate or freeze them.
Before refrigerating or freezing, you need to wrap them in a plastic bag and cover them in an ice water bath for about 10 minutes so that the temperature will drop before placing them in a ziplock bag or airtight container in a cool place for long-term storage.
Snack sticks can last longer than other types of smoked meat. Here are some estimations according to the place you choose to store them:
| | |
| --- | --- |
| Storage Type | Storage Duration |
| Room Temperature | 2 to 3 weeks |
| Refrigerator | 3 to 6 months |
| Freezer | up to 1 year |