For a perfect BBQ rack of lamb, ensure the meat is at room temperature, basted in mustard, coated in herbs and garlic, seared, and then allowed to grill until it reaches 125°F for rare or 135°F for medium rare.
Rack of lamb is perfect for a weekend get-together. This prime cut of lamb is easy to grill and can be made in a jiffy.
Just like a prime rib or grass-fed porterhouse, a rack of lamb is a powerful palate pleaser and is destined to be an amazing meal.
Follow our step-by-step guide below to learn how to BBQ rack of lamb for the most flavorful lamb you'll ever have.
How to BBQ Rack of Lamb on the Grill
This step-by-step guide will ensure your rack of lamb is perfect.
Trim the Rack
If you didn't ask the butcher to trim off the excess fat or french the bones, a sharp knife and a cutting board will come in handy here.
Start by removing the fat cap gently with your hands. Use a sharp knife to separate the fat cap from the cut of lamb and shave off any excess fat from the bones.
Frenching the bones refers to removing all the connective tissues, fat, and meat around the bones. While this is not mandatory, it makes for a wonderful presentation.
Allow the Meat to Reach Room Temperature
As with most cuts of meat, rack of lamb cooks better and becomes juicier and more tender when the meat is allowed to come to room temperature before grilling. So let it sit at room temperature for at least 30 minutes prior to cooking.
Ensure 2-Zone Grilling
For cooking a rack of lamb, it is recommended to prepare two medium-hot fire zones. Light around 100 briquets or a standard chimney of coals, and set them up in two zones. Let the top grate heat up, with all vents open.
Always Oil the Grates
Before setting the rack of lamb on the top grate, use a tightly folded paper towel soaked in oil and use long tongs to rub the towel over the grates to apply a thin coating of oil. This is done to ensure the lamb doesn't stick.
Foil-wrap the Bones
Protect any exposed bones from catching fire due to flare-ups during the cooking process by wrapping them with foil. The foil will help shield the bones from the high heat required to sear the rack of lamb.
Season the Rack of Lamb
Rub the lamb chops with olive oil and then season with fresh herbs or your favorite rub. Lamb has a mild delicate flavor, so keep things simple. A quick rub of black pepper, kosher salt, and fresh herbs like mint and thyme work well.
Searing the Lamb
Sear the meat on the hotter side of the grill above the coals. Be sure to flip your rack of lamb to ensure a brown color on each side of the meat. Once nicely browned, transfer the rack to the cool side to finish grilling.
Grilling Lamb Over Indirect Heat
Depending on the size of the rack, it should be done cooking in about 15-20 mins total time. However, don't cook based on time. Make sure to use a reliable meat thermometer to ensure you don't overcook the meat and pull it from the heat at the target internal temperature.
The rack of lamb reaches medium rare at 125 degrees F, medium at 130 degrees F and well-done at 145 degrees F. If cooked beyond medium, your lamb can acquire a gamey flavor.
Resting and Serving the Lamb
Once your lamb reaches doneness, remove it from the charcoal grill and allow it to rest, wrapped with aluminum foil, for around 10 to 15 minutes. Resting is important to allow those magical juices to reabsorb/redistributed throughout.
Using a sharp knife, cut or slice the meat to make small rib chops and serve. 
Print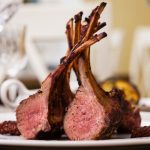 Bold BBQ Rack of Lamb Recipe
---
Description
This grilled rack of lamb recipe is simple and sure to produce juicy and delicious grilled lamp chops with a crispy sear on the outside.
Grilling a rack of lamb doesn't have to be intimidating. This easy grilled rack of lamb recipe is guaranteed to be a hit with your guests and family.
---
2

whole lamb racks

1/2 tsp

black pepper

2 tsp

fresh rosemary (chopped)

1

clove garlic (crushed)

1 tsp

lemon juice

1/2 tsp

lemon zest

1/2 tsp

Kosher salt

2 tbsp

mustard

2 tbsp

extra virgin olive oil
---
Instructions
Allow the meat to rest at room temperature for 30 minutes before cooking. 
Make a wet rub using the garlic, rosemary, mustard, olive oil, lemon zest, and lemon juice in a small bowl.
Sprinkle the meat evenly with black pepper and kosher salt.
Rub the lamb with most of the wet rub, setting aside a little of it for basting.
Preheat your grill to a medium-high heat setting.
Arrange the racks of lamb on your grill and allow the meat to sear for 4 minutes on each side.
Once it is done searing, you will grill the meat over indirect heat.
Continue grilling for 15 minutes for medium rare and flip the meat once halfway through.
Baste the rack with the remaining mustard sauce. Avoid turning over the meat constantly during the cooking process to allow it to form a nice crust.
Check the internal temperature of your lamb with a meat thermometer. For medium-rare, the temperature should be between 125°F to 135°F.
Remove your rack of lamb and let it rest for 10 minutes before slicing and serving with your favorite sides.
Prep Time:

30 minutes

Cook Time:

23 minutes
How Long Does it Take to Barbecue Rack of Lamb?
A rack of lamb should take around 15 minutes to make on the gas grill or charcoal grill over moderately high heat for a medium rare to medium degree of doneness. Cook for around seven minutes on each side to sear the meat evenly.
What Temperature Do You Grill Rack of Lamb?
To grill your rack of lamb properly via the two-zone grilling method, make sure the temperature of the indirect zone is 225 degrees F while the temperature of the direct zone is around 350-450 degrees F.
For a medium-rare degree of doneness, grill lamb until the internal temperature of the meat reaches 125-135 degrees F in the middle away from any bones.
Do you Baste a Rack of Lamb While Grilling?
Yes! Basting your rack of lamb helps to ensure the hot fat remains in constant contact with the lamb, which contributes to even cooking. Butter and garlic are used to increase the flavor of the meat.
What Spice Rub Is Best for BBQ Rack of Lamb?
Some of the spices that are perfect for BBQ rack of lamb include:
Oregano
Basil
Sage
Garlic powder
Mustard powder
Mint
Onion powder
Smoked paprika
How Do You Know BBQ Rack of Lamb is Done?
The best way to tell when your BBQ rack of lamb is done is to check the internal temperature.
The simplest and most accurate way to test for doneness is to use an instant-read meat thermometer. The internal temperature should reach 125-135 degrees F.
Do you Grill Rack of Lamb Fat Side Up or Down?
Ideally, you should cover any bones with foil to avoid charring and grill your lamb with the fat side down. Close the grill and cook for around seven minutes on each side. Flip and cook until the internal temperature of the meat reaches 125-135 degrees F for medium rare.
What are the Benefits of Grilling Rack of Lamb?
Rack of lamb cooks faster than larger cuts and provides a large surface area for more searing. With a rack of lamb, you can get a juicy, medium-rare center and crispy outside with minimal effort.