There are over 300 calories in a BBQ chicken wing and the number of calories varies considerably depending on whether they are consumed with skin or without, and the type of sauce and seasoning on them.
How to Calculate Calories in BBQ Chicken Wings
The calories in a BBQ chicken wing can be calculated by weight and per wing. There are several factors that affect the total calorie count including how the wing is prepared, if using a mop sauce or glaze, whether they are dipped in a sauce after cooking and what type of sauce is being used.
What is a Serving Size of BBQ Chicken Wings?
Four small wings, two average-sized wings, or one large wing constitutes a serving of BBQ chicken wings. The recommended serving size for chicken meat is 3 to 4 ounces or 85 to 113 grams.
Nutritional Values of BBQ Chicken Wings (per 100 g)
| | |
| --- | --- |
| Value | Amount |
| Calories | 210kcal |
| Fat | 11.64g |
| Saturated Fat | 2.95g |
| Protein | 19.18g |
| Carbohydrates | 6.71g |
| Net Carbs | 6.37g |
| Sugar | 6.71g |
Raw Chicken Wing Calories
To get an accurate calorie count of BBQ chicken wings, you must calculate the number of calories per raw chicken wing, and add in the calories for any sauce used in preparing them.
Raw chicken wings vary in weight depending on the size of the chicken they came from; a small wing (with the skin on and bone intact) weighs around 50g/1.76oz and a large wing weighs approximately 120g/4.23oz.
An average chicken wing with the skin on and the bone in weighs approximately 90 grams (3.17 ounces). A chicken wing of this size contains 188 calories.
Raw Chicken Wing Serving Size and Calories
| | | |
| --- | --- | --- |
| Number of Wings | Weight of Wings | Calorie Count |
| 1 wing | 3.17oz (90g) | 188 kcal |
| 2 wings | 6.35oz (180g) | 376 kcal |
| 3 wings | 9.52oz (270g) | 564 kcal |
| 4 wings | 12.7oz (360g) | 752 kcal |
| 5 wings | 15.87oz (450g) | 940 kcal |
Calories in Hot Sauce for BBQ Wings
Hot sauce is a sauce primarily made of peppers that is used to bring heat to chicken wings. There are countless varieties including, Tabasco, Cholula, Louisiana Gold, Huy Fong Sriracha, Frank's RedHot, Burman's, Tapatio, Texas Pete, Heinz, and Valentia.
Hot sauce is surprisingly low in calories (1 calorie per serving) and completely free of carbs, fat, and protein making it a great choice for flavoring chicken wings. It also contains a small amount of vitamin C.
Nutritional Value of Hot Sauce (per 5 grams)
| | |
| --- | --- |
| Value | Amount |
| Calories | 1 kcal |
| Fat | 0g |
| Carbs | 0g |
| Protein | 0g |
| Vitamin C | 4% (DV) |
Calories in Buffalo Sauce for BBQ Wings
Buffalo sauce is a hot sauce that has been enhanced with butter and other ingredients and has 35 calories per serving. It is important to note that buffalo sauce is not the same as hot sauce.
Nutritional Value of Buffalo Sauce (per 15 grams)
| | |
| --- | --- |
| Value | Amount |
| Calories | 35 kcal |
| Total Fat | 3.5g |
| Saturated Fat | 0.5g |
| Sodium | 370mg |
| Carbs | 1g |
| Sugar | 0g |
| Protein | 1g |
Calories in Ranch Sauce for BBQ Wings
Ranch dressing is an American salad dressing based on mayonnaise or another oil emulsion. The calories in 2 tbsp of Ranch dressing is approximately 129 calories. This calorie count can vary depending on the ingredients used.
Ranch is usually made from buttermilk, salt, garlic, onion, mustard, herbs (commonly chives, parsley, and dill), and spices (typically pepper, paprika, and ground mustard seed).
The use of sour cream and yogurt is sometimes added or used as a substitute for buttermilk and mayonnaise.
Ranch Dressing Nutrition Facts (varies subject to ingredients)
| | |
| --- | --- |
| Value | Amount (per 2 tbsp) |
| Calories | 129 kcal |
| Fat | 13.4g |
| Sodium | 270mg |
| Carbohydrate | 1.8g |
| Protein | 0.4g |
| Sugar | 1.4g |
Calories in BBQ Sauce Glaze for BBQ Chicken Wings
BBQ sauce glaze is the yummy sticky sauce you find on BBQ chicken wings. It is painted on the wings before they go in the oven.
Per the USDA, a serving size of two tablespoons (37 grams) of barbecue sauce has 70 calories.
BBQ Sauce Nutrition Facts
| | |
| --- | --- |
| Value | Amount |
| Calories | 70 kcal |
| Fat | 0g |
| Carbohydrates | 17g |
| Sodium | 300mg |
| Sugars | 15g |
Print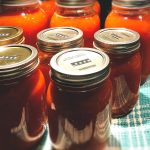 Healthy Homemade BBQ Sauce for Chicken Wings
---
Description
It is surprisingly easy to make homemade BBQ sauce. It takes less than 20 minutes to cook and you only need one pot.
This recipe is absolutely delicious – bold, flavorful, sweet, and spicy!
---
1/2 tsp

olive or coconut oil

2

cloves minced garlic

1/4

cup

diced yellow onion

15 ounces

can of tomato sauce

2 tbsp

tomato paste

3 tbsp

maple syrup

1 1/2 tsp

molasses

1 tsp

apple cider vinegar

1 tsp

tamari or coconut aminos

1 tsp

Dijon mustard

1 tsp

sea salt

1/2 tsp

paprika

1/4 tsp

cayenne pepper

1/2 tsp

chili powder

1/2 tsp

ground black pepper

1/4 tsp

cinnamon
---
Instructions
Heat oil in a medium saucepan over medium heat. Add garlic and onion and sauté for 5 minutes. Stir the mixture frequently and watch the garlic because it can burn.
Add tomato sauce, tomato paste, maple syrup, molasses, apple cider vinegar, tamari, and mustard in a pan and stir to combine.
Add seasonings and spices: salt, paprika, cayenne pepper, chili powder, ground pepper, and cinnamon. Mix well.
Bring mixture to a simmer over medium-low heat and cook for 12-15 minutes, stirring often. Don't let the heat get too high, or the mixture will splatter and boil.
Refrigerate for later use or use right away.
Notes
Replace the maple syrup with powdered or liquid stevia or monk fruit to cut the sugar. Start with a little (like 1/8 teaspoon) and add more until you're satisfied with the level of sweetness.
Prep Time:

5 minutes

Cook Time:

20 minutes

Cuisine:

American
How to Make BBQ Chicken Wings Healthier and Lower in Calories
Can you enjoy wings while being a calorie counter? You bet.
Although wings are delicious, the traditional sauces and sides are calorie-heavy and can negatively affect weight-loss plans. Luckily they can be substituted for a healthier version!
Serve carrots and celery with your wings which encourages eating smaller portions, and opt for lighter versions of traditional dipping sauces (such as the lower-calorie BBQ sauce above).
Moderation is the key to healthy eating and healthy habits. Despite the fact that BBQ wings are high in protein, and have traces of potassium, calcium, vitamin a, vitamin d, and even magnesium – if you slather on store-bought sauces full of sugar, trans fat, monounsaturated fat, and polyunsaturated fat, you negate the nutritional benefits.
Do your best to enjoy your wings with friends and family on special occasions and make a meal plan that includes having grilled chicken breast on salad, or a boneless chicken sandwich the rest of the time. You truly can enjoy BBQ wings, even on a low-calorie diet.